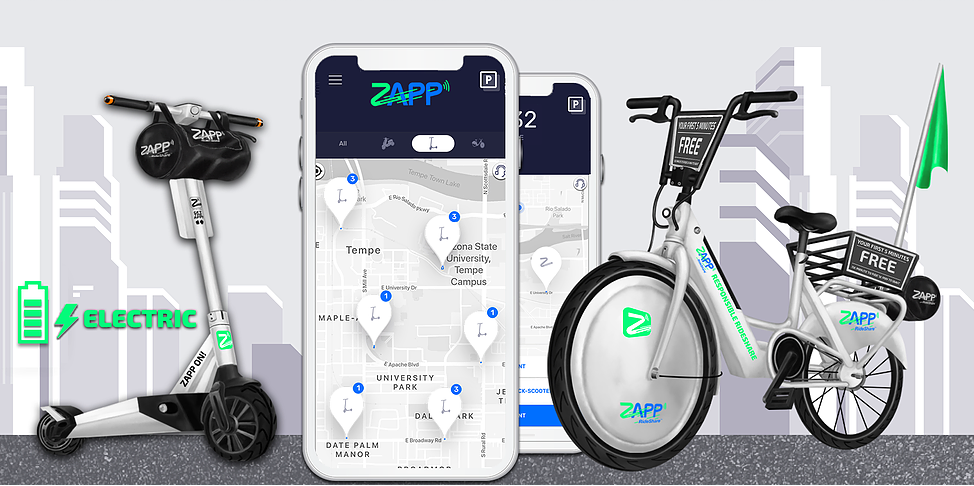 Image Source: Courtesy of Zapp RideShare
How Zapp RideShare™ Is reinventing the e-Scooter with Cloud Technology and Safety Features
What's happening in the e-scooter industry? A lot! In a world where people need fast, easy options for getting around, Zapp RideShare is the company to keep your eye on.
People can rent, swap, and return Zapp e-bicycles and e-scooters to designated "Blue Zones" near universities and downtown areas. Clean, green, electric, and easy to ride, Zapp e-bicycles and kick scooters are a much-needed transportation solution in many urban areas.
Frank Scozzafava is the CEO and Co-Founder of Zapp RideShare. I talked to him to learn more about him, his company, and his vision.
Q: What is your background and why/how did you and your team start Zapp RideShare?
A: My background is marketing and advertising, but I was introduced to rideshare in NYC several years back while doing marketing for a company that was trying to compete with UBER.
At the time I was getting around Manhattan on a VESPA style moped/scooter while also using Zip-Car and CitiBike. I built a prototype of a connected style moped/scooter in a small garage in Brooklyn and pursued the rideshare game.
Q: Tell me about Zapp RideShare and the e-scooters you create. How did you come up with the idea for this business?
A: I started with the moped style scooters using gas machines at the University of South Carolina. I quickly realized that gas was not the way to go, and created a unique, easier to ride, three-wheel, two in the front, electric style, ride-on scooter, and changed the name to ZAPP. "Zap" for sticking your finger in a light socket and electricity, and the extra "P" for "app". We then designed electric bicycles and small, electric kick scooters as a prototype and rebuilt the app to be better based on three years of experience.
We recently launched the new talking e-scooters and e-bikes at one of the very largest universities in the country with the best weather, at Arizona State. Plus, a new, improved, redesigned, electric, three-wheel Zapp moped is on the way.
Q: As a visionary, how do you see your product revolutionizing human transportation?
A: Car sales are dwindling in urban areas because of rideshare businesses like UBER and LYFT, but they can only take it so far. For the "last mile" transportation, something more personal is needed. Shared moped style scooters, kick scooters and electric bicycles help people get around urban areas and short distances efficiently and at an affordable price.
Zapp is part of that solution and goes further because our goal is to eventually make "last mile" rideshare practically free for all users because of our proprietary and patent-pending advertising platform that the others don't have. Zapp is bringing a "social media" style revenue platform to the rideshare game. You don't pay to use Facebook and Twitter, it's paid for by ads, and that is our ultimate goal at Zapp.
Q: What makes your product unique?
A: Zapp RideShare is known as the responsible rideshare company, because we're the first to offer pickup and drop off of its vehicles at well-planned parking locations. Known as "Designated Blue Zones", these areas are located near various businesses for easy pick up and drop off. Locations are clearly marked in the Zapp App as Blue Zones. Riders cannot return in Red Zones, as Zapp's cloud geo-fencing technology prevents this. There are already half a dozen designated blue zones in Tempe, Arizona as Zapp has partnered with may local businesses there and we're adding more each day.
Zapp is also installing more and more proprietary wheel stands for Zapp's vehicles to prevent them from becoming tripping hazards, and to keep the city looking good. In addition, Zapp is currently working with city officials to obtain permission to put our proprietary wheel stands for Zapp's vehicles on public property. Our business model eliminates the clutter created by Bird and Lime.
Q: How are Zapp RideShare scooters safer?
A: Safety and responsibility is a top priority for Zapp Rideshare. We provide free rider safety classes, encourage helmet use, and have sturdier, wider platforms with brighter LED lights. Our self-diagnosing technology means less downtime, and we use superior batteries that don't overheat.
When there's a problem or a battery is low, our 24/7 safety team is automatically alerted. Our talking scooters sound voice alerts to users when they need to return the scooter due to any kind of technical difficulty or curfew restrictions.
What really makes us stand out is all Zapp vehicles' speed can be reduced in real time using cloud-based technology and GPS location in areas where cities and universities deem it necessary for safety. Plus, our virtual fencing limits where users can drop Zapp scooters with cloud geo-fencing technology.
An important aspect is that Zapp does not allow third party crowd charges. The company provides the only 24/7 well-trained road safety crews to service vehicles and swap batteries. Something the other scooter companies don't offer. All Zapp vehicles have pinhole cameras that record and save footage and help prevent crime on e-Scooters.
Suspects who recently stole and vandalized Zapp's e-scooters in Tempe, Arizona were arrested as a result of Zapp's security footage that was captured by the pinhole cameras.
Tempe is the new home of Arizona State University and where we launched the new version of Zapp several weeks ago. It's going very well, and we are getting a lot of support from the local government because of our responsible and organized approach. Cities like the fact that Zapp e-scooters can only be picked up and returned in our designated Blue Zones.
Q: What advice do you have for other entrepreneurs?
A: My advice to other entrepreneurs is to be ready for the unknown. No matter what you plan, and don't get me wrong, planning is key, be ready to pivot and change on a dime when needed. There is no time off and plan on working eighty-hour weeks. Do your research and make sure what you are trying to bring to market has an edge over your competitors. Do your planning and budgets and then add 50%!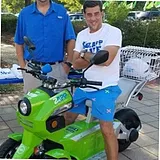 Image Source: Courtesy of Zapp RideShare
If you're interested in learning more, visit the Zapp Rideshare website and follow on Facebook, Twitter and Instagram. For questions or interviews, please contact Frank Scozzafava at [email protected].
Disclosure: The author of this interview has no financial interests in the companies or organizations discussed.
Equities Contributor: Desireé Duffy
Source: Equities News