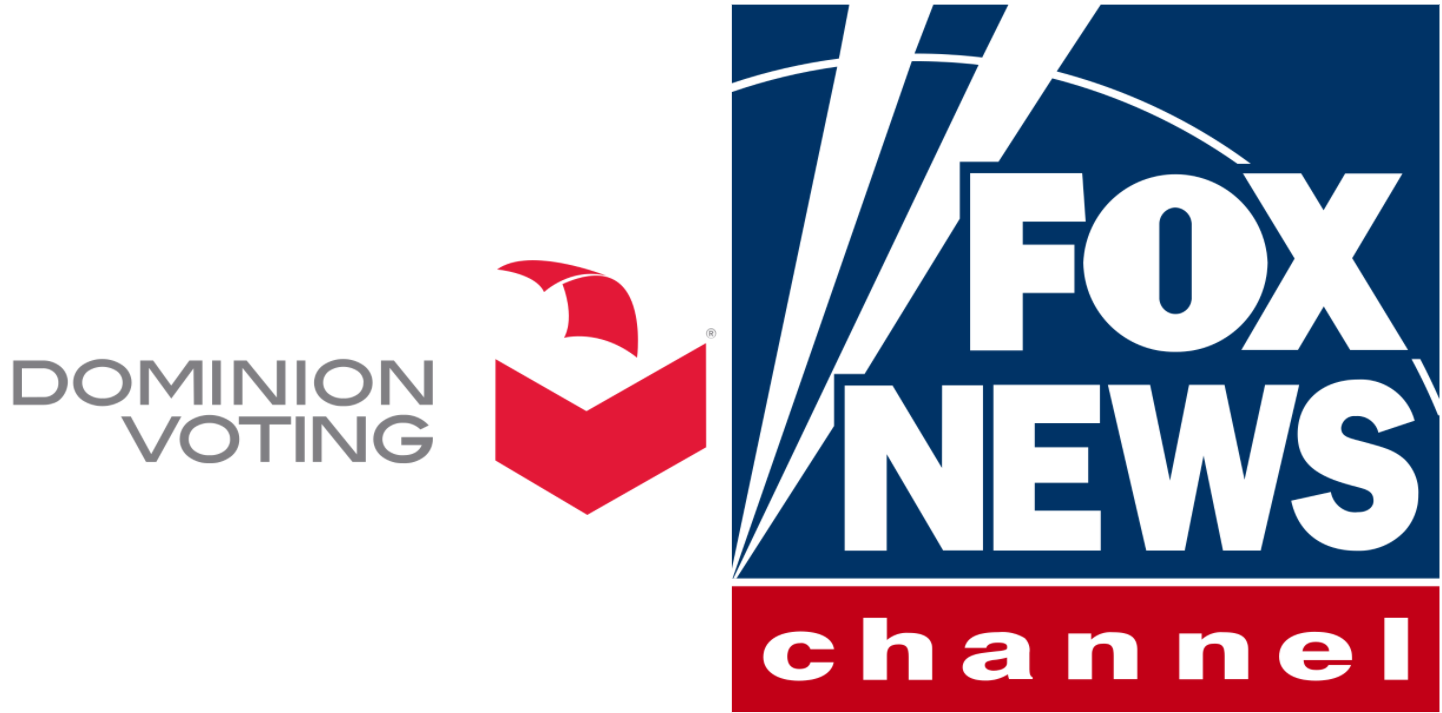 Dominion Voting Systems Inc has filed a $1.6 billion defamation lawsuit against Fox News Network LLC, a unit of Fox Corporation (Nasdaq: FOXA ), claiming the network knowingly spread misinformation about the company's role in nonexistent voter fraud in the 2020 presidential election.
In a complaint filed Friday in Superior Court of Delaware, Dominion accused Fox of trying to boost falling ratings by crafting "a storyline about election fraud that cast a then little-known voting machine company called Dominion as the villain."
Following the Nov. 3 election, "viewers began fleeing Fox in favor of media outlets endorsing the lie that massive fraud caused President Trump to lose the election," the lawsuit said.
"So, Fox set out to lure viewers back — including President Trump himself — by intentionally and falsely blaming Dominion for President Trump's loss by rigging the election," the complaint states.
Among the "outlandish, defamatory and far-fetched fictions" perpetuated by the network include a claim that Dominion's software and algorithms manipulated vote counts in the election and that the Denver-based company was owned by an entity founded in Venezuela to rig elections for the late dictator Hugo Chávez.
Even after the U.S. Department of Justice confirmed that it had found no evidence of widespread voter fraud, Dominion said that Fox News "stuck to the inherently improbable and demonstrably false preconceived narrative" and "continued broadcasting the lies of unreliable sources – which were embraced by Fox's own on-air personalities – because the lies were good for Fox's businesses."
"The truth matters. Lies have consequences," the lawsuit said. "Fox sold a false story of election fraud in order to serve its own commercial purposes, severely injuring Dominion in the process. If this case does not rise to the level of defamation by a broadcaster, then nothing does."
John Poulos, Dominion's chief executive officer, said in an email to NBC News, "The disinformation campaign waged against our company has caused us severe damage and undermined trust in American democratic institutions. These lies also have threatened the personal safety of our employees and customers. No amount of money will repair the damage done."
In a statement to NBC News, a Fox spokesperson said, "Fox News Media is proud of our 2020 election coverage, which stands in the highest tradition of American journalism and we will vigorously defend this baseless lawsuit in court."
Friday's suit is the fifth billion-dollar lawsuit filed by an election company over false claims that the election was rigged and the fourth by Dominion, one of the largest manufacturers of voting machine equipment the US.
Dominion has sued Rudy Giuliani and Sidney Powell, lawyers affiliated with Trump, as well as MyPillow founder and Trump supporter Mike Lindell, for their roles in sharing false claims about the company.
Powell's attorneys, in a court filing this week defending her against Dominion's suit, stated, "No reasonable person would conclude that [Powell's] statements were truly statements of fact." A unique defense, to be sure.
Election vendor Smartmatic Corporation, which was also the subject of election-related conspiracy theories, sued Fox News and three of its hosts, Maria Bartiromo, Lou Dobbs and Jeanine Pirro, for $2.7 billion in February.
Fox has since moved to dismiss Smartmatic's complaint, claiming the suit seeks to "stifle debate and chill vital First Amendment activities."
The Associated Press reported Friday that Dominion lawyers have not yet filed lawsuits against specific Fox News personalities, but it remains a possibility.
_____
Source: Equities News