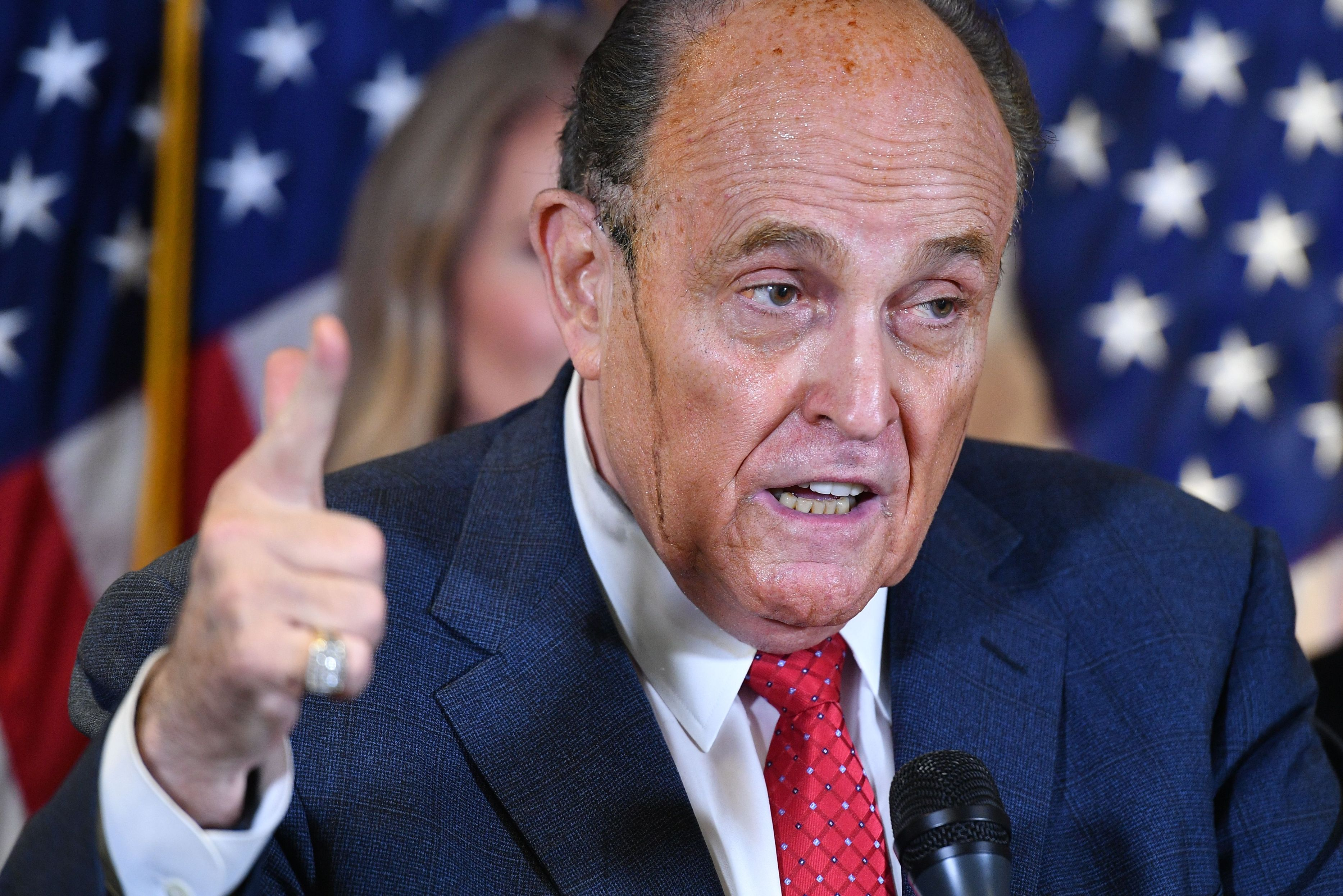 Image: Rudy Giuliani, Nov. 19, 2020. Source: Vasilis Asvestas / Shutterstock
A U.S. voting machine company filed a $1.3 billion defamation lawsuit against former President Donald Trump's personal lawyer, Rudy Giuliani, over baseless claims of widespread fraud in the 2020 election, according to reports.
In its lawsuit, Denver-based Dominion Voting Systems Inc accused the former New York City mayor of spreading "the Big Lie – which foreseeably went viral and deceived millions of people into believing that Dominion had stolen their votes and fixed the election," Reuters reported.
The suit, filed in District of Columbia federal court, is based on statements Giuliani made on Twitter, in conservative media and during legislative hearings where he claimed Dominion conspired to flip votes to President Joe Biden, according to the Associated Press.
Dominion also believes Giuliani's false statements played a role in the storming of the U.S. Capitol by an angry mob on Jan. 6, when Congress was meeting to certify Biden as the election's winner.
The company said it pursued legal action "to set the record straight" and "to stand up for itself, its employees and the electoral process." Since the election, Dominion has reportedly spent $565,000 on private security to protect its employees, who have been harassed and received death threats.
Giuliani is reportedly looking into countersuing Dominion.
In a statement to CNN, Giuliani said the lawsuit "will allow [me] to investigate their history, finances and practices fully and completely."
He added that "the amount being asked for is, quite obviously, intended to frighten people of faint heart" and "is another act of intimidation by the hate-filled left-wing to wipe out and censor the exercise of free speech, as well as the ability of lawyers to defend their clients."
This is the second defamation lawsuit Dominion has filed in recent weeks. Earlier this month, the company sued lawyer Sidney Powell, who spread similar claims about the election, for $1.3 billion in damages.
Investigation by New York State Bar Association
On January 11, the New York State Bar Association (NYSBA) – the nation's largest voluntary state bar association – launched a "historic" inquiry into potentially expelling Giuliani from its membership for "reiterating baseless claims of widespread election fraud in the presidential election and the Georgia U.S. Senate runoffs" to the crowd of thousands of Trump supporters who had assembled in Washington, DC.
"If we're wrong, we will be made fools of, but if we're right a lot of them will go to jail," Mr. Giuliani said to the crowd on January 6. "Let's have trial by combat."
Last week, Lawyers Defending American Democracy, a legal advocacy group, filed an ethics complaint with the Grievance Committee of the NYSBA, writing that Giuliani "should be sanctioned immediately while the Committee investigates" and urging an "interim suspension" of his license as he "knowingly propagated a false narrative of election fraud" as the lead attorney in Trump's effort to contest the election results.
The ethics complaint was signed by dozens of attorneys, including former federal judges, former acting U.S. Attorney General Stuart M. Gerson, two former state attorneys general and nearly 20 prosecutors who served in the U.S. Attorney's Office in the Southern District of New York – the district Giuliani once led.
The attorneys allege Giuliani knew his claims were false, asserting, "A lawyer who lies to the public and abuses the court system to undermine democracy and the rule of law is not fit to practice law."
_____
Source: Equities News