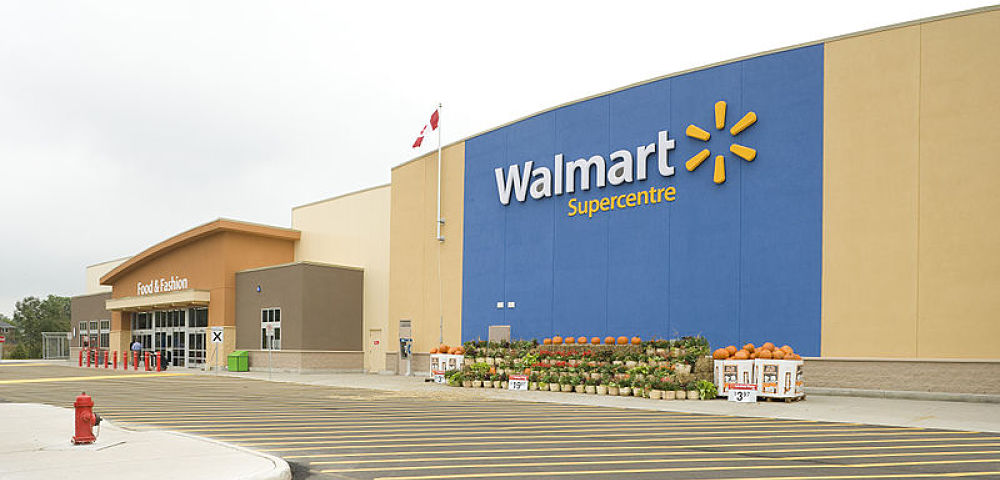 Image via Benchapple/Wikimedia
Walmart (WMT) is a mega cap stock that is considered a solid and well diversified business with a wide economic moat and sustainable competitive advantages over rivals, explains Mario Medina, contributing editor to Vivian Nelson's DirectInvesting.
The firm enjoys an outstanding management and corporate culture. Consensus estimates call for the company to earn about $4.83 per share this year, up from $4.42 per share last year, and to go to about $5.01 per share next year.
Walmart has paid dividends to investors since 1973, and has increased its payments for 45 consecutive years, which makes it a dividend aristocrat. During the past 5 years it has increased its dividends at an average rate of 3.54%, and its quarterly payment of $0.52 per share currently provides a yield of 2.50%.
Technically, Walmart also looks attractive, trading 24.8% below its 52 weeks high, while it is forming a price consolidation pattern between $110 and $82 approximately, in which $82 is acting as a technical support level.
Its direct investment plan charges some fees for cash investing ($5 plus 5 cents per share) but the plan charges no fee for dividend re-investment. To illustrate those fees: for example, a $100 investment at WMT's current price would cost a fee of $5.06 (or 5.06% of the investment).
To minimize the effect of even such small fees, you may want to invest a larger amount but less frequently. The fee for a $300 investment, for instance, would be $5.18 (or 1.73% of the investment).
With the stock being fundamental and technically attractive, this may be an excellent entry point for investors with a longer-term investment horizon.
Mario Medina is a contributing editor to DirectInvesting.
Subscribe to Vivian Nelson's DirectInvesting here…
About MoneyShow.com: Founded in 1981, MoneyShow is a privately held financial media company headquartered in Sarasota, Florida. As a global network of investing and trading education, MoneyShow presents an extensive agenda of live and online events that attract over 75,000 investors, traders and financial advisors around the world.