DirectView: Security Technology Play in Burgeoning Cannabis Industry
Spotlight Companies Follow |

History was made in Northampton, Massachusetts, yesterday, as Mayor David Narkewicz was first in line to welcome legal recreational cannabis to the state, purchasing a THC chocolate bar at New England Treatment Access. That outlet, which has been operating as a medical dispensary, and another one in Leicester, about 65 miles east along Route 9, became the first retail cannabis stores to open on the east coast of the US. Former Attorney General Jeff Sessions, who famously claimed on the Senate floor in 2016 that "good people don't smoke marijuana," no longer presents a practical hurdle to nationwide legalization, while voters in Michigan just opened up that state to recreational use two weeks ago.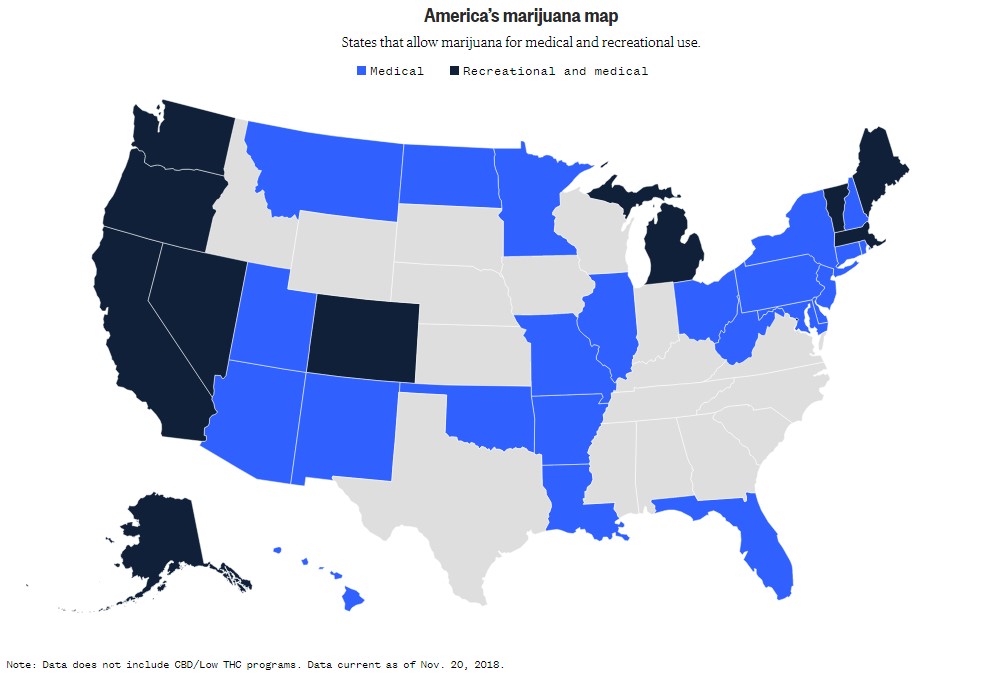 Source: National Conference of State Legislatures. Graphic by Jiachuan Wu, NBC News
In all, 33 states plus Washington, DC, now permit cannabis for medical use, while 10 states plus DC allow legal recreational use. Meanwhile, to the north, Canada became the first industrialized nation in the world to legalize recreational use in October. Investors are naturally clamoring for companies that carry even a hint of cannabis, but the extreme volatility of the sector poses a risk tolerance hurdle for many. We've been following a company that may present investors with a welcome balance of a growing technology-enabled business with the upside potential of participation in the high growth cannabis sector.
DirectView Holdings DIRV is a provider of surveillance and security solutions, incorporating onsite and remote digital video camera and audio surveillance and recording technology and services. The company also provides video conferencing products and services to professional service businesses such as banks and law firms as well as corporations and government organizations. DirectView's security division operates through several subsidiaries, including DirectView Security, Virtual Surveillance and ApexCCTV, an online retail storefront for security equipment. The company serves residences, large and small commercial businesses and industrial sites across six different industries: transportation, hospitality, education, food services, real estate and—perhaps most notable for its aforementioned high growth characteristics—cannabis.

The company reported record sales and gross profit this week for the nine months ended Sept. 30, 2018. The $3.3 million in revenue was up 22% from the prior year's period, resulting in gross profit of $1.3 million. CEO Roger Ralston said, "As we continue to be awarded significant new and existing contracts, we continue to invest in our subsidiaries to support the continuation of significant growth, customer experience, and satisfaction—thereby ensuring our customers receive industry-leading products and service throughout the project life cycle."
DirectView achieved several significant corporate and operational milestones in Q3, including:
While the company's growing corporate client list boasts household names such as AT&T T, Coca Cola KO, Del Monte, Facebook FB, Pepsico PEP, Sprint S and Waste Management WM, it is perhaps the burgeoning cannabis industry that may offer the greatest potential for long term growth. DirectView currently provides security cameras and installations to grow houses and dispensaries in California and Colorado, serving the industry "from seed to sale," as Mr. Ralston emphasizes.
As an industry, the production and retail sale of cannabis is tailor made to create significant demand for the provision of security, as companies increasingly sprout up to take advantage of the opportunities afforded by increasing legalization. Each state mandates its own specific requirements for extensive video surveillance and perimeter security before issuing operating licenses. While DirectView doesn't disclose a breakdown of revenue sources, the company views the specific and customized needs of the cannabis industry as a key opportunity for revenue growth. Further, the company has witnessed that certain larger security companies have been reluctant to enter this market, perhaps flattening the competitive landscape in DirectView's favor.

Under a preferred provider agreement, Legacy Construction Company of Colorado directs its retail and medical cannabis facility construction clients to DirectView for video surveillance and security needs. Legacy has over fifteen years of experience in commercial general contracting and holds a Class A general contractors license in six western states. DirectView also has a partnership agreement with Cannamor, a Colorado-based consulting firm focused on cannabis growing and dispensing projects, as its exclusive security solutions provider.
In the wake of Jeff Sessions' departure and with the split Congress we'll have for at least the next two years, we believe that there will be continued momentum for legalization of cannabis at the national level. As our analysts discussed the day before Election Day, markets generally perform well during a split Congress, and we think that cannabis legalization may be a relatively modest issue that can garner bipartisan support when compared with the strangled debates on major issues such as healthcare.
Among the key items of legislation to monitor is The Marijuana Justice Act, introduced by Democratic Senator Cory Booker of New Jersey last year, which would remove marijuana from the list of controlled substances, thereby making it legal at the federal level. Concurrently, we'll undoubtedly see further movement toward legalization in many of the remaining states. We believe DirectView stands to benefit from this momentum, offering interested cannabis investors an opportunity to participate one step removed from the direct business of growing and dispensing the product. We'll be keeping close watch for indications of continued operational progress in step with further legal progress in Congress and at the state level.
In the interest of full disclosure, we call the reader's attention to the fact that Equities.com, Inc. is compensated by the companies profiled in the Spotlight Companies section. The purpose of these profiles is to provide awareness of these companies to investors in the micro, small-cap and growth equity community and should not in any way be considered as a recommendation to buy, sell or hold these securities. Equities.com is not a registered broker dealer, investment advisor, financial analyst, investment banker or other investment professional. We are a publisher of original and third party news and information. All profiles are based on information that is available to the public. The information contained herein should not be considered to be complete and is not guaranteed by Equities.com to be free from misstatement or errors. The views expressed are our own and not intended to be the basis for any investment decision. Readers are reminded to do their own due diligence when researching any companies mentioned on this website. Always bear in mind that investing in early-stage companies is risky and you are encouraged to only invest an amount that you can afford to lose completely without any change in your lifestyle. Equities has been compensated with cash, common shares and/or warrants for market awareness services provided.

DISCLOSURE: The views and opinions expressed in this article are those of the authors, and do not necessarily represent the views of equities.com. Readers should not consider statements made by the author as formal recommendations and should consult their financial advisor before making any investment decisions. To read our full disclosure, please go to: http://www.equities.com/disclaimer.
Market Movers
Sponsored Financial Content