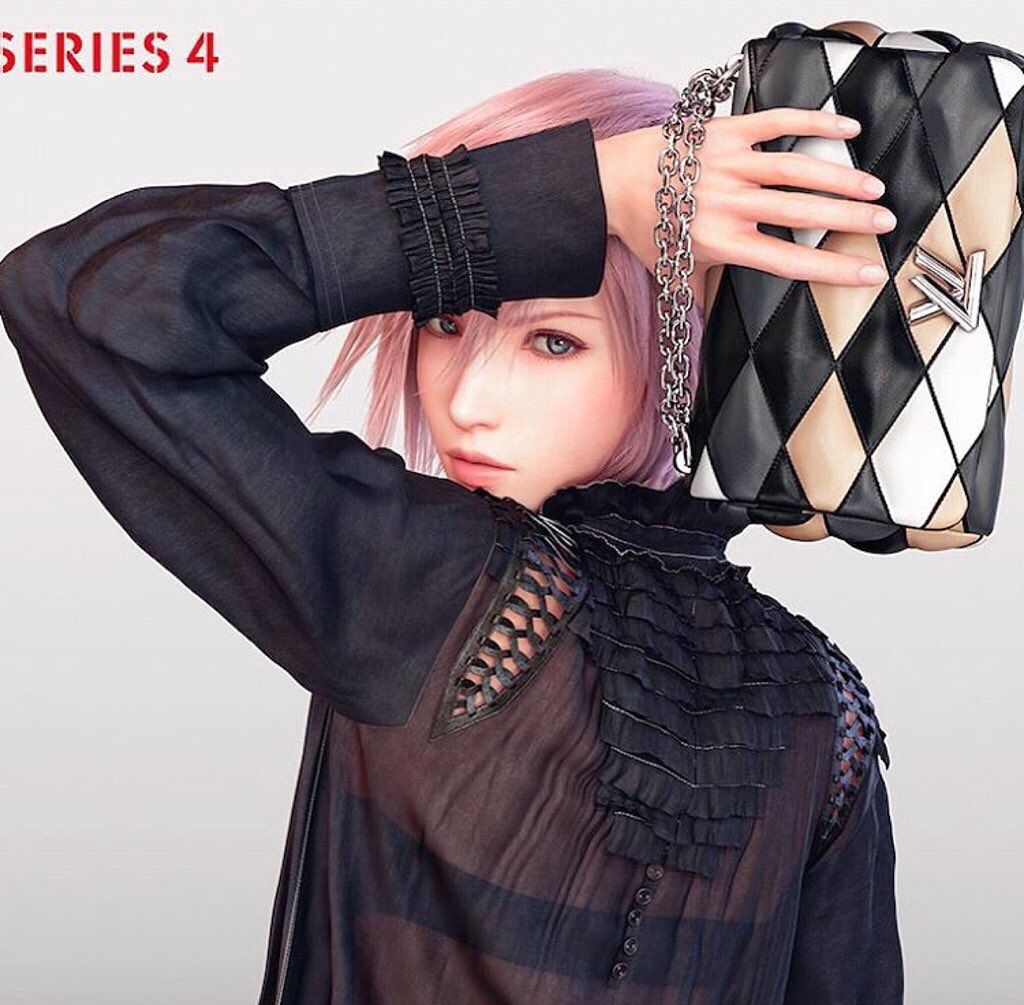 Louis Vuitton, the famous French fashion house, recently teased their new spring collection in a series of ads where an anime character modeled the company's soon-to-be-released handbags. Lightning, a female protagonist from Final Fantasy XIII can be seen swinging and posing with the handbags on the designer's Instagram page and by now all over the web. Final Fantasy is one of the most iconic video game franchises in the world, developed by Japanese-based Square Enix. The collaboration between the two companies shows a new facet to the digital world.
The idea of virtual characters modeling actual clothing lines was already done by Prada, but it was not as successful as Louis Vuitton has been with the pink-haired Lightning (designed by Tetsuya Nomura). Vuitton's creative director Nicolas Ghesquiere has shown to be forward and modern in his thinking. From a financial point of view, creative choices as these could open up big avenues and new consumers to the fashion industry. The gaming industry—including mobile games—will peak at $91.5 billion dollars this year. It is projected to be $107 billion in 2017. In addition, the marketing department at Louis V is doing something pretty wise. They are slyly pushing a marketing campaign that will bring more and more acceptance of digital technology into the fashion industry (valued at $1.7 trillion globally). Some of the biggest fashion houses have already been researching virtual fashion show technology along with apps and platforms to deliver the show's looks and branding that will mimic the show's glamour live.
Not only does change seem to be moving toward the digital and the mobile, but change is moving toward the whims of the customer. Previously, the press has held sway over the fashion industry as well as many other facets of our cultural register, but more and more the everyday consumer is gaining power and control. So, it would seem that some fashion shows and the seat of the taste makers will no longer be sitting in Paris or New York, but at home, on a bus, or at the gym.
DISCLOSURE: The views and opinions expressed in this article are those of the authors, and do not represent the views of equities.com. Readers should not consider statements made by the author as formal recommendations and should consult their financial advisor before making any investment decisions. To read our full disclosure, please go to: http://www.equities.com/disclaimer