Jaswig is an American manufacturing company based out of Akron, Ohio. Matthias Ellegiers, the founder of the company, and the rest of his design team have one goal in mind: break the cycle of sit-down work. Sitting down at a desk daily from childhood to adulthood has proved to be unhealthy. The Jaswig adjustable desk allows students and adults to lift the desk to varied heights for more comfortable postures depending on age and size. The desk also comes with a foot rest, which allows for weight distribution. However, one of the most interesting aspects of Jaswig is not the actual desk, but how they construct the desk.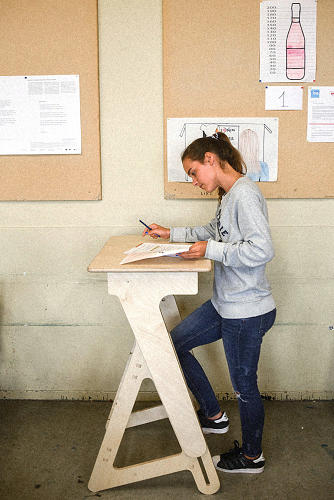 Each desk at Jaswig is constructed using digital manufacturing. Digital manufacturing is where an item or product is engineered without physical plans. The plans are transferred from shop to shop by email and the components and cuts are uploaded into a digital operating machine that cranks out the model in the uploaded file. Digital manufacturing allows for standardized plans and codes that can be transferred simply without the fuss of dragging around prints. The wooden components for the Jaswig table can be sent out to any digital operator and be reproduced on a massive scale by simply sending out an email.
Digital manufacturing also allows for companies to peer intelligently into production costs and values through computer analytics. Profit loss in operations and construction can be pinpointed more clearly with digital manufacturing software. Caterpillar recently partnered with the White House in creating the Digital Manufacturing and Design Institute that will work with engineers and designers to make American the forefront in digital manufacturing.
Digital Manufacturing is essentially a thread that intelligently links design with production and materials. GE recently launched the cloud-based Brilliant Manufacturing Software, a digital manufacturing operator system that can handle multiple nationwide production plants and analyze the supply chain for problems or losses. GE has been testing the BMS on a subset of its plants and gave initial reports that the gathered data was helpful in reducing inefficiencies by 30%. The one hurdle to the full-scale implementation of digital manufacturing is the small plants that still use legacy equipment requiring prints and manual operation. Digital manufacturing will revolutionize productions and rapidly cut down time lost in manual operation, but many companies are still adjusting to the times.
DISCLOSURE: The views and opinions expressed in this article are those of the authors, and do not represent the views of equities.com. Readers should not consider statements made by the author as formal recommendations and should consult their financial advisor before making any investment decisions. To read our full disclosure, please go to: http://www.equities.com/disclaimer