Ribonucleic acid (RNA) serves several critical cellular functions, acting as a messenger between DNA and ribosomes where proteins are made, forming vital portions of the ribosomes themselves and acting as a carrier for amino acids to be used in the synthesis of proteins. By interfering with a particular RNA molecule's message, scientists have been developing methods to inhibit gene expression, thereby interrupting protein synthesis and potentially the progress of disease. RNA interference (RNAi) is believed to have the ability to attack any target, including disease-causing genes that are beyond the reach of conventional antibody and small-molecule modalities. Additionally, RNAi-based therapeutic approaches hold the potential to offer more convenience for patients via infrequent dosing and a long duration of effect.
Cambridge, Massachusetts, based Dicerna Pharmaceuticals DRNA is developing RNAi-based therapies for diseases involving the liver, including rare diseases, viral infectious diseases, chronic liver diseases, and cardiovascular diseases. The company announced a global licensing and research collaboration with Eli Lilly LLY focused on the discovery, development and commercialization of potential new medicines in the areas of cardio-metabolic disease, neurodegeneration and pain. The companies will use Dicerna's proprietary GalXC technology platform to progress at least 10 new drug targets toward clinical development and commercialization. Lilly will pay Dicerna $100 million upfront plus make an additional equity investment of $100 million. Dicerna will be eligible to receive up to $350 million per target in development and commercialization milestones, plus royalties on sales.
Source: Dicerna Pharmaceuticals
At Lilly, we go to where breaking science meets unmet medical needs. We are excited to collaborate with Dicerna and utilize their RNAi expertise to study targets that up until now have proven to be very technically challenging. RNAi has the potential to treat an array of diseases that are of strategic importance to Lilly. Together with Dicerna, we aim to employ this emerging modality for greater success in drug development.

-Daniel M. Skovronsky, MD, PhD, SVP and Chief Scientific Officer, Eli Lilly.
We first highlighted Dicerna in this space in March 2017 and again in May 2017, citing the company's potential and attractive risk-reward proposition as what was, at the time, a modest $60 million microcap play that had fallen from previous heights. The company had gone public to much fanfare in 2014, raising $103.5 million in gross proceeds at a post-IPO market value of $262 million. The stock was in high demand out of the gate, pricing at $15, opening at $30 and closing the first day of trading at $46. The ensuing three years weren't as kind, as the stock bottomed last year, but valuation has increased by a factor of 13x in the past year and a half, as the company continues to make progress in the clinic and sign lucrative collaborations. This deal with Lilly comes on the heels of another deal Dicerna signed last week with Alexion ALXN that will bring Dicerna $22 million upfront, $15 million in equity investment and up to $600 million in milestone and royalty payments.
The collaboration with Lilly provides an exceptional opportunity to leverage our proprietary GalXC platform in order to generate new medicines for cardio-metabolic diseases, and to establish a presence in new fields including neurodegeneration and pain. Lilly, with its demonstrated leadership in each of these fields, is an ideal partner for extending the range of Dicerna's proprietary GalXC technology, which is designed to silence the expression of disease-driving genes. We are eager and ready to expand and advance our pipeline of innovative GalXC-based therapies, including both proprietary and partnered programs.

– Douglas M. Fambrough, PhD, President and CEO, Dicerna.
Also last week, Dicerna announced positive data from its ongoing Phase 1 trial of its lead candidate, DCR-PHXC, for primary hyperoxaluria types 1 and 2 (PH1 and PH2). The data, presented in a late-breaking poster at the American Society of Nephrology (ASN) Annual Kidney Week 2018 in San Diego, showed normalization or near-normalization in levels of urinary oxalate, a natural chemical that is normally eliminated as waste through the kidneys, in a majority of adult patients after a single dose. In patients with PH1 or PH2, the kidneys are unable to eliminate the large amount of oxalate, the accumulation of which can result in severe damage to the kidneys and other organs. Currently, there are no approved therapies for the treatment of PH.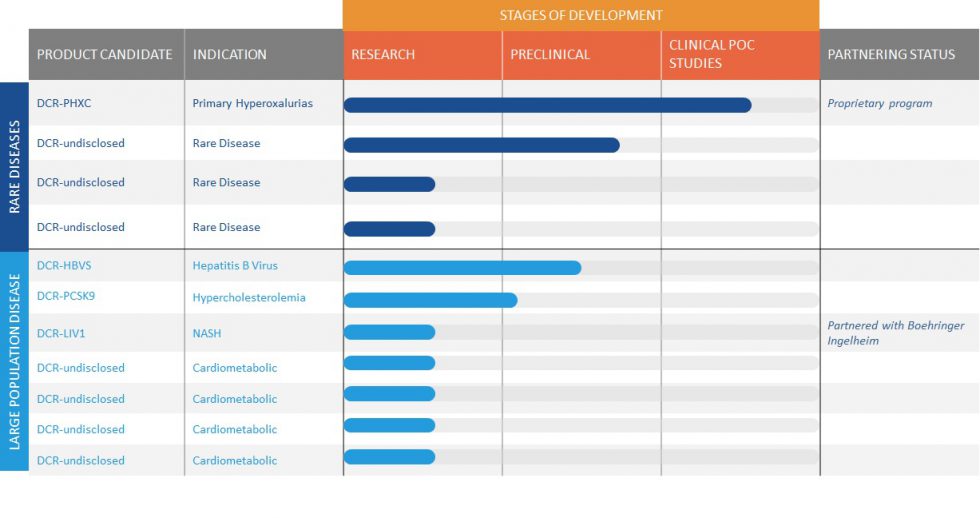 Source: Dicerna Pharmaceuticals
Interest in RNAi has waxed and waned in the past 20 years but is clearly on the rise once again. In addition to Dicerna's two recent transactions, Johnson & Johnson JNJ announced earlier this month that it would pay Arrowhead Pharmaceuticals ARWR $250 million up front to license an RNAi-based treatment in development for hepatitis B. Previously in August 2018, Alnylam Pharmaceuticals ALNY got FDA approval for the first ever RNAi treatment, Onpattro (patisiran), for the polyneuropathy of hereditary transthyretin-mediated (hATTR) amyloidosis. Dicerna stock is still trading below its IPO price, but the current levels represent a market capitalization now in the $850 million range due to the additional share issuance in the intervening years. Though the company is still at an early stage in its clinical progress, we're encouraged by what we've seen with the company's RNAi platform and by Dicerna's ability to secure these collaborations.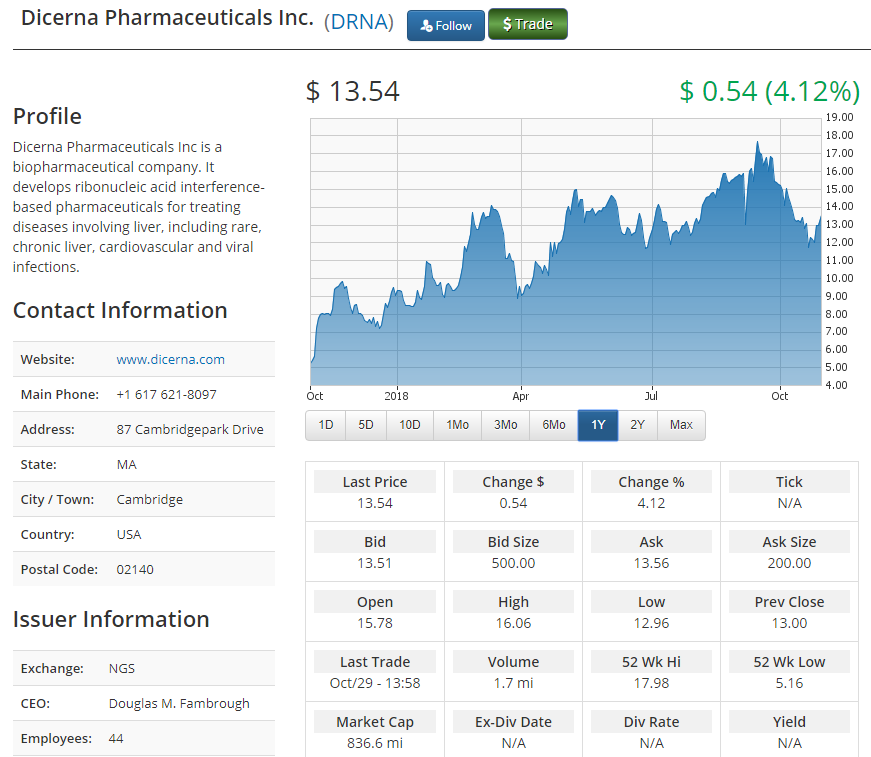 Please email us at [email protected] to see our Case Studies and Testimonials.
Please click here for information on our new trading platform.
Please click here to receive our free daily newsletter.