DiaMedica Therapeutics Raises $16 Million and Uplists to Nasdaq
Edward Kim Follow |

According to the latest CDC data, over 795,000 people in the US suffer a stroke each year, of which 610,000 people experience a stroke for the first time. About 140,000 deaths annually in the US are attributable to stroke. 2012 data from the World Health Organization places worldwide stroke-related deaths at 6.7 million, with an additional 5 million people left permanently disabled. 87% of all stroke incidences are known as ischemic strokes, in which arteries feeding blood to the brain become narrow or blocked. The CDC estimates the total health care burden of stroke to be $34 billion annually in the US, including services, medicines and missed work.

30 million adults in the US suffer from the gradual loss of essential kidney functions over time, or chronic kidney disease, according to the CDC. More disturbingly, the CDC estimates that 96% of people with mildly reduced kidney function are not aware of it at all. Each year, Medicare costs amount to $87,000 per dialysis patient and $32,500 per kidney transplant patient. The National Kidney Foundation calls CKD the most under-recognized public health crisis in the country, responsible for over $100 billion in annual Medicare costs.


Minneapolis based DiaMedica Therapeutics DMAC is developing therapies for neurological and kidney diseases, with a primary focus on acute ischemic stroke and chronic kidney disease. The company's lead compound, DM199, is a recombinant form of kallikrein-1 (KLK1), a naturally occurring protein which is involved in numerous critical body functions. According to a broadly cited 2009 study by Oliver A. Stone of the Bristol Heart Institute et al., KLK1 plays a critical role in the repair of blood vessels. Another broadly cited 2011 study by Nour-Eddine Rhaleb of Henry Ford Hospital et al., demonstrated that the body's kallikrein-kinin system plays an important role in broadly regulating cardiovascular and renal function. Kinins are proteins that are known to be involved in vasodilation (widening of blood vessels) and vascular permeability.

Uplist and equity raise


DiaMedica announced this morning that, in conjunction with an uplist to Nasdaq, it has raised $16.1 million in gross proceeds, offering 4.1 million shares at $4 via Craig-Hallum Capital. The media is reporting this is an "initial public offering," but that stretches the definition a bit. The company's stock has been trading DMA:CA on the TSX Venture Exchange in Canada since 2007, and, through yesterday, was also on the OTCQB. Today marks the first time that the stock is trading on Nasdaq.

DM199—recombinant KLK1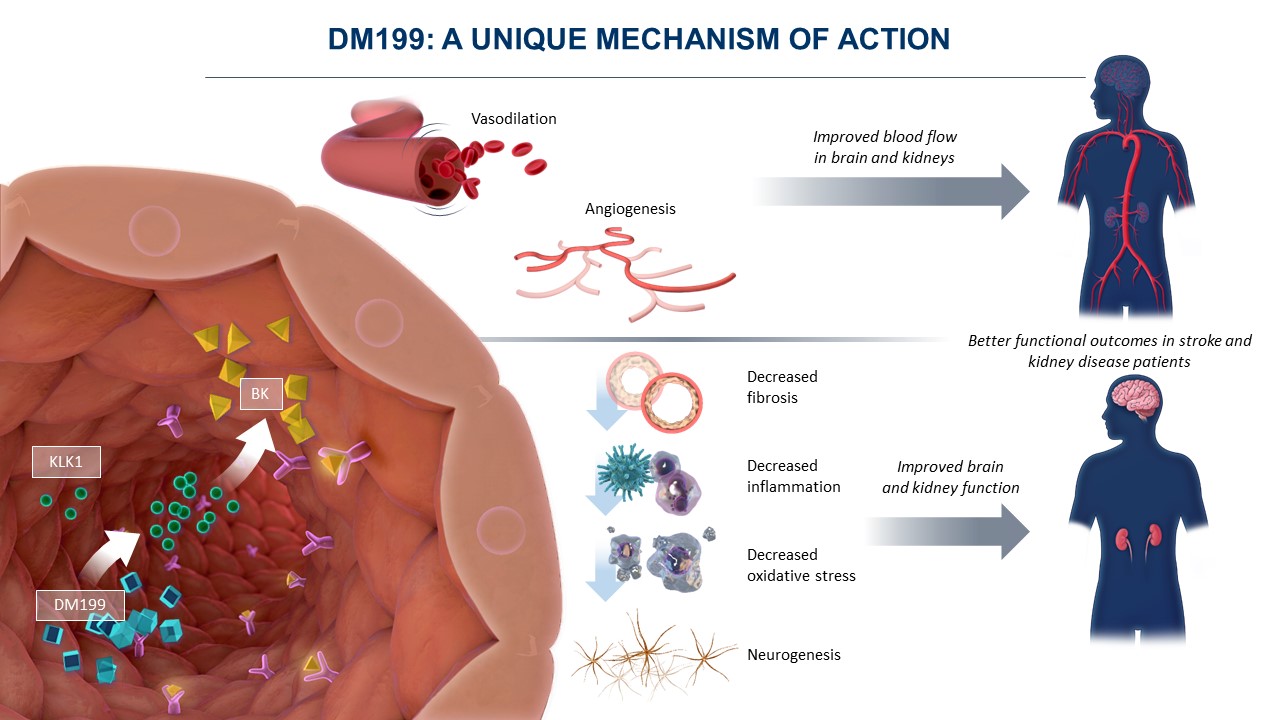 Source: DiaMedica Therapeutics

DiaMedica believes DM199 has the potential to treat a variety of diseases where healthy functioning requires sufficient activity of KLK1 and the kallikrein-kinin system. Acute ischemic stroke and chronic kidney disease are characterized by a lack of blood flow to the brain and kidneys, respectively. According to DiaMedica, these patients also tend to exhibit lower than normal levels of natural KLK1. The company believes that treatment with DM199 could replenish low levels of KLK1 and improve blood flow to the damaged organs.

According to DiaMedica's Form S-1, KLK1 derived from human urine and porcine pancreas are sold in Japan, China and Korea to treat a variety of diseases, including acute ischemic stroke, chronic kidney disease, retinopathy, hypertension and related vascular diseases.
Principal shareholders

DiaMedica's principal shareholders include Hermed Capital, a Hong Kong-based private equity fund (8.4% post-offering), CentreStone Ventures of Canada (6.0%) and Nancy Chang, PhD (5.6%), CEO of Apex Enterprise, an investment management company, and co-founder of Tanox, which was acquired by Genentech in 2007. Dr. Chang is also part of DiaMedica's strategic advisory board. There is limited information available on Hermed Capital, but we note that the fund is also affiliated with Ahon Pharmaceutical (Ahon Pharma), a subsidiary of Shanghai Fosun Pharmaceutical (Fosun Pharma). Fosun Pharma, which trades in Shanghai (600196), Hong Kong (2196) and OTC in the US SFOSF, is one of China's largest pharmaceutical firms with annual sales of more than US$2 billion.
License agreement with Ahon Pharma

In September 2018, DiaMedica entered into a license and collaboration agreement with Ahon Pharma, which grants Ahon Pharma the exclusive rights to develop and commercialize DM199 for acute ischemic stroke in mainland China, Taiwan, Hong Kong and Macau. DiaMedica received a US$500,000 upfront from Ahon and is entitled to receive $4.5 million upon regulatory clearance to initiate a clinical trial in China, up to US$27.5 million in development and sales related milestones and up to about 10% royalties in the licensed territories.
Pipeline

Trade Commission-FREE with Tradier Brokerage

Source: DiaMedica Therapeutics

Outlook

DiaMedica effected a 1-for-20 reverse stock split in November 2018 as part of its process to uplist. The new Nasdaq stock is trading at about a 15% discount to the offering price in mid-afternoon trading today, giving it a market capitalization of only $40 million. Though the company is only in Phase 2 with its lead compound, the stroke and kidney disease markets that DiaMedica is targeting are objectively very large. At current levels, the stock may almost be viewed as a low-priced call option on the ability to treat these diseases which are desperately in need of more effective therapies. DiaMedica has highlighted six strategic efforts in its Form S-1 of which we will be keeping track, and we encourage investors to do the same:
Please email us at content@equities.com to see our Case Studies and Testimonials.
Please click here for information on our new trading platform.
Please click here to receive our free daily newsletter.
DISCLOSURE: The author has no positions or any beneficial interest in, and has received no compensation from, the companies mentioned in this article.
DISCLOSURE: The author has no positions or any beneficial interest in, and has received no compensation from, the companies mentioned in this article.

---
The views and opinions expressed in this article are those of the authors, and do not necessarily represent the views of equities.com. Readers should not consider statements made by the author as formal recommendations and should consult their financial advisor before making any investment decisions. To read our full disclosure, please go to: http://www.equities.com/disclaimer.
Sponsored Financial Content
You May Also Like