~ $125 million upfront + potentially over $1 billion in milestone payments to develop RIPK1 inhibitors ~
By the year 2030, as many as one in five people in the US will be over the age of 65, according to the Harvard NeuroDiscovery Center, and this aging population will be increasingly affected by neurodegenerative diseases. Alzheimer's disease affects at least 5.7 million US adults today, a number that's projected to grow to nearly 14 million by 2050 according to the Alzheimer's Association. Harvard's numbers cite at least one million people with Parkinson's disease today, 400,000 with multiple sclerosis (MS), 30,000 with amyotrophic lateral sclerosis (ALS or Lou Gehrig's disease) and 30,000 with Huntington's disease.
Source: Alzheimer's Association
South San Francisco-based Denali Therapeutics DNLI is developing treatments for a broad spectrum of neurodegenerative diseases. The company announced today a broad collaboration with Sanofi SNY on the development of multiple molecules with the potential to treat a range of neurological and systemic inflammatory diseases. The collaboration will center on developing molecules that bind to and inhibit a critical signaling protein known as the receptor-interacting serine/threonine-protein kinase 1 (RIPK1), an enzyme which regulates inflammation and cell death in tissues throughout the body. Chronic neurodegenerative and systemic inflammatory diseases are marked by elevated RIPK1 levels, and therefore the inhibition of RIPK1 may have therapeutic benefit in these diseases.
Denali will receive $125 million in cash upfront from Sanofi, and will be eligible to receive future development and commercial milestone payments of up to $1.1 billion. The two lead molecules under the collaboration are DNL747, a brain-penetrant small molecule RIPK1 inhibitor for Alzheimer's disease, ALS and MS, and DNL758, a small molecule RIPK1 inhibitor that doesn't penetrate the brain, in systemic inflammatory diseases such as rheumatoid arthritis and psoriasis. The deal also covers additional pre-clinical RIPK1 inhibitor candidates.
This collaboration with Denali is yet another example of Sanofi's commitment to accelerate the development of transformative and best-in-class treatments for patients living with serious illnesses. We look forward to working with Denali on the RIPK1 program as we explore the potential of this mechanism in neurologic and inflammatory diseases.

– Rita Balice-Gordon, PhD, Global Head of Rare and Neurologic Diseases Research, Sanofi.
Denali went public in December 2017 in a high profile transaction, raising $287.5 million in gross proceeds via Goldman Sachs, Morgan Stanley and JP Morgan. It was the largest biotech IPO of last year, and has been eclipsed in size this year by only the deals done by Elanco Animal Health ELAN and Allogene Therapeutics ALLO. DNLI has lagged its peers and, even with the boost on the Sanofi news, is trading below its IPO price. We think investors will continue to drive the stock and narrow the gap with with the broader biotech group. We highlighted the management team at Denali when the company went public, and we continue to believe that this group's previous collective experience at Genentech RHHBY will serve the company well. Regular readers know that, while we hold no financial stake in any company about which we write, we maintain a keen personal rooting interest in seeing neurodegenerative disease companies succeed in finding much-needed solutions.
RIPK1 is a promising target with the potential to bring disease modifying medicines to patients suffering from neurodegenerative diseases as well as systemic inflammatory diseases. We are very excited to partner with Sanofi and expand our RIPK1 program into new indications. With its considerable infrastructure and experience in both clinical development and commercial functions, Sanofi is an ideal partner for Denali to maximize the clinical and commercial success of our RIPK1 program.

– Ryan Watts, PhD, CEO, Denali Therapeutics.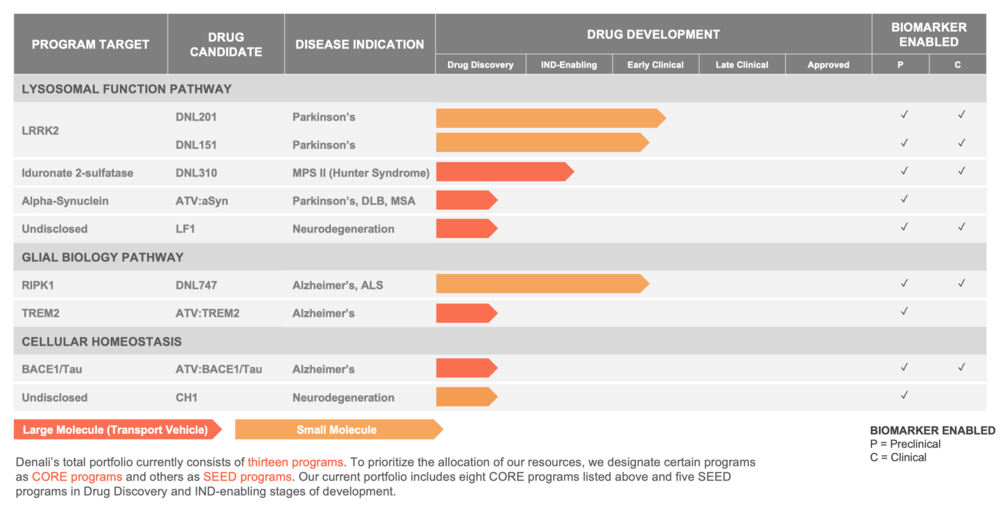 Source: Denali Therapeutics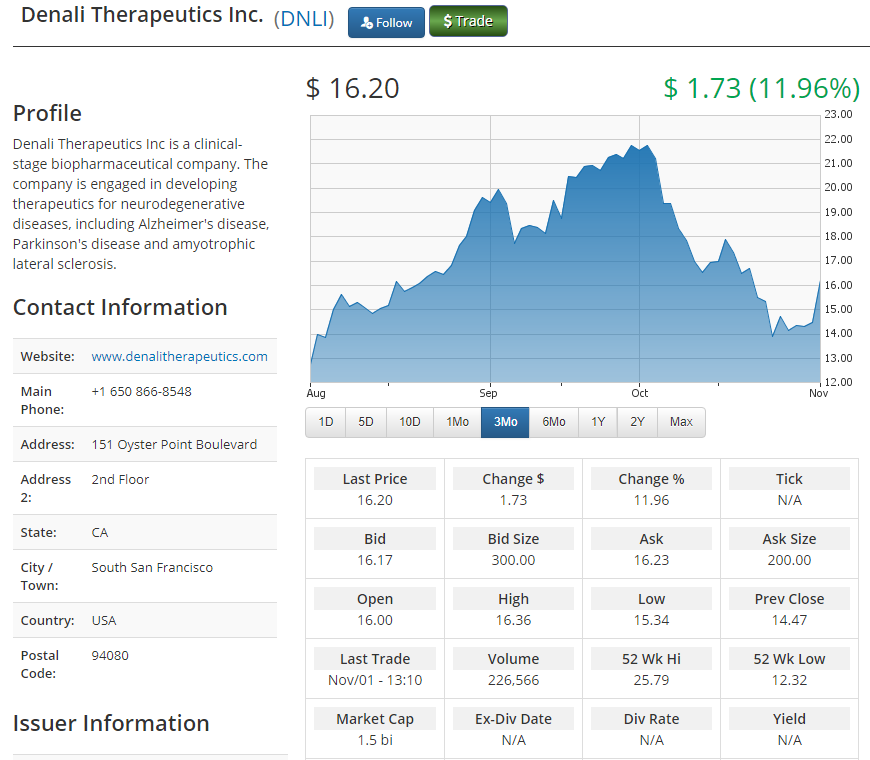 Please email us at [email protected] to see our Case Studies and Testimonials.
Please click here for information on our new trading platform.
Please click here to receive our free daily newsletter.