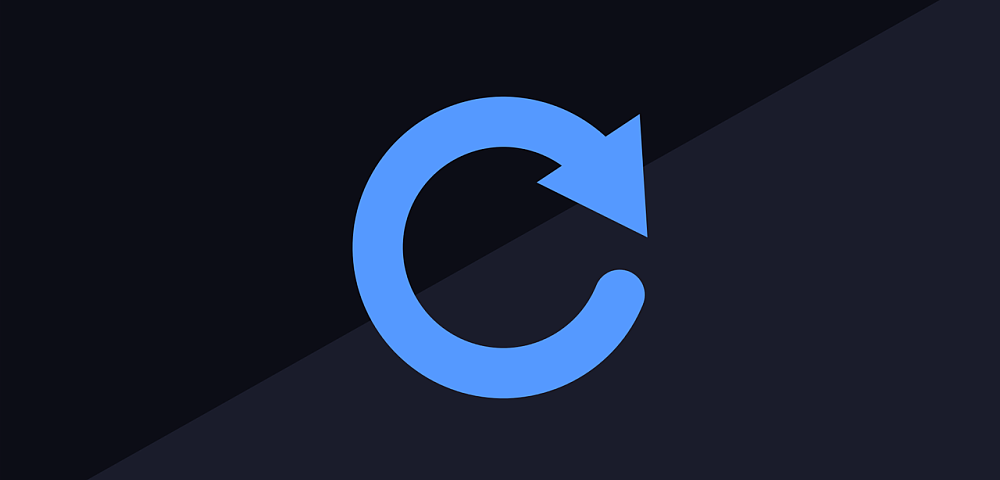 The Nasdaq picked up over 2% last week, with the Russell 2000 and LD Micro Index each gaining more than 1%, while the S&P and DJIA were a little further behind.
Dear Patrons,
Howdy.

The LD Micro index ended the week slightly higher, in what was a topsy-turvy set of days.

We are less than one month away from the 8th annual LD Micro Invitational (June 4th, 5th, and 6th). The presenting company list was released on Thursday, and it speaks for itself.
Micro-cap was extremely active on the earnings front. We had a small bank buyout, a company (IMTE) that went up 1,000% in a day ($3 to $37), only to fall down to $20 on Friday.
Heat Biologics (HTBX) was the standout for this week. The stock not only was the #1 gainer on Monday, it was also the #1 gainer on Tuesday as well. To be #1 out of 11,843 companies is one thing. To do it in back-to-back days is special.
On Thursday morning, the company announced an $18,000,000 public offering, cutting the stock in half in a single trading day. The CEO of the company, Jeff Wolf, is not just a nice guy, but one of the few CEOs that is truly passionate about what he is doing. We had the pleasure of meeting Jeff at a conference a few years back and spent some time with him.
The name of the game is to activate a patient's immune system against cancer, in this case, small cell lung cancer. As of now, only 2% of people (stage four) survive after five years. For full disclosure purposes, the company has compensated us in the past for presenting at our events.
Paris
Five years ago, my wife and I decided to do something bold. Actually, five years ago, my wife convinced me of getting out of the house for a change and doing something bold (sounds more like it). Like most people, I prefer the comforts of home more than exploring the geographic territories outside our own county!
It's not that I am lazy, or lacking in adventure, it is just that Hot Pockets, speedy internet, good health, a comfortable couch, and reliable air conditioning are all the things I require in order to be happy. If you give me these things, I'm a house cat. We are cool. Let me add cable in there.
Over the years, I've asked the most successful people in the micro-cap space how money has changed them. In most cases, not much. They have the power and capability of buying practically anything they need, but yet they do not really have the desire to purchase anything lavish or unnecessary to their daily well-being. I then asked a follow-up question, "What is the one thing you spend more money on than you actually should?"
Many tend to spend a little excessively on travel, more than their counterparts.
We decided to go see France and Italy, two of the flagships of the European Union. Remember, I'm talking about this as a tourist, not an economist. :-)
It was magical. Typically, we set an itinerary a few months in advance, breaking things up in 15-minute increments.
The itinerary was tossed for the trip. We just went out and started walking everywhere. Not only was it exhausting, but abundantly fruitful. You see and hear and experience things a little differently when you go on random streets in Paris. When you find something unique, you delve into a little more.
For me, the best investments have always come by accident. I think travel can be the same way. Just set a path, and walk it.
Not only does Paris have more museums, restaurants, and local attractions than practically any other city in the world, it also has the best transportation system in their metro.
The thing that sucks is that it is expensive, like most good things in life. Our timing was unfortunate because back in 2013, a single Euro cost us almost 50% more than a single dollar. The liter bottle that I bought at George V sitting next to Dolce and Gabbana (wish I was kidding) was $30 bucks.
To me, the water was worth it just to hear those guys arguing back and forth in Italian.
Contrary to popular belief, the Parisians were a very nice set of people that have had their fair share of economic and political unrest. Etiquette is still huge here, and they can be obdurate in some of their social beliefs.
To say that the country is in a "shit-show" would be an understatement, but you can make the same argument about the U.S. today.
One huge travel tip is to learn 100 of the most common words in the foreign language that you about to embark on. This paid off royally when it came to starting conversations, ordering things, and being polite to those that call the city home.

Paris is one of the jewels on Earth that everyone should experience at least once in their lives.
Sincerely,

Chris Lahiji
President
LD MICRO
-----------------------
Articles of interest:
----------- STAND OUT
LD's Very Own, Galileo Russell Has Reached the Pinnacle of Conference Call Achievement, Tesla's Call, We Hope to See this Overnight Celebrity Next Month at the Invitational, The Kid is a Star
Must read micro-cap press release of the week: HC2 ($HCHC) Announces Pansend Life Sciences Portfolio Company BeneVir Biopharm to be Acquired by Janssen Biotech, Inc. for up to $1.04 Billion
Popcorn worthy drama at $SVA - Sinovac Temporarily Blocks Access to Its Websites
Sinovac ($SVA) Forced to Plan to Destroy Bacterial Seeds intended for Pneumo Vaccine Production and Postpone Site Inspection
Sinovac ($SVA) Forced to Temporarily Suspend Flu Vaccine Production Due to Disruptive Actions taken by Minority Shareholder of Sinovac Beijing - this is a $430m company
Depressing Video of Coachella Shows Everyone Is Just on Their Phone
Picasso Nude in Rockefeller Auction May Help Break a Record via Bloomberg
---
---
Why Fitbit Could Make a Good Google Acquisition, Stock is Down 90% Since IPO Three Years Ago
----------- M&A
ACQUISITION: United Therapeutics ($UTHR) to Acquire SteadyMed Ltd. ($STDY) - $216m total consideration
Edge Therapeutics ($EDGE) Announces Review of Strategic Alternatives
Aqua Metals ($AQMS) and Kanen Wealth Management Reach Agreement to Strengthen Company's Board and Management Team
Nevada Gold & Casinos ($UWN) Announces Exclusive Sale Discussions
Kona Grill ($KONA) Announces Strategic Investment, Issues Shares at a Premium to Market
---------- PRESS RELEASES
ACM Research ($ACMR) Awarded Significant Orders Totaling $14.9 million
Acorn International ($ATV) Closes RMB360 Million (US$57 million) Sale of Non-Core Assets
FTE Networks ($FTNW) Awarded New Contracts Totaling Approximately $28 Million
PotNetwork Holdings, Inc. ($POTN) Posts First Quarter Results of Record Q1 Revenues of $6.3 Million, and Debt Reduction Of $1.2 Million
Command Security Corporation ($MOC, -35% for the week) Announces Loss of Contract
O2Micro (OIIM) Reports 1Q18, Company Trades Under Cash
Mitek ($MITK) Reports Record Second Quarter Revenue, Up 25% Year Over Year Raises Full Year Revenue Guidance
NV5 (NVEE) Announces Excellent Q1 Results and Raises 2018 Guidance, They Actually Had the Word "Excellent" in the Release
Finjan (FNJN) Files Patent Infringement Complaint Against Check Point USA (CHKP) and Check Point Israel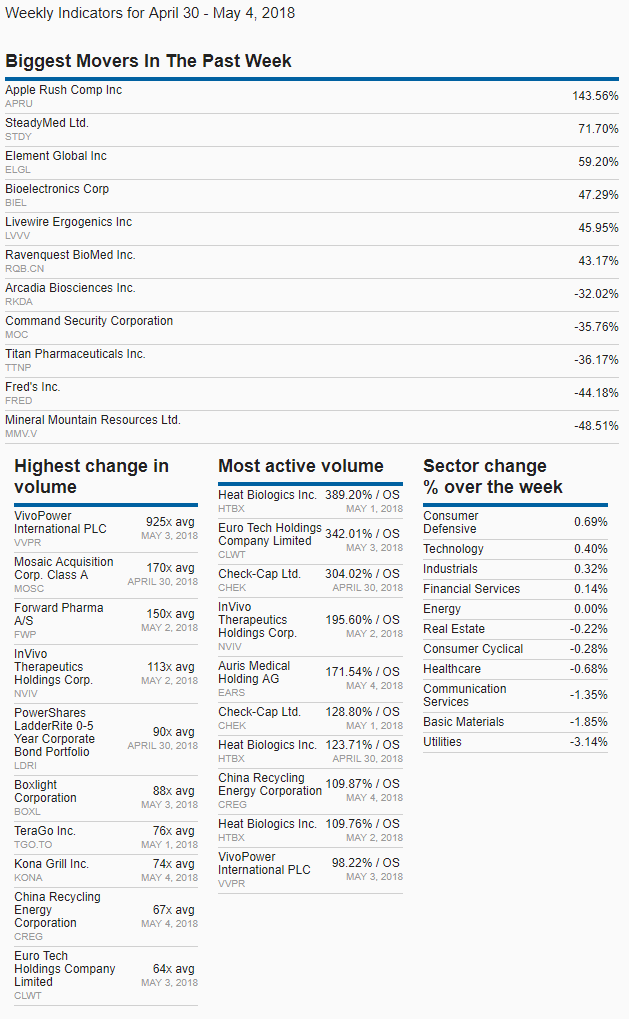 DISCLOSURE: The views and opinions expressed in this article are those of the authors, and do not represent the views of equities.com. Readers should not consider statements made by the author as formal recommendations and should consult their financial advisor before making any investment decisions. To read our full disclosure, please go to: http://www.equities.com/disclaimer