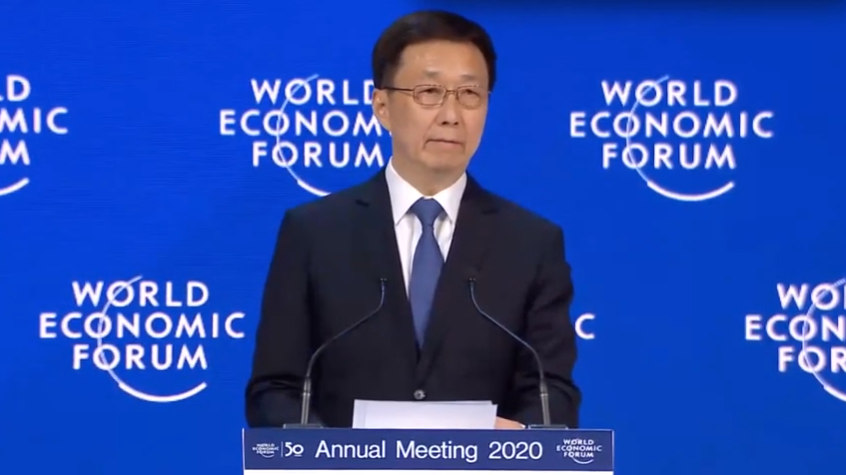 LIVE BLOG from WEF
Han Zheng, Vice-Premier of the People's Republic of China, was Mayor of Shanghai from 2003-12.
He's joined in this session by Professor Klaus Schwab, which comes in the week after the Chinese government announced official growth figures of 6.1% for 2019.
Globalization at a crossroads
Economic globalization continues to face headwinds – from protectionism and unilateralism, the Vice-Premier explains.
But without economic globalization, economic growth will struggle.
Working together
So, countries need to work together and develop new mechanisms for global collaboration to ensure everyone can benefit.
The world needs to work together towards win-win outcomes, to tackle some of the world's biggest challenges – poverty, climate change, environmental protection.
International affairs should not be dictated by a couple of countries, he adds.
Sustainable development and open doors
Vice-Premier Han points to the progress made in China – but also the work that's still needed to ensure every citizen has a good quality of life.
The country has no doubt benefited from economic globalization, he explains, but is also an anchor and driver of global growth and sustainable development.
So despite protectionist moves in some countries, China will continue to drive economic globalization and contribute to sustainable development.
And the country will continue to open up – for example by continuing to open free trade zones – and deepen multilateral and bilateral cooperation.
Trade
China is prepared to conclude high-quality free trade agreement with more countries, he explains.
The country also supports necessary reforms to the WTO, to enable it to play a bigger role in openness and development.
Trillion Trees Initiative
The Vice-Premier explains China is ready to share its experiences in afforestation, commit to global multilateral efforts and to fully implement the Paris Agreement.
The Chinese economy
The Chinese economy is in transition, he explains, from high-speed growth to high-quality development.
The country has kept its place among the world's fastest-growing economies, and will continue to prevent risks, reduce poverty and and treat pollution.
Maintaining steady growth, increasing living standards and reducing instability are therefore key priorities, he explains.
He concludes by reminding the audience that China is ready to help reform, drive and support global efforts to work towards a shared future.
_____
WEF Liveblog Team: Joe Myers, Ceri Parker, Briony Harris, Kate Whiting, Samantha Sault, Robin Pomeroy and Christopher Alessi.
_____
Source: World Economic Forum