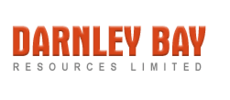 Darnley Bay Resources Introduction
Not often in the mining space do you get superstar successful investors funding your company. A Lundin Family fund invested $2.5M in the most recent Darnley Bay Resources (DBL.V) $0.20 offering, and a corporation controlled by Robert McEwen invested $1m in the same financing. These are household names in the mining space, to say the least and both are excited about the upside of Zinc, the deposit size of the recent property acquisition 'Pine Point', and also the exploration upside this property presents. Pine Point has been the largest and most profitable zinc-lead mine in Canadian history.
Pat DiCapo and The PowerOne Capital Group are also involved and have been instrumental in the development of Darnley Bay. Having recognized the opportunity from its onset, PowerOne has provided early and continued financial support and oversight. PowerOne has a proven and well-established track record of success in mining deals, having financed and/or provided advisory services for over 300 transactions valued at over $2.5B for projects on every continent (except Antarctica). PowerOne and its principals have also been instrumental in the creation, financing and development of numerous high profile Canadian and international success stories.
Pine Point Zinc Property
The acquisition of this property involves a CDN $3M payment to the old owner of Pine Point and will issue 26,250,000 common shares as total consideration for the property. This property has an attractive history and consists of a semi-contiguous group of 45 mineral claims and mining leases in the Pine Point District, about 40 km east of Hay River, NWT, accessed by a year-round highway which parallels the mining lease block. Pine Point was a productive zinc mine for several decades in the past. Cominco Ltd. commenced large-scale mine production in 1964 with reported reserves of 21.5 million tonnes averaging 4% lead and 7.2% zinc.
The Pine Point mine was actually an assemblage of 46 separate open pits and two underground deposits, lying along a 35-kilometre trend, including the concentrator at the Pine Point town site. Approximately 64 million tonnes of ore and lead were mined between 1964 and 1987. Previous drilling on the property totals approximately 1.3 million metres in 18,422 holes by Pine Point Mines (Cominco), Westmin and Tamerlane. In total there is a 100km trend and historically every kilometre has zinc deposits.
The previous owners, Tamerlane Ventures, have a technical report issued in 2014 on the property which gives it a 12 year mine life, a 35% IRR (which should be considerably higher now as that number is based on an at-par CAD/USD exchange rate).
Impressively, this property has 4.2B lbs of Zinc, which is among the top in selected Zinc resources. The study will surely be improved from an increase of current zinc and lead prices. Germanium is also a by-product of production in this mine, and is a typical rare and dispersed element, associating with lead-zinc deposit and copper ore. Given the rarity of this mineral, Darnley Bay can still receive a good payout as the spot price of Germanium is around $1,930-1,995 per kg. This is great for extra cash from a by-product!
Other Highlights from 2014 Technical Report Include:
Mineral Reserves at R-190 are 647,308 proven tonnes grading 12.47% zinc and 6.10% lead and 357,311 Probable tonnes of 8.27% zinc and 3.79% lead.
Mineral Reserves at N-204; are 12,830,000 tonnes, Probable Reserves grading 2.6% zinc and 0.7% lead diluted (MineTech, March 2012).
The Base Case net present value (NPV) (after Tax) is $112 million at an 8% discount rate. This was based on cheaper metal prices! With DBL.V's current market cap of CDN $43M, it is obvious to see there is considerable upside, which I think will be realized as investors start to understand the property's great statistics and the people that are working to make this into a profitable mine.

The pricing at $1.25 zinc and $1.15 lead yields a NPV8 at $259M.
2017 Plans
The most recent financing is very important in carrying out Pine Point operations, drilling, and for strategic hires in 2017. This year is sure to be an active one with this exciting property, and large investors are quite aware of this. The company is in an aggressive mode to advance Pine Point and plans to hire very experienced and proven successful mining experts to make this happen as efficiently as possible in early 2017.
Another main goal for 2017 is to issue a Preliminary Economic Assessment (PEA) on the deposits. This includes updating the exchange rates and adding several deposits to get a more accurate picture of the value of this high profile property. These results are sure to be positive catalysts for the company moving forward. After the PEA, DBL will work on a feasibility study to assess the likeliness of this property to become a mine. I expect very strong results from this study on Pine Point and that the big investors and experienced management are expecting nothing less than developing the property into a producer over time.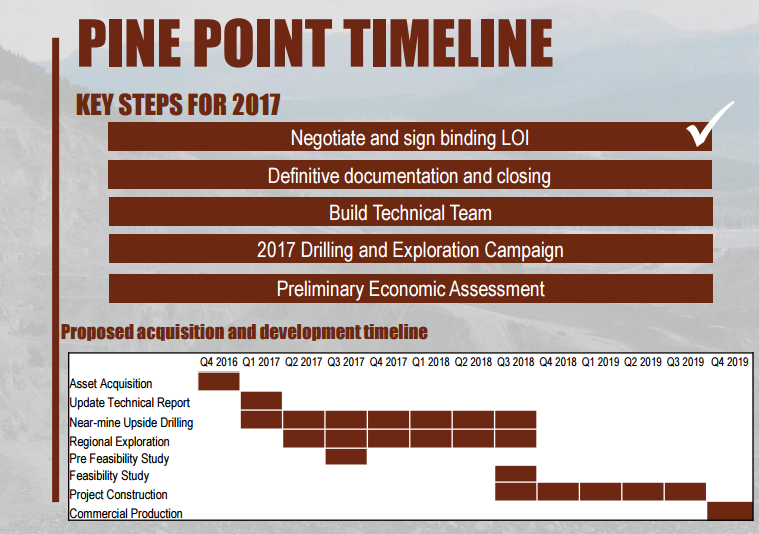 Darnley Bay adds Strategic Operating Officer John Key
John Key is the perfect hire for Darnley Bay. This is a mining professional who has mined the most zinc than anyone in the world. Mr. Key has 40 years of industry experience in senior management includes 28 years at Cominco Ltd. and its successor Teck Cominco, where he was general manager of three major mining operations. Another big player which sees a big time opportunity. Even more strategic is the fact that Mr. Key has around three years of experience with the Pine Point Property.
"This hiring is the first step in building an experienced production team to take the Pine Point project through feasibility, and if warranted, into production," said Jamie Levy, President and CEO. "John's extensive experience mining both open pit and underground zinc mines in the far north is invaluable."
Some Professional Highlights from Mr. Key:
President and CEO of Gryphon Gold Corporation, a TSX-listed company, from 2008 to 2012.
During his tenure, Mr. Key's leadership was crucial in advancing Gryphon Gold from small junior exploration company to a production-stage mining company.
General Manager of Red Dog Operations for Teck Cominco (1996-2001)
---
---
This was the largest open pit zinc mine in the world during his tenure. Mr. Key's numerous accomplishments during his time operating in the arctic environment at Red Dog are highlighted by two major mine expansion projects, which in aggregate required the oversight of a budget of some $300 million and increased the annual production rate from 500,000 tonnes of zinc concentrates to over 1 million tonnes of concentrates.
General Manager of Cominco's Polaris
This is an underground lead-zinc mine located 60 km from the magnetic north pole in the Northwest Territories from 1993 to 1995.
His considerable experience in permitting, community relations and other regulatory issues in the N.W.T. will be crucial in advancing Pine Point to the production stage of development, including the permitting of several open pit and underground deposits at Pine Point. Previous to this position he was also General Manager of Cominco's Magmont lead-zinc mine in Missouri from 1982-1993 and United Salt's salt mine in Hockley, Texas from 1979-1981.
Zinc Market & Outlook
The World Bank expects Zinc prices to rise more than 20 percent following the closure of some large zinc mines and production cuts in earlier years. Also, many analysts and investors that understand that Trump's Presidential victory results in many infrastructure upgrades are investing in this trend through Zinc, a strategic metal which will surely benefit from infrastructure upgrades.

China is expected to increase Zinc usage as well, mainly for automobiles. The country did hasn't utilized much zinc for automobile production in the past, however this is resulting in more rust from these cars, and China is importing more Zinc now to combat this issue. This is a massive demand indicator as one of Zinc's major uses is in automobiles and also because of China's demand size. China, which contributes to approximately 50 percent of global zinc demand, has applied restrictions for mine production and will continue to rise its demand supported by government's policies.
Another important consideration is that the International Lead and Zinc Study group estimates in their last report that the market will remain in deficit with a current shortage of 248,000 tonnes. Citigroup expects most raw materials to perform strongly next year as global economic growth picks up. Zinc is amongst its top picks, which it is expected to rise from an average price of $2,085 a ton over 2016 to an average $2,590 a ton over 2017. This is mainly due to an imbalanced market. Falling mine production could allow the metal rally to continue for many months. The International Lead and Zinc Study group expects a decrease in zinc by 5.6 percent to 12.47 million tonnes in 2016 and 5.9 percent to 13.20 million tonnes next year.
The closure of two main mines in 2015, Century and Lisheen, that together produced approximately 0.6 million tonnes of mined metal, had a big impact on supply. Production cuts from other mines, including Glencore and Nyrstar also allowed prices to soar. To add to the curbed supply, China has recently ordered the closure of 26 smaller mines due to environmental concerns.
Glencore CEO Ivan Glasenberg said recently: "tightness is starting to flow through the entire supply chain and is beginning to reach the metal market."
A tight supply, production cuts and a growing demand is expected to continue to boost prices as the new year begins.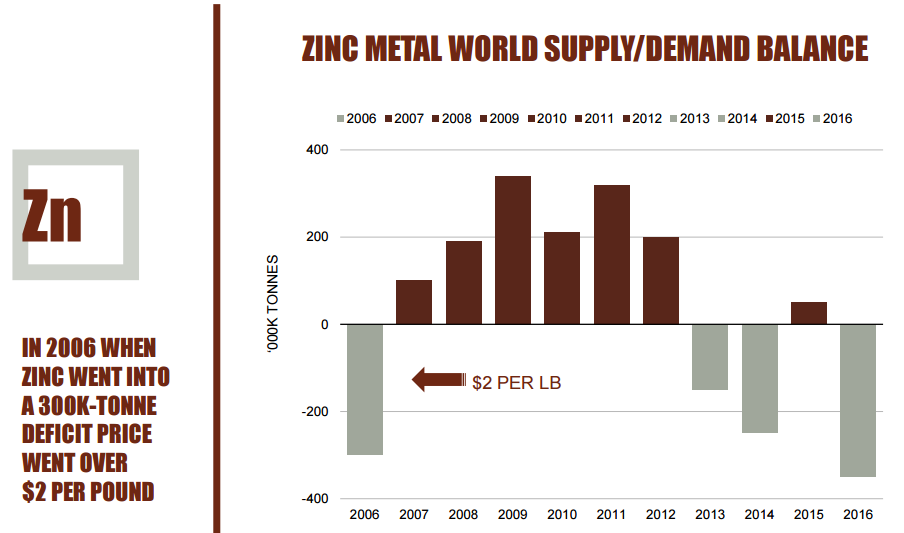 Management Team/Directors
Kerry Knoll - Chairman and Director
Mr. Knoll has worked in a variety of mining industry roles for 36 years, managing companies for most of that time. He was co-founder of a number of companies, including Glencairn Gold Corp which was acquired by B2 Gold; Wheaton River Minerals, which merged with Goldcorp, Blue Pearl Mining which, later as Thompson Creek, was acquired by Centerra. Other accomplishments earlier in his career include terms as editor of The Northern Miner Magazine and the Canadian Mining Journal.
Jamie Levy, President - Chief Executive Officer and Director 25 years in financing and management of Canadian mining companies. Formerly Vice President of Pinetree Capital.
Stephen Reford - Chief Technical Officer and Director
President of of Paterson, Grant & Watson, an internationally respected geophysical service company.
Patricia Mannard - Chief Financial Officer and Director
Managed administrative and financial aspects of exploration companies for 29 years.
John Key – Chief Operating Officer
Mining Engineer, 28 years with Cominco incl General Manager at Red Dog during major expansion and Polaris
Capital Markets
Shares Outstanding: 116,459,392
Share Price (January 9th, 2016): $0.375
Market Capitalization: $43,672,272
Insiders Control 55% of the Shares Outstanding.
Warrants: 22.5M
Options: 5.2M
The chart below shows the recent market awareness of the Darnley Bay's progression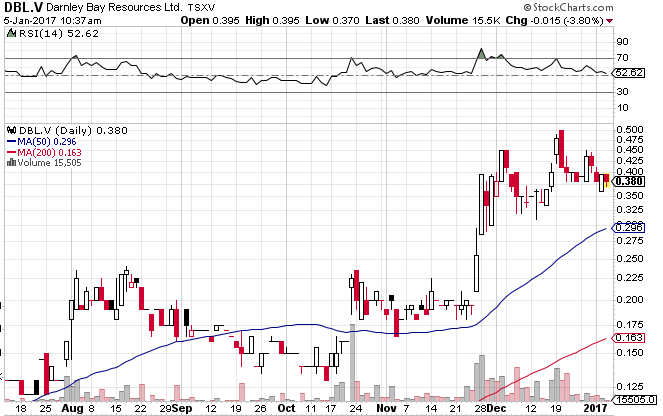 Appendix
Figure 1: NPV Sensitivity Analysis on Pine Point Property using 2014 Technical Report

*Important: All figures are based on an at-par CAD-USD. DBL would receive all cashflows in USD and convert to CAD, which currently results in a 30% appreciation, an impressive amount given the already high NPV figures above. Current Zinc price is US$1.22 and Lead is US$0.98. Given the 30% currency conversion bump, I use $1.50 Zinc price and $1.25 Lead price, which results in a $393M NPV. The NPV figures above are also assuming only 10 deposits, which can and is likely to be increased to above 30 deposits in the next updated report due soon. Considering the sensitivity of this property's NPV to zinc prices, more deposits included, and a more favorable currency, the updated report is expected to yield very favorable NPV results. Current market cap of DBL.V is only $43M.

DISCLOSURE: The views and opinions expressed in this article are those of the authors, and do not represent the views of equities.com. Readers should not consider statements made by the author as formal recommendations and should consult their financial advisor before making any investment decisions. To read our full disclosure, please go to: http://www.equities.com/disclaimer