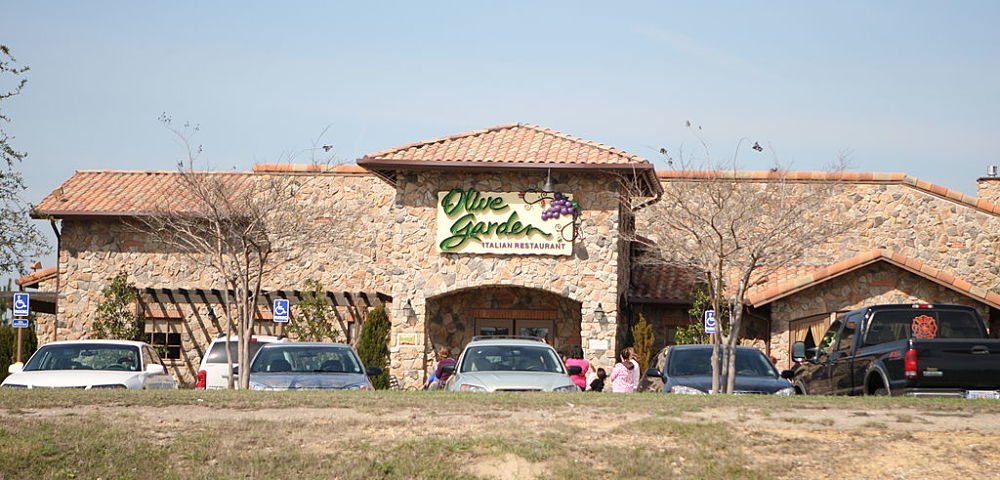 Image via hattiesburgmemory/Wikimedia
Sometimes a fresh set of eyes provides the quickest way to get where you want to go. Shares of Darden Restaurants (DRI) surged to a record high on Friday, July 13, writes Jon Markman. He's presenting at MoneyShow San Francisco August 24-25.
Since activist investors ousted the entire board of directors four years ago, the parent company to chains like the Olive Garden, The Capital Grille and LongHorn Steakhouse has been on a roll.
It's a lesson to managers. Stay focused on creating shareholder wealth.
Restaurant Wars: Managers vs. Investors

In the early part of 2014, managers of the Orlando, Florida-based casual and fine dining conglomerate had lost their way. Sales flatlined. To make matters worse, they were embroiled in an epic power struggle with an activist hedge fund.
Jeffrey Smith, chief executive officer at Starboard Value, approached Darden's management with the idea of spinning off Olive Garden and Red Lobster into a separate company.
These restaurants had brand recognition and national scale. But operationally, they suffered from declining sales and weak customer loyalty. Smith wanted Darden managers to focus on Capital Grille, Eddie V's, Yard House, Seasons 52, Bahama Breeze and LongHorn.
Beyond that, he also saw two big opportunities to improve the balance sheet. They could sell corporate real estate and adopt a franchise business model.
Darden managers saw his overtures as short-sighted. They countered with a proposal to spin off the 705-restaurant Red Lobster chain. However, a majority of Darden shareholders, led by Starboard, announced they would vote against severing the seafood chain.
In May, ahead of a special shareholders' meeting to host that vote, Darden managers abruptly sold Red Lobster for $2.1 billion to Golden Gate Capital, a private-equity firm.
Jill Fisch, a law professor at the University of Pennsylvania, said management had effectively spat in the faces of the activist shareholders.
With Red Lobster Thrown Overboard, Starboard Steps in to Right the Ship

Smith was incensed. Starboard began an unprecedented public campaign to oust the entire board. The hedge fund rounded up industry veterans from IHOP and the Smith and Wollensky restaurant group. It complied an extensive 300-page plan to turn around Darden.
The Wall Street Journal reported Starboard analysts even questioned the wastefulness of unlimited breadsticks at the Olive Garden.
In the end, Smith won. Shareholders voted out every sitting board member.
I started pointing investors to Darden in March 2017, when shares were trading at $71. Back then, the appeal was its digital transformation.
Darden's Leadership Reboot Serves up a Tech Turnaround

In 2016, Chris Chang, chief information officer, began to remake the company. His task was to help Darden's 150,000 employees share information more effectively and use that data to deliver tailored experiences to customers.
An Oracle (ORCL) platform was put in place to manage data. Infosys (INFY) was selected as the technical partner.
The first major insight was the opportunity in online ordering and pick-up. That knowledge helped Darden retool its take-out menu.
The "Buy One, Take One" promotion allowed customers to purchase one entrée and take a second home to prepare later. The Never-Ending Pasta Bowl promotion goosed sales while leveraging a longstanding Olive Garden campaign.
Two years later, Darden's digital game is hitting full stride. Gene Lee, chief executive officer, says the company is focused on leveraging cost advantages due to scale, and using data to better understand guests.
Those are two of my favorite metrics when it comes to picking solid stocks. And for Darden, it's working.
In June, the company reported financial results for the quarter and fiscal 2018. Sales grew 10.3% year-over-year to $2.1. billion. For the full year, revenues increased 12.7% to $8.1 billion.
Lee believes the overall business can grow 10 to 30 basis points annually for the foreseeable future. That rate of growth would push same and new-restaurant sales growth to the 7% to 10% range.
For perspective, Darden's operating margins are already 5.4 percentage points better than the industry average.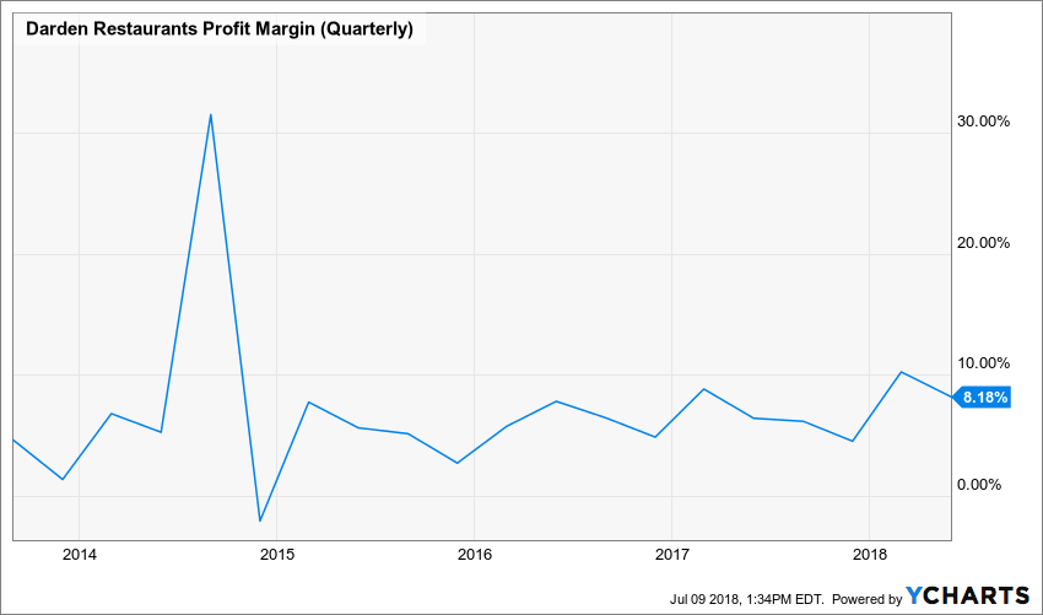 Operational success means substantial free cash flow. Darden managers have been reinvesting in new locations and buying back shares in the open market.
In 2018, Darden returned $550 million to shareholders in the form of dividends and share buybacks.
The stock is up 17% year-to-date, and 26% during the last year. The three-year average return is 20.8%.
Despite those gains, Darden stock trades at a reasonable 23.5x trailing earnings. And the market capitalization is only $13.8 billion. Given its leadership, valuation still looks cheap.
It's not a mirage. It's the same wealth-creation potential that activist shareholders saw in 2014.

Best wishes,
Jon D. Markman

P.S. Like Darden, Domino's embraced high-tech to bring in higher sales. But that's where the competition ends. Domino's not only remembers your order and detects your precise location so it can bring it right to you, but the company wants to pave the potholes in your town so your food can have a smooth ride. No wonder my subscribers are feasting on a near-60% gain in this name. For a regular helping of stocks like these, take my Power Elite newsletter for a test drive today. Click here to get started.

Subscribe to Jon Markman's Power Elite newsletter here
Subscribe to Jon Markman's Tech Trend Trader here
Subscribe to Jon Markman's Strategic Advantage here

This article was originally published by MoneyShow.com: Founded in 1981, MoneyShow is a privately held financial media company headquartered in Sarasota, Florida. As a global network of investing and trading education, MoneyShow presents an extensive agenda of live and online events that attract over 75,000 investors, traders and financial advisors around the world.