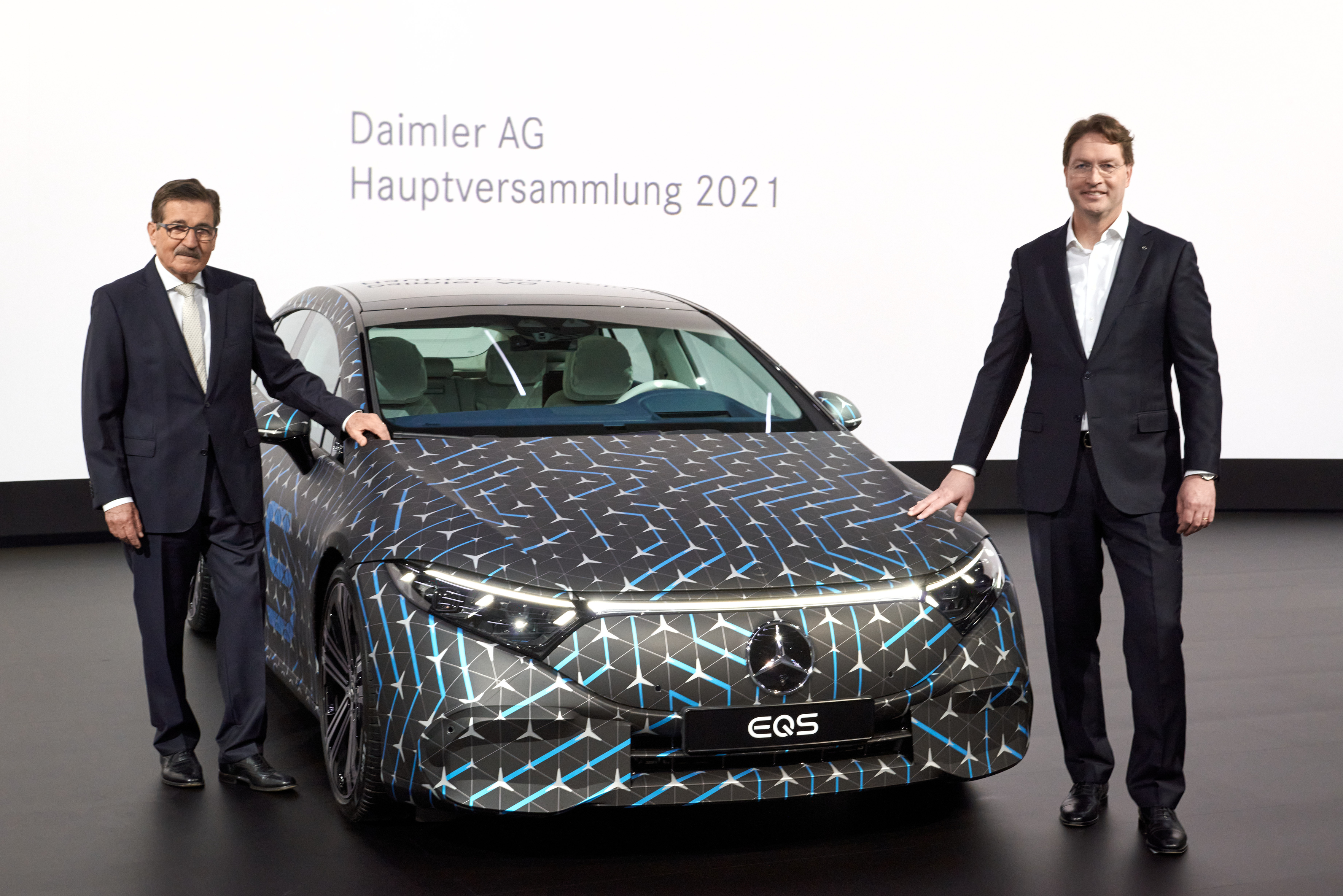 Image: Dr. Manfred Bischoff, Chairman of the Supervisory Board of Daimler AG, and Ola Källenius, Chairman of the Board of Management of Daimler AG and Mercedes-Benz AG. Source: Daimler AG
Mercedes-Benz maker Daimler AG (OTC US: DMLRY ) plans to speed up its shift to electric cars but shared few details on how fast that transition would happen.
During its annual meeting Wednesday, the German auto company said it would accelerate the electrification of its product range and from its previously set target of half of its sales being zero-emissions vehicles by 2030.
Ola Källenius, chairman of the board of management of Daimler, said, "Today, Daimler has the broadest electric range in the automotive industry – from city cars to heavy-duty trucks. But that's not enough for us. We want to accelerate the electrification of our product portfolio. Almost two years ago, we presented our Ambition2039. We want a CO2-neutral fleet of new cars. It's our goal to reach this target sooner."
The company's updated goal would depend on several factors, including the availability of EV charging infrastructure, according to Källenius.
Facing competition from electric carmaker Tesla Inc (Nasdaq: TSLA) and tightening CO2 emissions standards in Europe and China, many companies, including General Motors Co (NYSE: GM ), Zhejiang Geely Holding's Volvo Cars, Jaguar Land Rover and Bayerische Motoren Werke AG (OTC US: BMWYY ), have pledged a faster shift in technology, despite the increased costs and production changes involved.
On Wednesday, Manfred Bischoff, Daimler's supervisory board chairman, said that while 2020 was challenging, the company "passed the pandemic stress with flying colors, defined the necessary cost-cutting measures and initiated their consistent implementation" to make the carmaker "more crisis-proof."
"We also refocused our strategy on sustainability and climate protection. Our sustainable business strategy must strike a responsible balance between environmental, social and financial goals," said Bischoff.
Despite a global semiconductor shortage that has impacted the auto industry's ability to maintain output, Daimler expects 2021 to be a better year for revenue and pretax profits than 2020 due to "stringent cost management, strong product mix and disciplined pricing."
Similar to BMW and Volkswagen AG (OTC US: VWAGY ), Daimler benefited from Chinese demand for high-margin luxury vehicles during the second half of 2020, which helped sales to recover from pandemic-related shutdowns earlier in the year, Reuters noted.
Daimler is also preparing to list its truck-and-bus making division, which it said should happen by the end of 2021. In February, the company announced plans to spin off the unit in an effort to increase its investor appeal as a focused electric, luxury carmaker.
_____
Source: Equities News