Cytokinetics and Amgen Begin Second Phase 3 Heart Failure Study
Edward Kim Follow |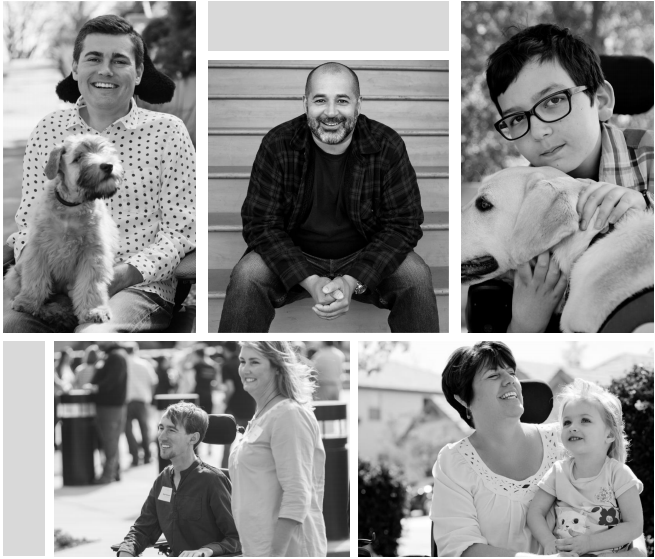 Source: Cytokinetics
According to the CDC, about 5.7 million people in the US suffer from heart failure, a condition in which the heart becomes too weak to effectively pump blood through the aorta to nourish the rest of the body. Heart failure (9%) is the third leading cause of death related to cardiovascular disease in the US, after coronary heart disease (44%) and stroke (17%), and it is the leading cause of hospitalization and readmission in people age 65 and older. About half of people who develop heart failure die within five years of diagnosis. The total burden to the economy is estimated to be nearly $31 billion each year, including the cost of health care services, medications and missed days of work.
Ejection fraction (EF) is a measurement of how much blood the left ventricle pumps with each contraction of the heart. An EF of 50% to 70% may be considered normal, while an EF under 40% may be evidence of heart failure or cardiomyopathy.
Source: American Heart Association
introtext
Cytokinetics
South San Francisco based Cytokinetics CYTK is developing small molecule muscle activators and muscle inhibitors as potential treatments for debilitating diseases in which muscle performance is compromised. The company has been collaborating with Amgen AMGN since 2006 on the research and development of therapeutics designed to activate the cardiac sarcomere—the basic unit of striated and cardiac muscle—for the potential treatment of heart failure. The companies announced today that they had begun enrollment for the second Phase 3 clinical trial of omecamtiv mecarbil, a novel cardiac myosin activator, in patients with heart failure with reduced ejection fraction (HFrEF). Cardiac myosin is the motor protein in cardiac muscle cells that is directly responsible for converting chemical energy into the mechanical force resulting in cardiac contraction.
This second Phase 3 trial, called METEORIC-HF (Multicenter Exercise Tolerance Evaluation of Omecamtiv Mecarbil Related to Increased Contractility in Heart Failure), will be a 270-patient, multicenter trial designed to evaluate the effect of treatment with omecamtiv mecarbil compared to placebo on exercise capacity as determined by cardiopulmonary exercise testing (CPET) following 20 weeks of treatment, at sites throughout the US, Canada and Europe. Funding and strategic support will be provided by Servier, an international pharmaceutical company governed by a non-profit foundation and headquartered in Suresnes, France.
The start of this second Phase 3 clinical trial marks an important milestone in the expansion of our clinical trials program for omecamtiv mecarbil, testing the hypothesis that improving cardiac function with a drug candidate that directly increases myocardial contractility may improve exercise capacity. Exercise intolerance, typically manifested by shortness of breath and fatigue on exertion, is a predominant symptom of chronic heart failure and often the first symptom that prompts patients to seek medical care. If positive, this clinical trial may provide key clinically relevant evidence.

- Fady I. Malik, MD, PhD, EVP of Research & Development, Cytokinetics.
The new METEORIC-HF trial complements Cytokinetics' and Amgen's GALACTIC-HF (Global Approach to Lowering Adverse Cardiac Outcomes Through Improving Contractility in Heart Failure) trial, a large, Phase 3 global cardiovascular outcomes study designed to enroll about 8,000 patients at over 900 sites in 35 countries who are either currently hospitalized for a primary reason of heart failure or have had a hospitalization or admission to an emergency room for heart failure within a year prior to screening. The trial, whose enrollment is expected to be completed during the first half of 2019, is designed to evaluate the efficacy of omecamtiv mecarbil, when added to standard of care, in reducing the risk of heart failure events, including hospitalization and other urgent treatment.
Pipeline—collaborations with Amgen and Astellas
In addition to the collaboration with Amgen in cardiac muscle, Cytokinetics has been working with Astellas Pharma ALPMY on its skeletal muscle acivator program since 2013.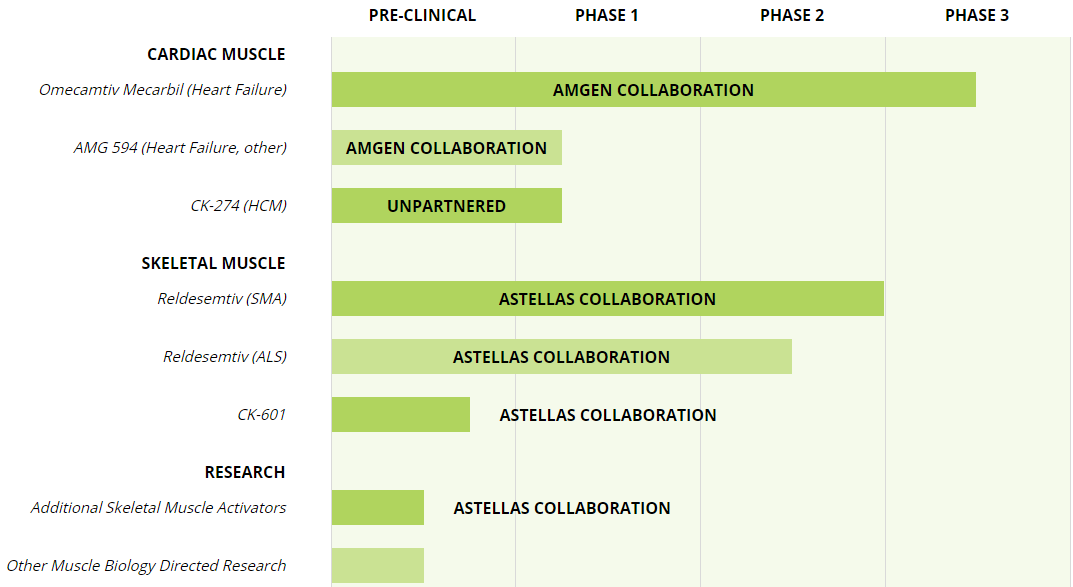 Source: Cytokinetics

Investment issues to consider
Cytokinetics is a stock market veteran by biotechnology standards, having gone public in 2004 via Goldman Sachs. The company has evolved over the last 15 years from originally targeting the cytoskeleton (network of filaments and tubules that extends throughout a cell) to treat cancer, cardiovascular disease, fungal diseases and other diseases to its recent focus on small molecule muscle activators. Cytokinetics had an accumulated deficit of $743 million since inception through December 31, 2018.
The company deserves credit for staying afloat through license payments from its research and development partners, equity and debt financing and government grants. Additionally, the Amgen and Astellas deals call for over $600 million in precommercial milestone payments and over $600 milliion in sales-based milestone payments, in addition to royalites that could exceed 20%. At today's close of $7.21 per share, Cytokinetics has a market capitalization of just $395 million. With $199 million in cash, equivalents and short investments as of year-end 2018, the company's pipeline of assets appears to be modestly valued given its recent clinical progress.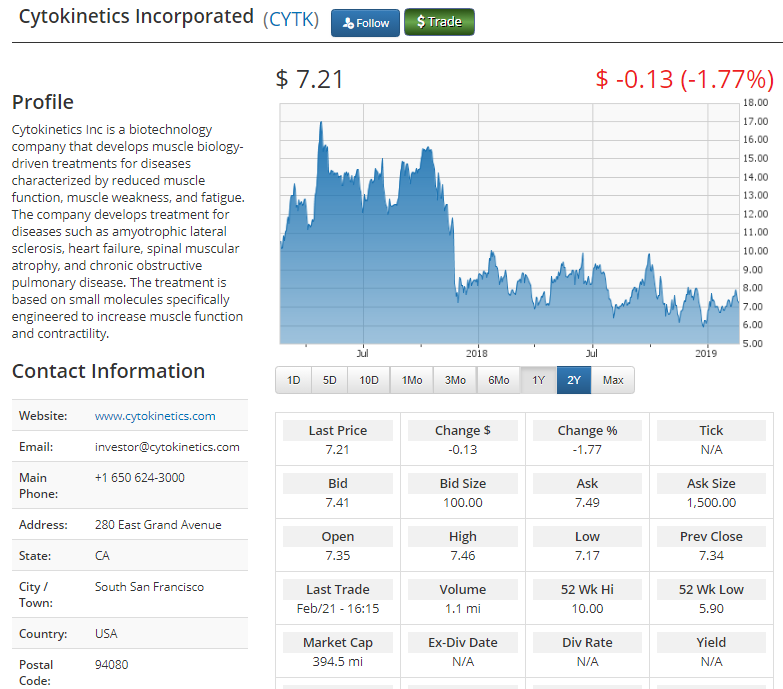 Please email us at content@equities.com to see our Case Studies and Testimonials.
Please click here for information on our equity trading platform.
Please click here to receive our free daily newsletter.
Stock price data is provided by IEX Cloud on a 15-minute delayed basis. Chart price data is provided by TradingView on a 15-minute delayed basis.
DISCLOSURE: The author has no positions or any beneficial interest in, and has received no compensation from, the companies mentioned in this article.

---
The views and opinions expressed in this article are those of the authors, and do not necessarily represent the views of equities.com. Readers should not consider statements made by the author as formal recommendations and should consult their financial advisor before making any investment decisions. To read our full disclosure, please go to: http://www.equities.com/disclaimer.
Trending Articles
Market Movers
Sponsored Financial Content