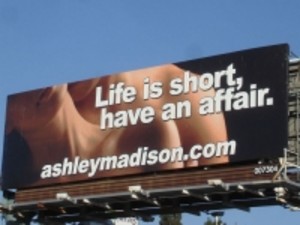 In the age of loose cyber security it is difficult to understand why anyone would take chances associated with privacy, and no matter your proclivity, those exposed (say hello Jared from Subway) were obviously unable to control whatever illness manifested itself in entering keystrokes or mobile taps. 2015 may be known as the year of the idiot as Ashley Madison takes cyber vigilantism center stage.
In the UK -bookmaker Paddy Power has started offering odds on "who'll be caught on Ashley Madison." A bet on a Premier League footballer has odds of 1/10, an MP 1/4, and a cast member of The Only Way is Essex 7/1. The bookmaker said it had opened up the betting "on who might be nabbed for a naughty night under the sheets."
Wired said in a recent article, "Full names, street addresses and email addresses of some 33 million users are now available for anyone to download, as the 9.7GB torrent has been confirmed as legitimate by a number of security experts and people with Ashley Madison. More than 15,000 accounts were created with US .mil or .gov email addresses, with more than 6,700 of those coming from us.army.mil. In the UK, a list of 133 email addresses with links to the government or local authorities has been shared..."
I believe shares of CyberArk (CYBR) , FireEye (FEYE) , and others will benefit from this Ashley Madison breach and more than likely this forces IBM (IBM) into buying CyberArk which has been widely speculated.
But the real change in the world is the Cyber Vigilantism taking place in hacks in 2015. This will not be the last and really is more of an extension of the Occupy Wall Street movement and its roots in getting attention and sacrificing any foolish lamb who cannot control whatever neurosis that exists within them.
Take a cue from Jared at Subway — your career is on the line and you should get some help and immediately add CyberArk to your portfolio as a hedge. The world is not secure in 2015 and any and all information you input online may be exposed. Ashley Madison is definitely not a cookie — or maybe it is.
Steve Kanaval is the author of the upcoming Equities.com's Small-Cap Throwdown, a premium newsletter designed to help investors identify the best small-cap stocks to add to your portfolio and trading ideas to profit off them. The first issue pits the hottest beverage small-cap stocks against each other to find a winner. Sign-up here for a free issue today!
DISCLOSURE: The views and opinions expressed in this article are those of the authors, and do not represent the views of equities.com. Readers should not consider statements made by the author as formal recommendations and should consult their financial advisor before making any investment decisions. To read our full disclosure, please go to: http://www.equities.com/disclaimer