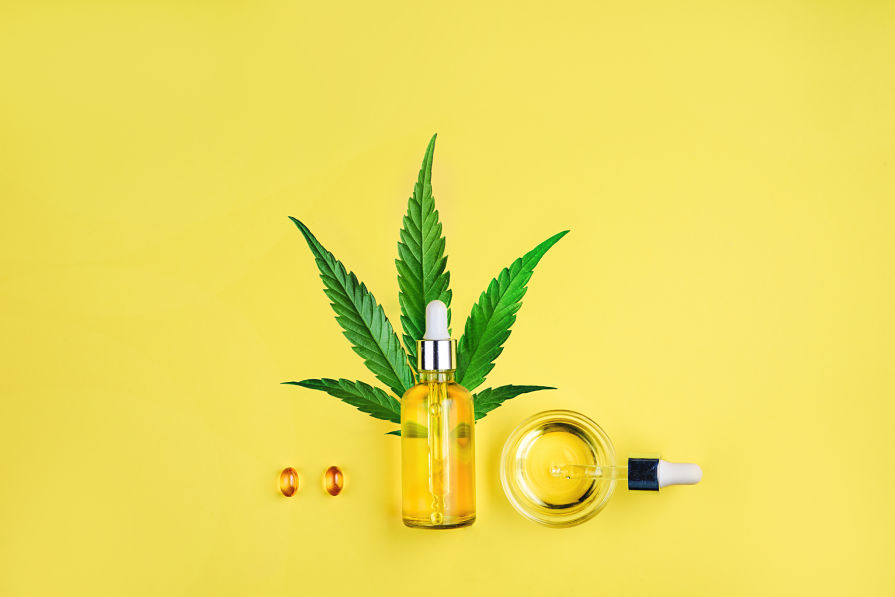 Photo credit courtesy of iStockphoto.com/user:IRA_EVVA
As the cannabis bubble bursts, cannabidiol (CBD) is booming. Retail sales of CBD in the US are on pace to surpass $1 billion this year and might exceed $10 billion by 2024, a CAGR of 54%. The product has gone mainstream thanks to its versatility and the passing of the Farm Bill last year. In this competitive and growing market, there are really two mature companies to keep on your radar: CV Sciences and Charlotte's Web Holdings.
CV Sciences has taken a backseat to Charlotte's Web as an industry leader, and the two are competing directly for sales on the same shelf at Kroger right now. And, by sheer volume, it would seem like Charlotte's Web has the upper hand in that big box retailer battle as they are currently in 22 states and 1,350 stores compared to CV Sciences' 17 states and 945 stores. Similarly, Charlotte's Web has a larger deal with Vitamin Shoppe totaling more than 700 stores, while CV Sciences' deal with the vitamin retailer is smaller at 515 stores. In total, Charlotte's Web has about 8,000 locations compared to CV Sciences' 5,500.
On its own, CV Sciences announced a distribution partnership with Harris Teeter, a regional supermarket chain and Kroger subsidiary, through which PlusCBD topical products will be sold at 150 Harris Teeter locations.
Both companies have made strong inroads in this space, and, as detailed above, they both are targeting the highest growth drivers in the space: large retailers.
"The CBD market has been growing rapidly, but we will see unprecedented growth in 2019. The bulk of this growth is coming from large retailers like CVS, Walgreens, and Kroger entering the market and providing that availability to consumers," said Bethany Gomez, a director at market research firm Brightfield Group.
All that said, CV Sciences has taken second fiddle to Charlotte's Web Holdings for investors who are looking for a CBD pure play. Surely, Charlotte's Web might be the more attractive company, but their market capitalization is $1.3 billion – currently priced at $13.11 at the time of writing. CV Sciences has a market capitalization of $204 million and is currently priced $2.05. This valuation gap seems large when you look at the numbers.
Last quarter, Charlotte's Web had net income of $2.2 million, operating revenue of $25.02M and a gross profit of $18.85M, while CV Sciences reported net income of $1.2 million, operating revenue of $16.85M and gross profits were $11.95M. Adjusted EBITDA is an interesting metric because it shows how close these two companies are even though Charlotte's Web has the greater sales. Charlotte's Web Q2 adjusted EBITDA was $3.9 million, while CV Sciences was $3.6 million.
So, CV Sciences is holding its own against Charlotte's Web and really is a much cheaper alternative with fundamentals that are in line with the CBD leader. Charlotte's Web is trading at 16.5x sales and CV Sciences is trading at 4.36x sales. This seems like an unwarranted discount for CVSI, which might have been exacerbated by a short-seller report from last year – you can read about that here. In short, Citron Research exposed the company for not properly disclosing the denial of a patent application on a nicotine-CBD combination. Citron took a lot of liberty in their report, but the basic facts were hard to refute. This report from Citron, coupled with the unsavory past of former CEO Michael Mona, caused the stock to fall from $9 to $3 in the course of a couple weeks after Citron's short report came out. Since then, CV Sciences has failed to regain trust with institutional investors, even though it looks like the stock has headed in the right direction.
Lastly, CV Sciences could see increased capacity in the coming quarter. Earlier this year, CV Sciences Inc announced a new production and warehouse facility, which is expected to increase the company's capacity for hemp CBD oil production, warehousing, and fulfillment by over 500%. The 45,500-square-foot facility in San Diego will be operational in the fourth quarter of this year.
Of course, the FDA's evolving rules on CBD are imperative to the growth proposition of CV Sciences and every other CBD stock. Regulators could outlaw some current formulations sitting on shelves, which would dampen sales across the board.
To conclude, CV Sciences has risks from regulatory uncertainty and stiff competition, but they are keeping pace and might be undervalued at current levels trading at 1/6 of the value for the same EBITDA.
___
Equities Contributor: Stephen L. Kanaval
Source: Equities News