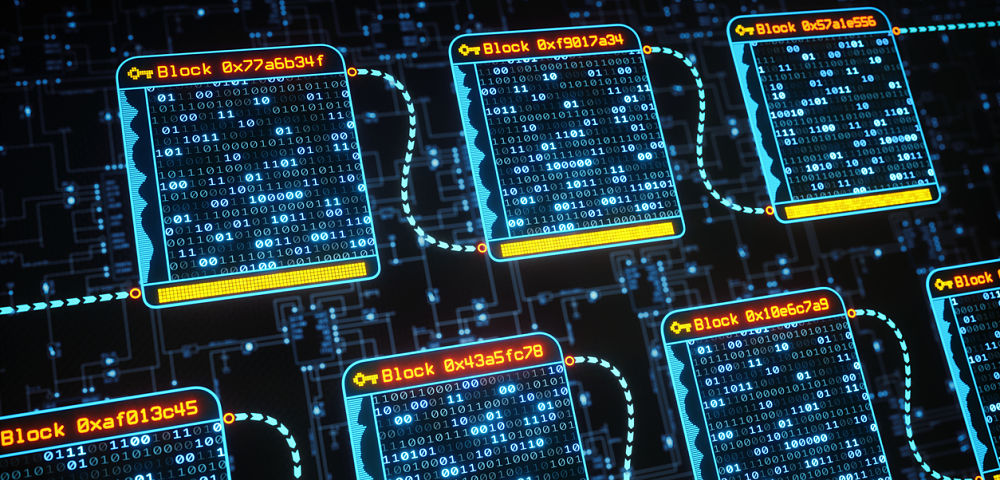 The advent of blockchain technology has quickly become the dominant theme in the markets these days. While last year was undoubtedly a breakout year for cryptocurrencies, it's clear now that 2018 and beyond belongs to blockchain-oriented innovations and the proliferation of decentralized applications (DApps). In many respects, it represents the next wave of digital economic revolution, on a scale analogous to that of the internet's impact starting in the 1990s, and social media's rise to dominance since the early 2000s. The internet democratized and enhanced the efficiency of information accessibility, completely revolutionizing and transforming the way people worked, lived and understood the world. Social media had a similar impact on how people communicated, both on an individual level and on a mass scale. These were technological revolutions that created entirely new paradigms.
Now blockchain, with its emphasis on decentralization and transparency, stands on the precipice of doing the same. The potential implications are enormous. In fact, RBC Capital Markets recently said that the blockchain ecosystem is set to become a $10 trillion market within the next 15 years. That's extraordinary growth for an industry still in its infancy.
Blockchain startup eXeBlock (XBLK:CNX) is seizing this opportunity by establishing itself as one of the leading companies in the DApps space. Not only is it capitalizing on its first-mover advantage, but the company is also led by renowned blockchain expert Jonathan Baha'i, an early visionary and much sought-after authority in the industry. In its recent corporate update, eXeBlock reiterated its focus on the development of its initial two proprietary DApps: 50/50 Labs and Freedom Ledger. The DApps are geared to help their respective target markets leverage blockchain to better facilitate transactions, and eXeBlock will earn revenues based on pay-per-use transactional fees.
In addition, the company said it is also in discussions with several third-party organizations interested in launching decentralized applications on a blockchain platform.
Who Is Blockchain Pioneer Jonathan Baha'i?
Baha'i is no newcomer to the crypto community. In fact, far from it. As the cofounder of Peerplays, the world's first eSport tournament and wagering platform built entirely on blockchain, Baha'i has proven he has the intuition and experience to develop a successful application and build a company that leverages that technology. This is a distinct advantage as the majority of the industry is still just in the conceptual stage.
For that reason, Baha'i is widely regarded as an influential voice and thought leader in the blockchain community, often interviewed and quoted by major financial media institutions that reference his perspective and insight on some of the biggest topics and headline events related to the blockchain and digital currency ecosystems. Here are a few examples of him speaking to CNBC, Digital Journal and TDAmeritrade Network on Bitcoin's outlook.
Baha'i has also gone to great lengths to educate and evangelize the blockchain revolution, launching a six-part video series that concisely explains the technology, its adoption, the economic implications and the potential future direction of blockchain technology as the revolution advances.
"Bitcoin is a first-generation blockchain," Baha'i explained in a video on DApps. "The blockchains of the future are going to be much more advanced. They are not just capable of handling a single currency transaction. They are capable of running applications. Think of the applications on your phones; think of the applications on your computer. This is going to change the way we interface. It's going to change the way we view applications as a whole and the way we use them.
"DApps live on a blockchain," he added. "The underlying architecture is the blockchain. The decentralized application is able to be built into that so the logic and the computations that take place, and the 'smart contracts', allow for more complex processing and more complex outcomes that we know can be trusted because it is incorporated into a distributed ledger. The applications of tomorrow are going to be the ones which have penetrated every aspect of your life, and now you just expect that what it is you're using is actually running on a blockchain."
What Are eXeBlock's 50/50 Labs and Freedom Ledger DApps?
The company's 50/50 Labs DApp was developed to enable charitable and non-profit organizations worldwide to create 50/50 draws free of charge by utilizing blockchain technology. The DApp helps to facilitate fundraising quickly and on-demand. According to eXeBlock, a portion of the transaction value for each ticket sold will go back to the Peerplays network, and in turn, back to holders of Peerplays tokens. eXeBlock currently holds 940,000 of the outstanding tokens in the decentralized blockchain platform PeerPlays.
50/50 Labs, which has been successfully tested on TestNet, is currently being fitted for a user-friendly graphical interface to ensure a superb user experience.
"The problem that a lot of organizations have when they run 50/50 draws is that they have to go through auditing, it's really difficult to run the events, they have to collect all the money, and sometimes at larger events, they have applications that they have there already, which take huge percentages in order to use their applications," Baha'i explained. "So, there are all these problems involving 50/50. What do you do? You put a blockchain to it, and you put decentralized application on it. Now, you make it so that it becomes decentralized and public and allow for organizations to utilize that in their 50/50 draws."
50/50 Labs provide charities and other fundraisers with numerous other benefits when organizing draws including: 50/50 Labs ability to run in multiple jurisdictions, operate 24 hours a day seven days a week, and allow fund raisers to change the odds and winnings of draws to even out revenue flows. The company has published a white paper on the 50/50 Labs DApp that further explains the application, its features, protocol and implementation.
Meanwhile, the Freedom Ledger DApp is developed to facilitate transactions for users that do not have a cryptocurrency account to gain access to the blockchain ecosystem. It uses a similar transactional fee model as 50/50 Labs and is created to enable users with traditional financial accounts to utilize various DApps. To be clear, Freedom Ledger simply enables the automatic swap from one blockchain to another, while keeping all tokens and digital currencies secure. It does not act as a cryptocurrency custodian.
From a big picture standpoint, Freedom Ledger could be pivotal in helping to exponentially expand the potential user base of the blockchain ecosystem and DApps market by providing an easier entry point for more casual consumers. eXeBlock said it anticipates releasing a White Paper on Freedom Ledger in the near future.
Executing eXeBlock's Ambitious Growth Strategy
While the blockchain expertise and entrepreneurial vision of Baha'i serves as the foundation and fuel of eXeBlock's ambitions, the company has also assembled a well-rounded team to execute on its strategic roadmap. Ian Klassen serves as its CEO and brings with him over 25 years of experience leading public companies and building businesses with innovative technologies and solutions.
The company is also aggressively pursuing additional personnel to expand its team, intending to build what it describes as a critical mass of blockchain talent. The company said it has signed a contract with an international firm that has 15 additional developers working on eXeBlock's blockchain DApps. It's also expanding its staff in Halifax, Nova Scotia in critical areas, such as in administrative, sales and marketing.
There is no question that Baha'i and the eXeBlock team views blockchain technology as the way of the future. More importantly, however, is that the company is actively ensuring that it will be one of the major players of the space as this paradigm shift continues to unfold.
---
In the interest of full disclosure, we call the reader's attention to the fact that Equities.com, Inc. is compensated by the companies profiled in the Spotlight Companies section. The purpose of these profiles is to provide awareness of these companies to investors in the micro, small-cap and growth equity community and should not in any way be considered as a recommendation to buy, sell or hold these securities. Equities.com is not a registered broker dealer, investment advisor, financial analyst, investment banker or other investment professional. We are a publisher of original and third party news and information. All profiles are based on information that is available to the public. The information contained herein should not be considered to be complete and is not guaranteed by Equities.com to be free from misstatement or errors. The views expressed are our own and not intended to be the basis for any investment decision. Readers are reminded to do their own due diligence when researching any companies mentioned on this website. Always bear in mind that investing in early-stage companies is risky and you are encouraged to only invest an amount that you can afford to lose completely without any change in your lifestyle. Equities has been compensated with cash, common shares and/or warrants for market awareness services provided.