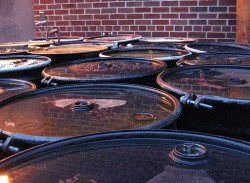 The crude oil market is dominated by the global commercial traders. Their collective actions within the marketplace reflect the most thoroughly researched best guess consensus of future prices. We follow their actions through the Commodity Futures Exchange Commission's (CFTC) weekly Commitment of Traders (COT) report. There are two things we've learned; they have better access to better information and they believe the crude oil rally above $60 per barrel is one to be sold.
The commercial traders are the industry Titans - British Petroleum ($BP), Halliburton ($HAL), Schlumberger ($SLB), etc. They clearly have better models and forecasts as well as interconnected operating boards and better political contacts. This combination of brain power and social access typically puts them in front of nearly every major move. You can see some recent examples in the oil, gold, index and interest rate markets relative to the recent Federal Open Market Committee (FOMC) meetings in, "Commercial Traders Ahead of the Fed."
Our analysis of commercial trader behavior tracks both their net position as well as their momentum. We do this because we want to keep track of historically important numbers like their record position sizes as well as the speed at which their given to act within a certain set of circumstances. These include prices, political events and their general market sentiment, which brings us to our current situation.
We've illustrated what we feel has been the commercial trader defined value area on the chart below. Commercial traders are value players, they purchase future supplies when the market is undervalued and sell forward production when they feel the market is overvalued. Commercial traders have sold more than 125,000 contracts since the market began to climb back above $50 per barrel. This more than offsets their recent purchases between $45-$50 per barrel.
Currently, it feels like $54 per barrel is going to anchor this market in the near term. We stated last week that, "our simple take on the way these usually work is that we'll get one more spike of some type above the recent congestion that has built up." This morning's trade near $61 is the spike we've been waiting on.
DISCLOSURE: The views and opinions expressed in this article are those of the authors, and do not represent the views of equities.com. Readers should not consider statements made by the author as formal recommendations and should consult their financial advisor before making any investment decisions. To read our full disclosure, please go to: http://www.equities.com/disclaimer