On Wednesday, the black gold moved lower once again after government data showed an increase in crude oil production, which offset a decline in crude oil and gasoline inventories. Thanks to these circumstances, light crude hit a fresh 2017 low. What's next for the commodity?
Crude Oil's Technical Picture
Let's take a closer look at the charts and find out (charts courtesy of http://stockcharts.com).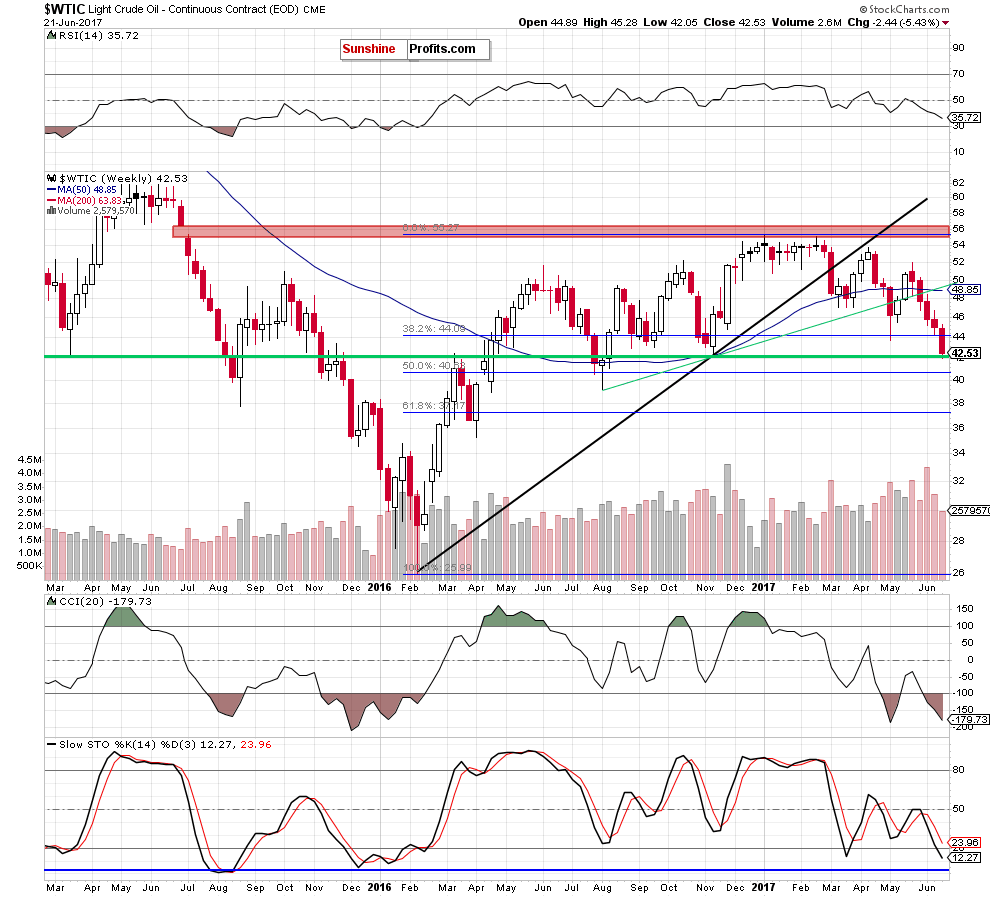 Yesterday, we wrote:
(…) crude oil extended losses and hit a fresh 2017 low of $42.94. Thanks to this drop, light crude also broke below the 38.2% Fibonacci retracement, which opened the way to the mid-November low of $42.20.
From today's point of view, we see that the commodity extended losses and slipped slightly below our next downside target yesterday.
How did this drop affect the very short-term picture? Let's check.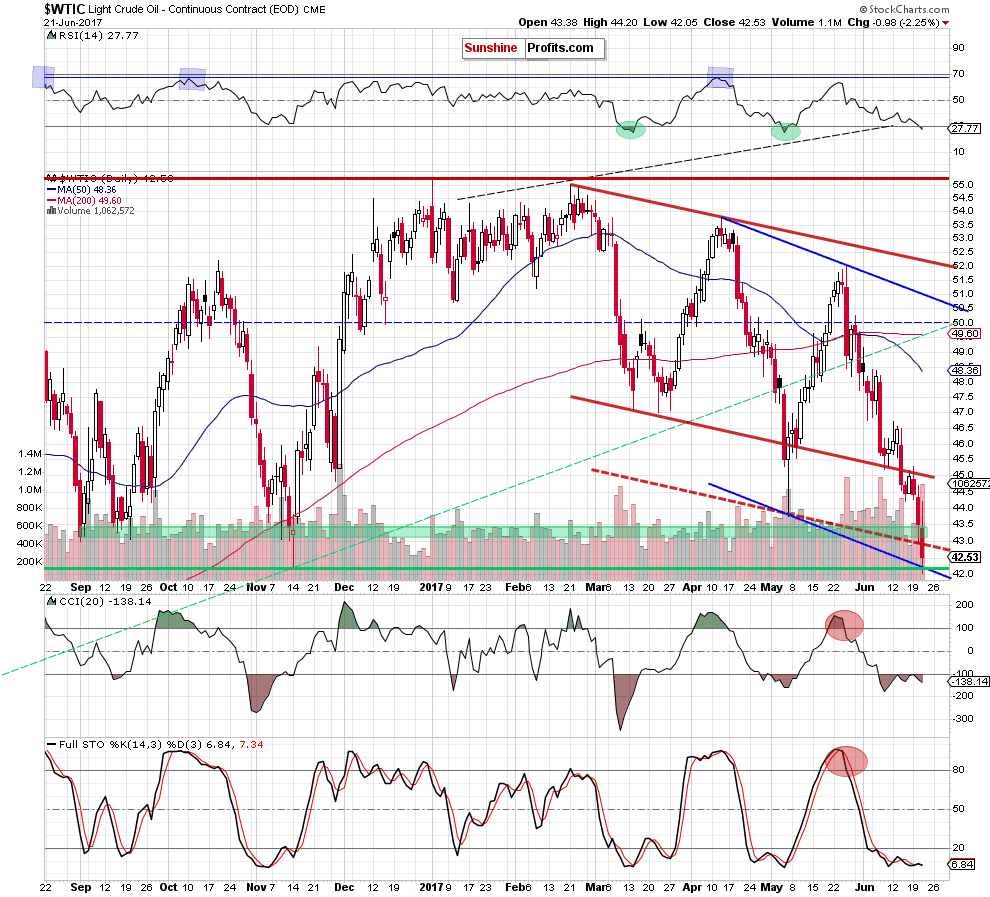 Quoting our previous alert:
(…) it seems to us that the space for declines is limited. Why? Because even if light crude breaks below the green support zone and the red dashed support line, not far from current levels are also the mid November low and the lower border of the blue declining trend channel, which together could stop oil bears and trigger a reversal in the coming day(s).
Looking at the daily chart, we see that the situation developed in line with the above scenario and crude oil slipped to the above-mentioned downside target. Despite this deterioration, the commodity moved a bit higher earlier today, which suggests that we may see further improvement in the coming days. Nevertheless, such price action will be more likely if we see buy signals generated by the indicators and a comeback above the red dashed line, which serves as the nearest resistance. In this case, we'll consider opening long positions. Until this time, waiting on the sidelines (and sitting on the profits from the previous short positions) appears to be a good idea.
Summing up, crude oil extended losses and reached the solid support zone, which triggered a rebound earlier today. Additionally, the current position of the daily indicators suggests that higher values of crude oil are just around the corner. If you'd like to receive daily Oil Trading Alerts (just like the one above), please use this link to subscribe.
Thank you.
Nadia Simmons
Forex & Oil Trading Strategist
Przemyslaw Radomski, CFA
Founder, Editor-in-chief, Gold & Silver Fund Manager

Gold & Silver Trading Alerts
Forex Trading Alerts
Oil Investment Updates
Oil Trading Alerts