Crinetics Pharmaceuticals, a rare disease therapeutics company focused on endocrine disorders and endocrine-related cancers, closed on a $63.5 million Series B financing. The investment was led by Perceptive Advisors and includes new investors RA Capital and OrbiMed. Existing investors 5AM Ventures, Versant Ventures and Vivo Capital also participated. We're big fans of Perceptive Advisors, given its history of financing new biotechnologies and at least two dozen successful exits, including Solid Biosciences (SLDB), Synlogic (SYBX), VBI Vaccines (VBIV) and Zynerba (ZYNE).
Crinetics' science is based on the dynamic behavior and alternative signaling of neuropeptides and G-protein coupled receptors (GPCRs) — the largest and most diverse group of membrane receptors in eukaryotic cells, or cells with a defined nucleus. The company is studying GPCRs to tailor and optimize drug candidates to specific diseases.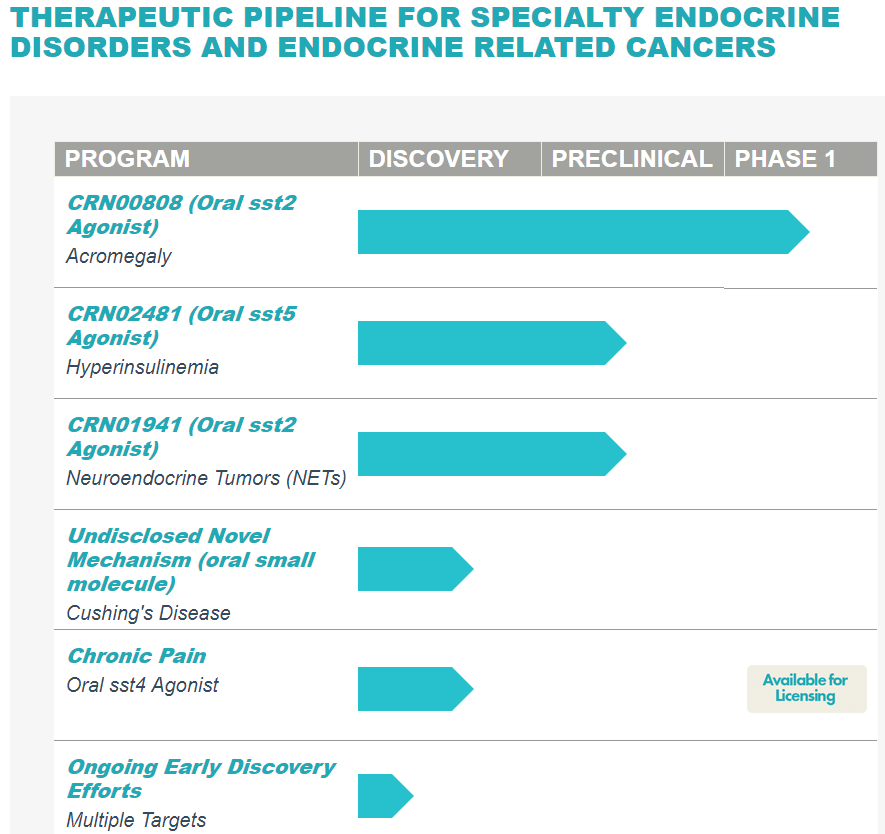 Source: Crinetics Pharmaceuticals
Many lines of recent GPCR research have shown that distinct signaling cascades and feedback mechanisms create multi-dimensional pathways with distinct physiological responses. These different behaviors are based on receptor trafficking, ligand binding, and biased agonism. Understanding these different GPCR signaling paradigms provides new opportunities to modulate GPCR activities that Crinetics believes will lead to more effective therapeutics with fewer side effects.
I am delighted to have some of the world's most prominent healthcare investors join us for this important next phase of the company's growth. This fundraising puts us on a strong financial footing that allows us to further the development of CRN00808 and advance our pipeline of additional internally-discovered drug programs. We believe Crinetics is poised to make a meaningful contribution to the treatment of rare endocrine disorders and today's successful fundraising validates that promise and our strategy to date.
– Scott Struthers, PhD, Founder and Chief Executive Officer, Crinetics Pharmaceuticals
Crinetics scientists are expanding the boundaries of our existing knowledge of GPCRs and how to target them with drugs. Crinetics' current programs, all discovered in-house, have the potential to treat patients with conditions such as acromegaly, neuroendocrine tumors, hyperinsulinism and Cushing's disease. There is considerable unmet need in rare endocrine disorders, and we are excited to be a part of this effort to bring new options to patients and their physicians.
– Joseph Edelman, Founder and CEO, Perceptive Advisors.
Please email us at [email protected] to see our Case Studies and Testimonials.
Please click here for information on our new trading platform.