Acromegaly is a hormonal disorder resulting from an excess of growth hormone produced by the endocrine system's pituitary gland. It causes exaggerated bone growth, including those in the hands, feet and face. Over 95% of those affected with acromegaly have a benign pituitary tumor called an adenoma, according to the National Institute of Diabetes and Digestive and Kidney Diseases unit of the NIH. Acromegaly can lead to serious consequences, including type 2 diabetes, high blood pressure, arthritis and increased risk of cardiovascular disease and colon polyps. About 60 out of a million people suffer from acromegaly at a given time, or about 20,000 people in the US. The NIH states that these numbers "probably underestimate the frequency of the disease" because the clinical diagnosis of acromegaly is often missed.
San Diego based Crinetics Pharmaceuticals (proposed Nasdaq: CRNX) is developing therapeutics for rare endocrine diseases and endocrine-related tumors. The company's initial public offering is expected to price on Tuesday, July 17, 2018, according to Retail Roadshow. Crinetics' amended Form S-1 states it is offering five million shares at $15 to $17 through JP Morgan, Leerink and Piper Jaffray. It would be an $80 million offering at the midpoint of the range, for a post-IPO market capitalization of $352 million before any greenshoe.

Crinetics' lead candidate, CRN00808, is an oral treatment designed to treat acromegaly. It is an sst2 (selective nonpeptide somatostatin receptor type 2) biased agonist and, according to the company, is the first agent in its class with reported clinical results. Somatostatin is a neuropeptide hormone that broadly inhibits the secretion of other hormones, including growth hormone from the pituitary gland. Currently marketed peptide drugs require painful monthly or daily injections and, in the case of somatostatin peptide drugs, often fail to fully control the disease in many acromegaly patients. Despite their limitations, these injected somatostatin peptide drugs accounted for about $2.7 billion in global sales in 2017, according to Crinetics' Form S-1.
The company reported initial results from a Phase 1 study of CRN00808 in March 2018 in 99 healthy volunteers that demonstrated clinical proof-of-concept by potently suppressing stimulated growth hormone and baseline insulin-like growth factor 1 (IGF-1) and plans to initiate two Phase 2 studies in acromegaly patients in early 2019. Crinetics expects to initiate Phase 1 trials for two other candidates—for hyperinsulinemia and neuroendocrine tumors—in the first half of 2019.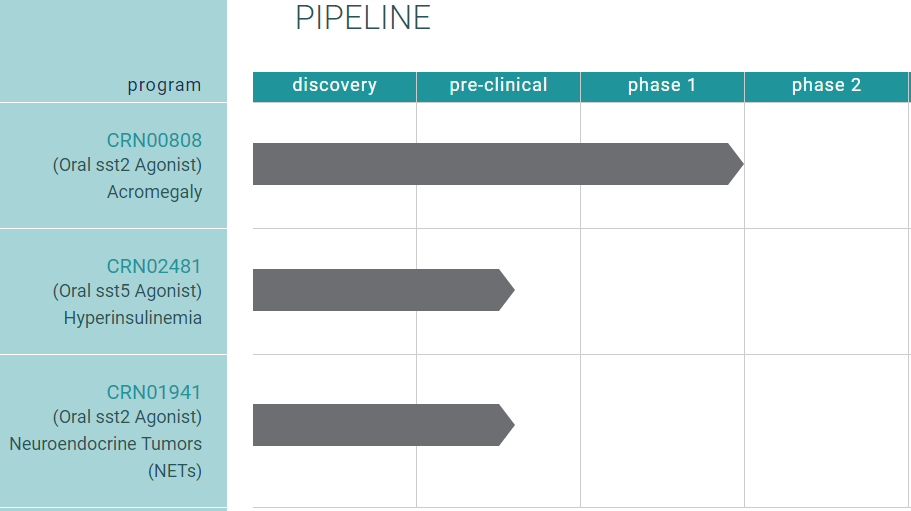 Source: Crinetics Pharmaceuticals website, July 15, 2018.
Crinetics has raised $93.5 million in venture financing, most recently a Series B round in March 2018 of $63.5 million, in addition to at least $14 million in grants, most of which were Small Business Innovation Research (SBIR) grants awarded by the National Institute of Diabetes and Digestive and Kidney Diseases of the NIH. The company's largest investors include Vivo Capital (20.0%), 5AM Ventures (19.7%), Versant Ventures (19.7%), Perceptive Life Sciences (10.0%), OrbiMed (10.1%) and RA Capital (5.5%).
President and CEO R. Scott Struthers, PhD, co-founded Crinetics in 2008. He previously spent 10 years as senior director and head of endocrinology and metabolism at Neurocrine Biosciences NBIX, where he initiated and led the effort to discover and develop orally active, nonpeptide gonadotropin-releasing hormone (GnRH) antagonists, including elagolix, which is awaiting an FDA decision for endometriosis-associated pain.
Alan S. Krasner, MD, Crinetics' Chief Medical Officer, joined the company in June 2018 from Shire Pharmaceuticals SHPG, where he was a Senior Medical Director. He led the global development for Natpara, the first recombinant human intact parathyroid hormone treatment for hypoparathyroidism. Prior to Shire, Dr. Krasner worked at Biodel and Pfizer conducting clinical research in diabetes and obesity.
Please email us at [email protected] to see our Case Studies and Testimonials.
Please click here for information on our new trading platform.
Please click here to see our weekly newsletter.