​Crexendo is a UCaaS Provider on the OTCQX with Big Potential
Stephen L Kanaval Follow |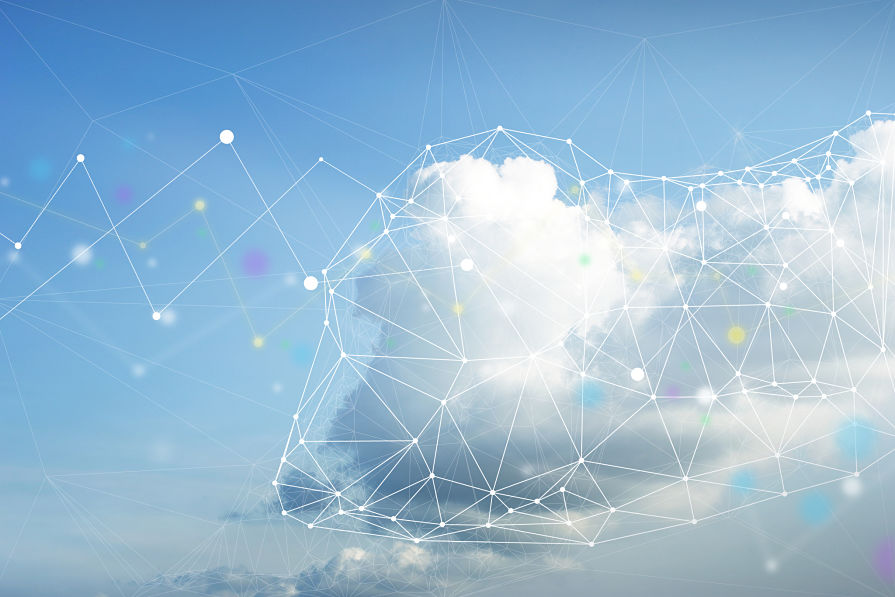 Image courtesy of iStockphoto.com/user:blackred
A recent Microsoft study reveals by 2020, 78% of small businesses will be taking advantage of cloud computing. The benefits are fairly pronounced. Cloud computing can increase productivity, collaboration and reduce spending. Currently, UCaaS (unified communications as a service) is a hot market. IDC's Spring 2018 Forecast Report showed the available market would be worth $54 billion by 2022.

In addition, Gartner reports organizations with be deploying Cloud-based telecoms at more 2x the rate between now and 2021. The space's large service provider like Vonage, 8x8 and Ring Central are pursuing the big contracts, but an interesting OTC company presents a business model with premium options for small businesses. This presents an interesting case for growth as the aforementioned Gartner report believes small and medium-sized businesses will be the first to switch as they are not constrained by large budgets and long-term service agreements.
Crexendo, Inc. is a UCaaS provider that has a 45% increase in price over the last 365-days. The company turned things around when they read the writing on the wall and completely pivoted to be a utility cloud provider. CDO has strung together two quarters in a row of GAAP profit and Q2 specifically grew 28% with service revenue increase 24% to $3.1 million compared to $2.5 million in Q2 2018.
"On a GAAP basis, we also had a very nice progress reporting net income of $338,000 for the second quarter or $0.02 per diluted common share compared to $47,000 or breakeven per diluted common share for the second quarter of 2018," Jeffrey Korn, the company's Secretary added in the Q2 results call in mid-August.
CDXO's EBITDA for the second quarter was $362,000 compared to $71,000 for the same period of the prior year. In addition, consolidated revenue increased 23% to $7.1 million compared to $5.8 million the same quarter in 2018.
What has really been appealing for small business operators looking to switch over to cloud communications system is their VoIP phones and platforms that are built in-house, come with free upgrades and service for the life of the contract. Call center support and mobility support are typical premium offerings, but Crexendo offers them for basic service, which helps businesses transition to cloud telephony. The company's infrastructure is also agile enough to allow customers to retain their pre-existing phone systems from Cisco or other brand name phones. This is one of the reasons why CXDO's customers are all on long-term contracts.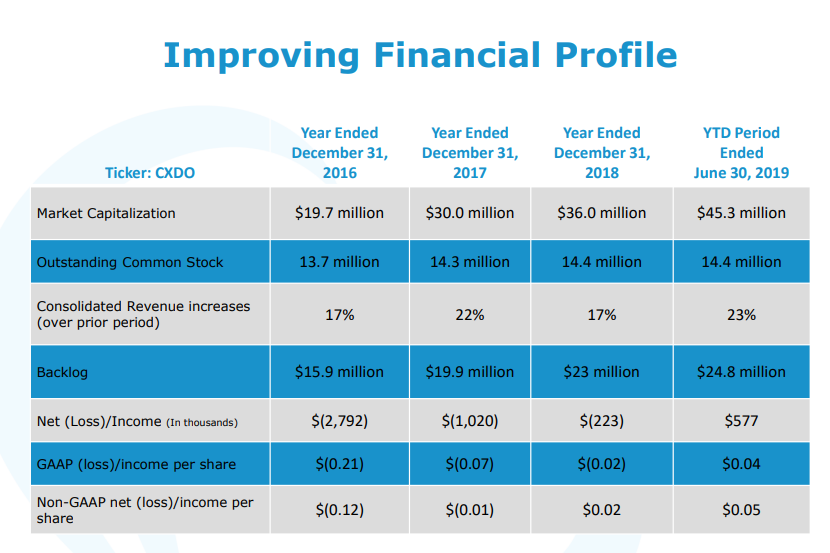 Image courtesy of the company's Investor Presentation
"We continue to see strong sales bookings from both our partner and direct channels. During the quarter, we secured more than half a dozen opportunities with total contract value greater than $100,000, many of these sales were multi-location opportunities, which is one of the target markets that Crexendo's ride the cloud solution is particularly effective with," said company President, Doug Gaylor. "All of these metrics also helped increase our cash balances for the quarter by nearly 20% over the previous quarter and by over $650,000 for the first half of the year, further highlighting the inflection points, that the company has reached. Our backlog continues to grow and increased 19% year-over-year averaging $1 million increase per quarter over that period. Our installations are strong and we are very pleased with the momentum we are seeing. Our combined telecom gross margins increased slightly for the quarter to 68% and we continue to work on efforts to drive that percentage higher."
With a growing backlog and an appealing business model for small businesses, Crexendo is a company on the OTCQX to keep on eye within a space that is going to grow significantly over the next few years.
Stock price data is provided by IEX Cloud on a 15-minute delayed basis. Chart price data is provided by TradingView on a 15-minute delayed basis.
DISCLOSURE: The views and opinions expressed in this article are those of the authors, and do not necessarily represent the views of equities.com. Readers should not consider statements made by the author as formal recommendations and should consult their financial advisor before making any investment decisions. To read our full disclosure, please go to: http://www.equities.com/disclaimer.
Trending Articles
Market Movers
Sponsored Financial Content