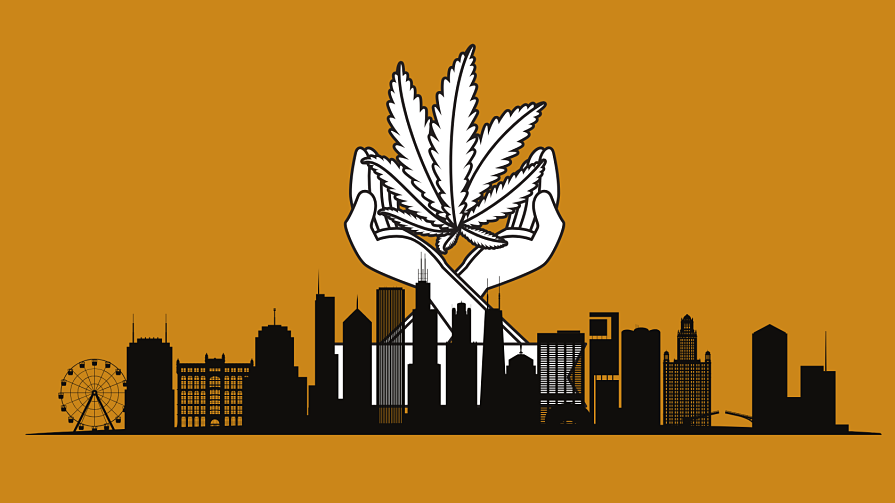 Image: Stephen L. Kanaval
Some new data is shedding light on the true prospects of burgeoning cannabis states and just how rocky new rollouts will be.
As I have written about in a previous article, the Illinois recreational cannabis market is extremely suspect to me. The Land of Lincoln has allowed local townships to decide if they want to permit dispensaries within their precincts, and, predictably, many are choosing not to allow dispensaries to move in for fear of dragging down housing prices, or just from fear of cannabis in general. Here is a quote from a councilman in Naperville, a suburb not far from downtown Chicago: "We have a great, safe community here in Naperville. We've got a great brand. It's a very family-oriented place. And a lot of the experts in this arena have raised a lot of concerns that are very troubling. That if you allow retail sale of marijuana you simply expand marijuana use, that leads to teenage delinquencies, car accidents, a host of other social problem that I don't want to see come to Naperville an certainly don't want to be the guinea pig testing whether these concerns prove out or not."
Well, due to this restrictive launch, Illinoisans who do want access to adult-use dispensaries, may have to take more than a constitutional. A new report highlights that best-case scenario Illinois will see 110 adult-use stores. By May of 2020, the state could award 75 more licenses, bringing the state total to 185.
This means by the end of 2020, Illinois' cannabis market will have 1.5 retail stores per 100,000 residents. On a per-capita basis, this number is peanuts compared to mature locations like Oregon and Colorado with adult-use cannabis stores at 15.7 and 10.0 respectively per 100,000 residents. Data has also shown slow and tepid rollouts lead to high prices (Forbes predicted Illinois to be the land of the $800 ounce) and a healthy illicit market. The Illinois market is going to take quite a long time to mature.
Another reason Illinois is going to see stunted growth is that cannabis shortages are going to be drastic thanks to the state's licensing structure. There are only 55 existing stores for a state with 13 million people and a healthy tourist population (to be specific, the state is actually looking at 946,000 residents over the age of 21 according to a cannabis consumers commission report by the state). Besides the small amount of stores, the state has issued 19 cultivation licenses (these sites are limited to 200,000 square feet and many are well under this limit because they were built to serve the medical cannabis market), and these cultivators have previously been serving a medical cannabis population of 70,000. With this supply shortage, cannabis dispensaries will probably have strict limits on sales – that is, when they have product available.
Don't want to take my word for it or those statistics above, listen to the CEO of a company with one of the few cultivation licenses:
"I'm fully anticipating there's going to be product shortages in the early days," said Kris Krane, president and co-founder of 4Front Ventures, which owns two growing facility licenses. "There just isn't going to be that much product available on Jan. 1."
Cresco Labs is one of the more prominent cannabis companies operating in Illinois, and investors might be tapping their fingers for quite some time to see the company's five dispensaries demonstrate significant revenues. Moreover, the company is in the process of closing a deal with Origin House, where the HSR Act waiting period recently expired.
"We look forward to working through the remaining steps required to close the transaction," said Charlie Bachtell, CEO and Co-founder of Cresco Labs, in a public statement.
The transaction is an all-stock transaction, and since the announcement of the deal in April, Cresco's stock has gone from $12 to now $6.53 at the time of writing. Both sides are saying the right thing, but M&A activity in the space has been slow, and don't forget how the MedMen/PharmaCann deal fell apart, so this is not a sure thing. Cresco's other significant market is Florida, but Trulieve has been dominating sales in the Sunshine State, and Cresco has yet to sell any significant cannabis in the state yet. So, the company really needs to make strides in Illinois to achieve at full-scale.
___
Equities Contributor: Stephen L. Kanaval
Source: Equities News