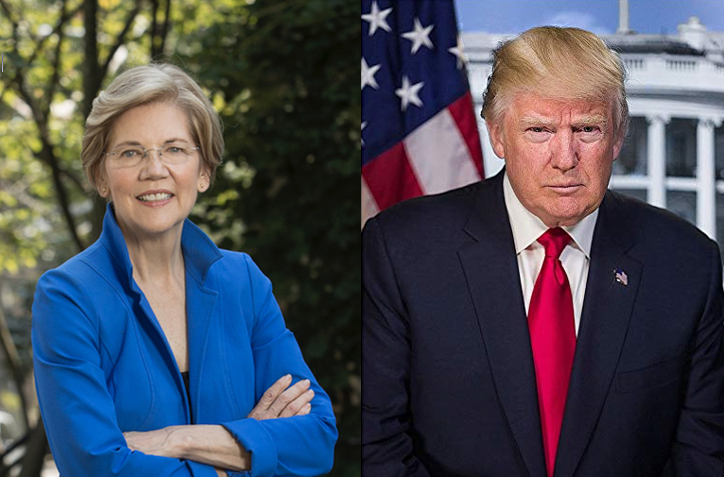 I hate politics. I hate that it's inescapable. What I don't hate is the investment opportunities the 2020 election will present us.
So I hate, and then embrace…
And with the 2020 election fast approaching, we face a major tipping point… economically, politically, historically.
That means NOW is the time to prepare to protect your business endeavors and investments.
NOW is the time to position to profit.
The million-dollar question is: How?
Well, let's take a look…
Presidential Contestants Poll Scores
The latest polls from ABC and The Washington Post show The Donald at his best since taking office, with a 44% approval rating overall. That's up sharply from 39% in April.
Still, he has a whopping 53% disapproval rating (54% in April). That's the worst showing at this point in the first term of any president since Eisenhower.
Kennedy enjoyed 72% approval and 15% disapproval. The two Bushes and Eisenhower all had a 69% to 71% approval rating. The next worse was Ford, with just 47% approval and 37% disapproval.
That means that capturing that 53% disapproval group is key to the 2020 elections. The contestants (and I call them that because, really, this is like a reality TV game show) must win more than a majority of the independents, who stand at 43% approval versus 54% disapproval, very close to mimicking the overall ratings.
Independents For The Win
Independents are the swing vote this time. They're smack in the middle, not on the far right as it was when The Donald took the win in 2016.
This is why so many critics warn that too many Democratic candidates are leaning too far left… and why Joe Biden still polls the best against Trump.
Biden gets 55% versus The Donald's 41%, while Sanders, Warren, and Harris all get 51% with Trump ranging from 45% against Sanders to 43% against Harris.
Although the far-left component of the Democratic party has grown like the far right of the Republican party, it's not quite as extreme. But the "socialist" image is still the biggest negative among the broader public. Also not a positive is that Trump, Biden, and Sanders are all over the age of 70!
And these polls don't consider that registered voters tend to be older, whiter, and more republican.
The 18 – 29 age group is 64% registered. For those in the 50-plus group, 92% are registered. Nonwhite versus white registered voters are 71% and 89% respectively.
Hence, Trump will do better than indicated here unless Democrats embark on a campaign to get younger and nonwhite voters registered for the 2020 election.
But, as the latest polls show, Biden has faded right off the bat after the first debate. He's a bit senile and living in the past. He's simply sailing on being more moderate and more known. That is not likely to last.
Trump gets the highest rating on the economy at 51%. That's important across the board to all voters. And it's the biggest reason for his recent rise to 44% approval overall. It's also the hardest place for the Democrats to attack him.
Only 37% favor impeachment with a rising 59% that don't – so, as Pelosi reminds us, that is clearly not the place to focus either.
Instead, the focus needs to be on what the Independents value most and where that also intersects with the Democrats to turn out more of them.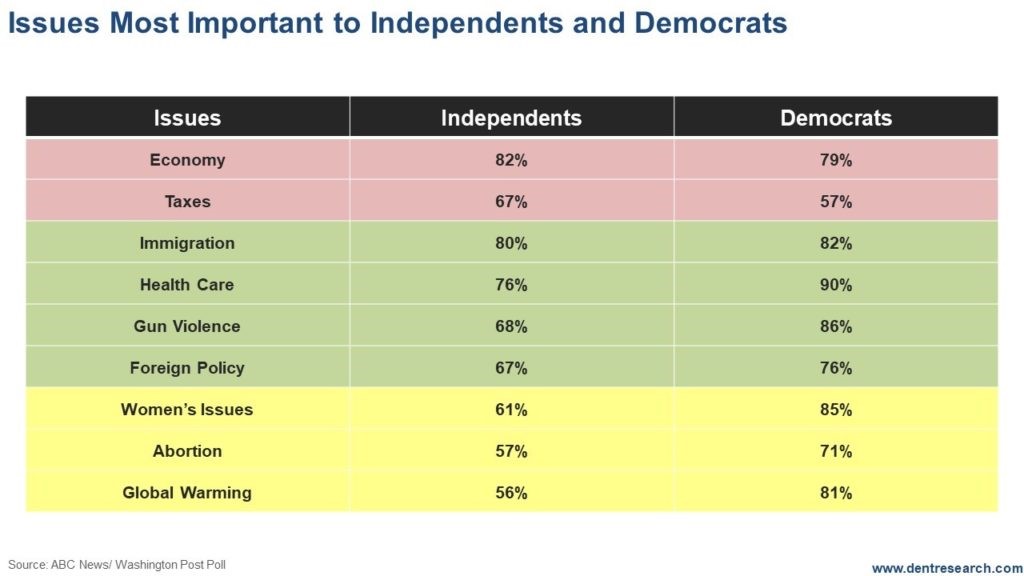 Since the economy and taxes are more Trump's strong points and the hardest to attack (red), the categories that most address the independents' priorities and are also strong with the democrats (green) are in order: immigration, health care, gun violence, and foreign policy.
Women's issues and global warming (yellow) are less important to the independents.
In short, watch out for the democratic candidates that are a bit on the moderate side and not branded as socialists. That hurts Sanders the most and why Harris and Warren are rising.
Warren For President
And my favorite of a motley and not that appealing group? Surprisingly: Elizabeth Warren.
Why?
Because I see a greater financial crisis between 2020 and 2023 than the one we had between 2008 and 2009. We are also in the time in the Economic Winter Season, where serious financial reforms are overdue, especially in the financial and banking sectors.
No one has more knowledge and passion there than Warren. She wants to reform capitalism, not KILL it like the most left-leaning members of her party.
But her problem is that she's not that likeable… Then again, neither was Winston Churchill before he got elected in 1940 and proved his mettle in World War II.
I also talked last week about Trump likely having to face that first sharp 40%-plus stock crash and recession in early to mid-2020. That is his biggest challenge from my view, and I don't doubt he will fight that with everything he has – maybe even pushing to send households checks in the mail as the last stimulus ploy.
The truth is: We need a leader with vision and the ability to roll up his or her sleeves and create quick and effective reforms, including immigration and entitlements – which are the biggest two issues for dealing with our aging demographic trends. Trump clearly does not get good grades on those two points.
We need a Churchill, Thatcher, Lincoln, or FDR…
And I don't see any of those amongst the presidential hopefuls yet. A crisis starting next year by my best calculation would help bring those qualities more into light and focus.
Along the way, we'll help prepare you to protect and grow your wealth into Tipping Point 2020.
Harry Dent
Equities Contributor: Harry Dent
Source: Equities News