Corvidia Therapeutics, based in Waltham, Massachusetts, announced today that it has closed a $60 million Series B round led by Venrock. Other new investors include Andera (formerly Edmond de Rothschild), Cormorant, HBM Healthcare, Fresenius Medical Care Ventures and Venrock Healthcare Capital Partners. Series A investors Apple Tree Partners, MedImmune, AstraZeneca's global biologics research and development unit, and Sofinnova Partners, Corvidia's founding seed investor, also participated in this round.
We always take notice when Venrock takes interest in a young company. Any readers who may be unfamiliar with Venrock may be familiar with names such as Apple, Intel, Illumina, Checkpoint, Athena Health, Juno and Dollar Shave Club — all successful Venrock exits.
Corvidia is pioneering the next generation of cardiovascular and cardio-renal therapies, utilizing functional genomics to precisely identify patients with unique sensitivity to specific biologic pathways, allowing for rapid development and an accelerated path-to-market for drugs targeting those pathways. Corvidia is nearing completion of a Phase 2 clinical trial for a genetically-defined patient population living with advanced chronic kidney disease. The company is scientifically focused on cardiovascular indications utilizing the study of genetic variations to ultimately deliver precise treatments to specific patients who have an unmet medical need.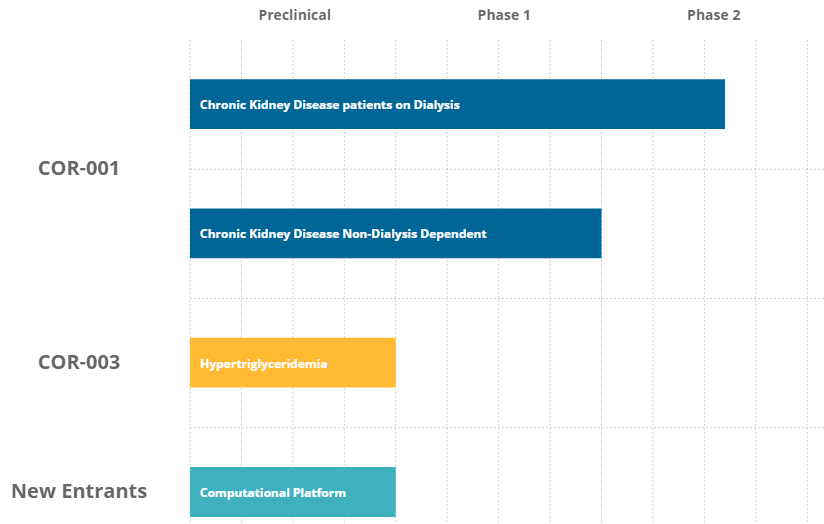 Source: Corvidia Therapeutics
We are extremely pleased to have reached such an important milestone in Corvidia's advancement as a biotechnology company. This funding is critical to accelerating our clinical programs and adding the necessary scientific and market access infrastructure which will drive our growth in developing precision therapies for patients across a range of complex diseases.
– Marc de Garidel, Chief Executive Officer, Corvidia Therapeutics.
Mr. de Garidel was just named CEO of Corvidia in March 2018. He was previously Chairman and CEO of Ipsen for six years, and previously spent 15 years at Amgen, helping to establish and build significant businesses in nephrology and oncology. He began his career with Eli Lilly.
Corvidia's innovative approach to cardiovascular drug development allows them to parse complex, heterogeneous conditions and validate disease pathways in patient subpopulations before beginning clinical trials. We have confidence that Corvidia's highly-respected and experienced team will continue to identify critical therapeutic targets for these devastating diseases through their pioneering approach.
– Karim Helmy, MD, PhD, Vice President, Venrock.
Please email us at [email protected] to see our Case Studies and Testimonials.
Please click here for information on our new trading platform.