Coronavirus and the Black Swan
David Nelson, CFA CMT Follow |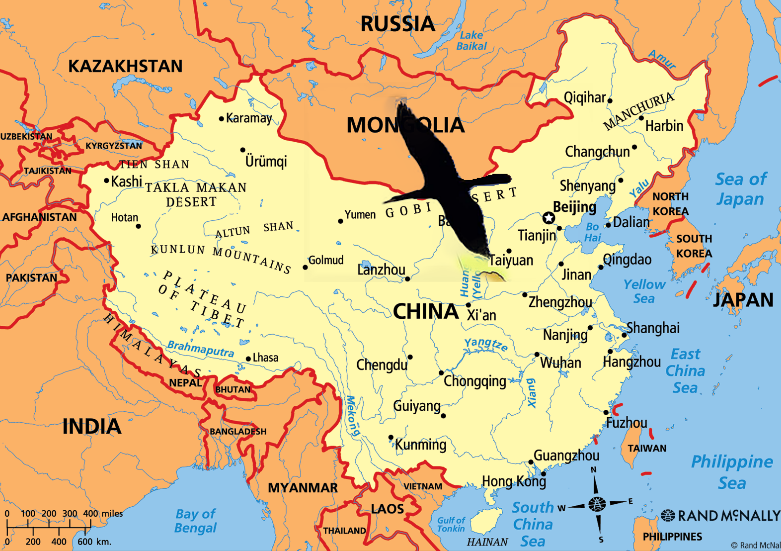 The coronavirus has its first kill outside of China. The victim who traveled from Wuhan China the center of the deadly outbreak, was hospitalized last week in the Philippines and died after a sudden turn for the worse this weekend. As the number of patients infected by the coronavirus mounts, countries and airlines are slowly cutting off contact with China. Maybe too slowly.
As of Sunday, close to 15,000 are infected and a little over 350 deaths. Since my post last Monday most of the metrics have doubled. Currently, the fatality rate is running just over 2% well below the nearly 11% run rate from the SARS epidemic in 2003. It's early for sure but let's hope that relationship holds as the medical community rushes to contain the outbreak.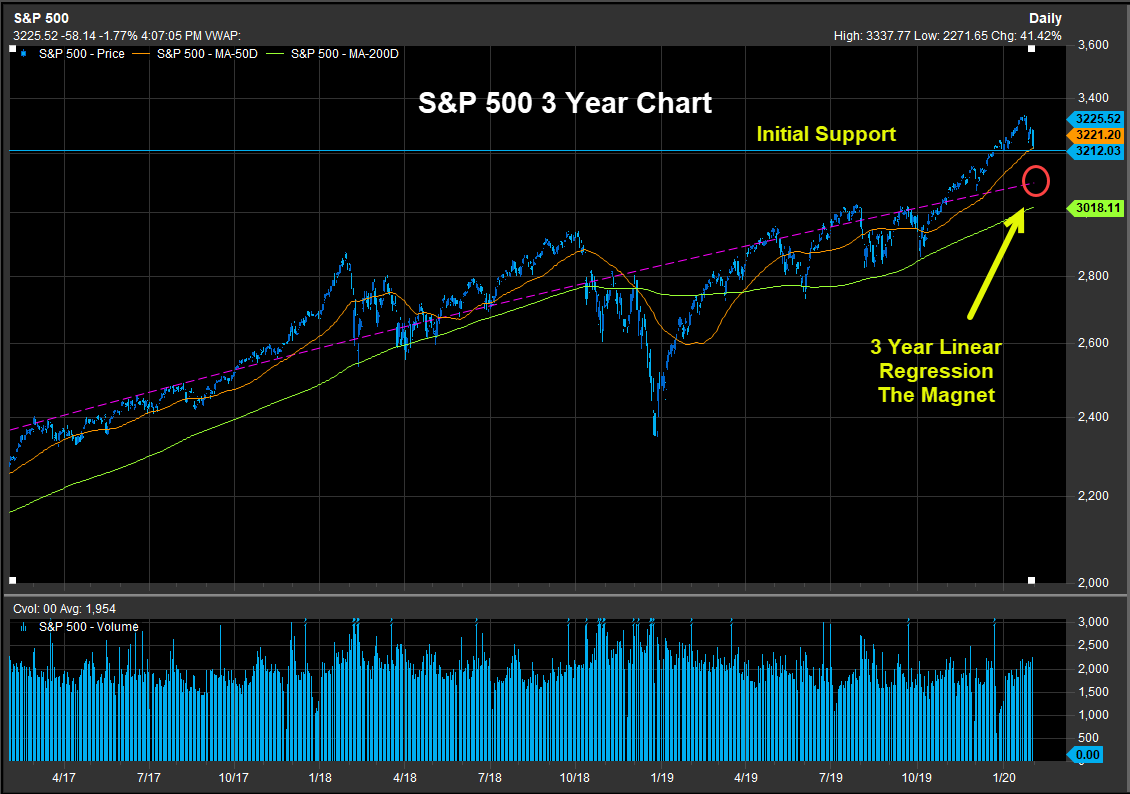 The virus has infected markets around the world forcing volatility higher as traders and investors try to determine which companies have the most exposure to China. Few industries are immune. U.S. companies with a manufacturing footprint in China are forced to reign in production or secure alternative supply chains. Close to half of U.S. large cap revenue resides offshore so it doesn't take long to do the math.
CBOE VIX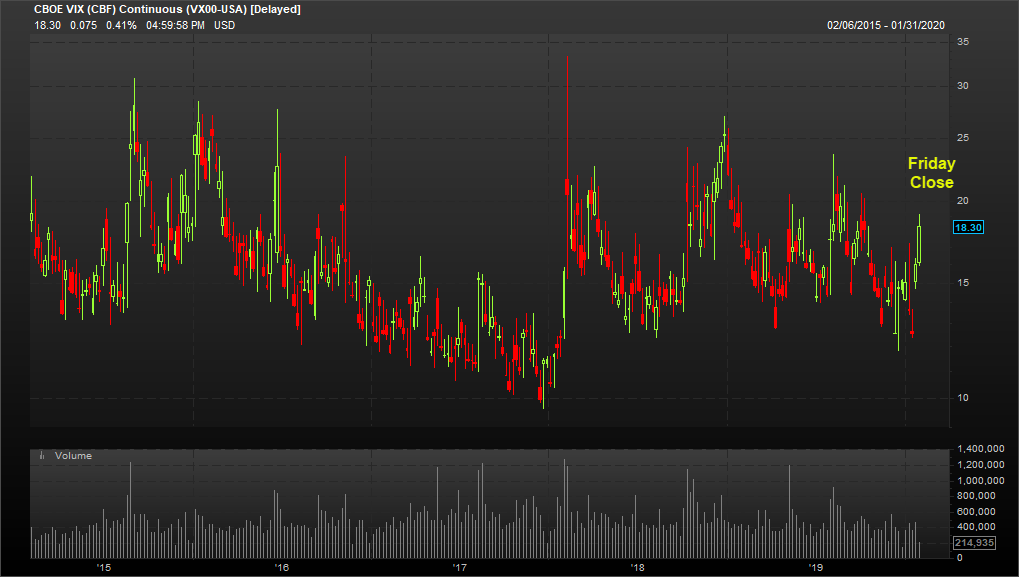 One by one companies are choosing the nuclear option and shutting it all down. Airlines across the board are halting flights some in response to union demands. American (AAL) was forced to halt all flights to and from China after the pilot's union sued the carrier to halt service. Tesla (TSLA), Disney (DIS) and others have shut down operations. Even Apple (AAPL) who initially closed a few stores limiting hours has now closed all its China stores and corporate offices. I could spend the remainder of this post listing all the companies taking action, but I think the point is made. The list is large and growing.
The U.S. government has banned foreign nationals who have visited China in the last 14 days from entering the country and as of Sunday states, American Citizens who visited China's Hubei province the two weeks prior to their return must enter mandatory quarantine for up to 14 days. While the precaution is welcome, it also highlights the concern of authorities and ramps up the fear level as traders and investors will interpret the directive as it's worse than we thought.
Is the Coronavirus a Black Swan Event?
Black Swan Theory (Wikipedia) - The black swan theory or theory of black swan events is a metaphor that describes an event that comes as a surprise, has a major effect, and is often inappropriately rationalized after the fact with the benefit of hindsight.
In many ways the coronavirus sweeping China has all the earmarks of a Black Swan event. By definition the event is a surprise that couldn't be forecast. Using SARS episode in 2003 as a guideline, Goldman's research team points out in a recent note that selling pressure tends to last 1-3 months for Asia markets following a viral breakout. Highlighting the concern, Goldman is hosting a conference call Monday morning to discuss the coronavirus and its impact on global growth. I would imagine the 2-3-month time frame referred to is completely dependent on how quick the outbreak is contained.
Earnings taking a back seat
We're right in the middle of earnings season yet little seems to matter other than the pandemic. Both good and bad news is being sold. It's normal for stocks that miss expectations to fall after they report, but last week even stocks with a positive surprise found their shares for sale after an initial pop higher. Amazon (AMZN) whose shares closed +7.38% on Friday shed 126 points from the highs the night before after reporting a blowout quarter.
Amazon Post Market Volatility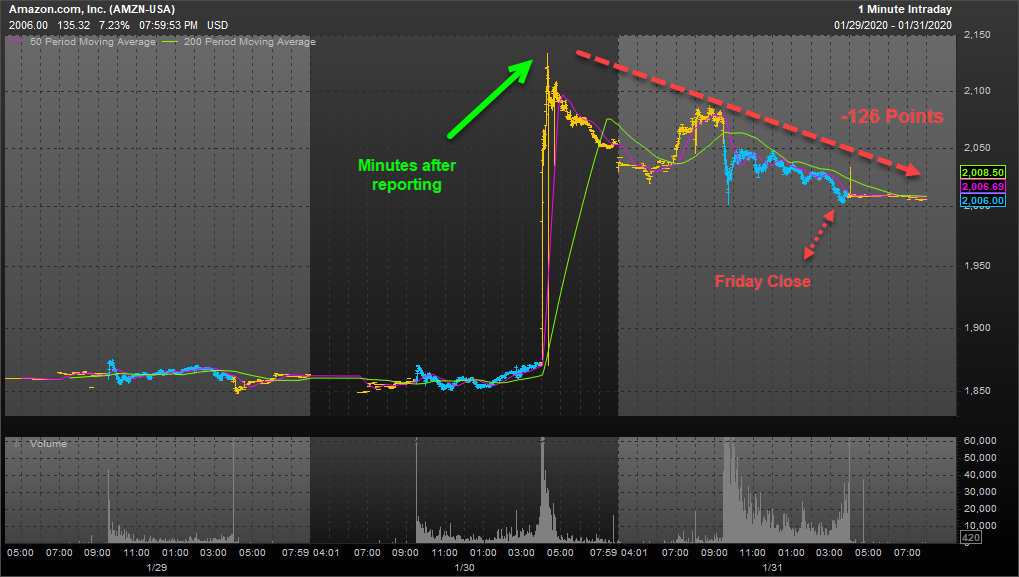 While stocks have been the net loser, fixed income, Gold (GLD) and other safe haven trades benefit as the risk off trade plays out. In the last month U.S. yields across the board have fallen as Gold (GLD) hits 5-year highs.
U.S. Drug Companies to the rescue
U.S. drug companies haven't gotten a lot of good press recently but on Friday Gilead (GILD) delivered an experimental drug to treat the deadly disease. There's an agreement in place with Chinese authorities to conduct a clinical trial of their drug remdesivir in patients infected with the coronavirus. Other drug manufacturers are working feverishly to develop a vaccine.
The longer the epidemic drags on the bigger the near-term cuts in both estimates for GDP and individual companies. This explains some of the intense selling we saw last week in stocks that clearly delivered on expectations.
The selling Friday was methodical with little panic as institutions unloaded shares in almost homicidal fashion. The good news is that for every seller there was a buyer and if history is any guide first responders and science will prevail.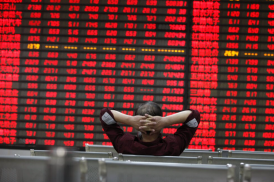 If my math is correct Chinese markets opened just around the time Jennifer Lopez and Shakira kicked off their halftime show. While the Kansas City Chiefs we're coming back from a 10 point deficit in the 4th quarter to win their first Super Bowl in a half century, Chinese stocks were in free fall as the Shanghai Composite opened down 8%. As of 2 AM Monday, U.S. and European markets are set to open higher. Let's see if the Super Bowl afterglow can carry us through today's trading.
_____
Equities Contributor: David Nelson, CFA CMT
Source: Equities News
DISCLOSURE: The views and opinions expressed in this article are those of the authors, and do not necessarily represent the views of equities.com. Readers should not consider statements made by the author as formal recommendations and should consult their financial advisor before making any investment decisions. To read our full disclosure, please go to: http://www.equities.com/disclaimer. The author of this article, or a firm that employs the author, is a holder of the following securities mentioned in this article : None
You May Also Like
| Symbol | Last Price | Change | % Change |
| --- | --- | --- | --- |
| AAPL | | | |
| AMZN | | | |
| HD | | | |
| JPM | | | |
| IBM | | | |
| BA | | | |
| WMT | | | |
| DIS | | | |
| GOOG | | | |
| XOM | | | |
| BRK.A | | | |
| FB | | | |
| JNJ | | | |
| WFC | | | |
| T | | | |
| NFLX | | | |
| TSLA | | | |
| V | | | |
| UNH | | | |
| PG | | | |