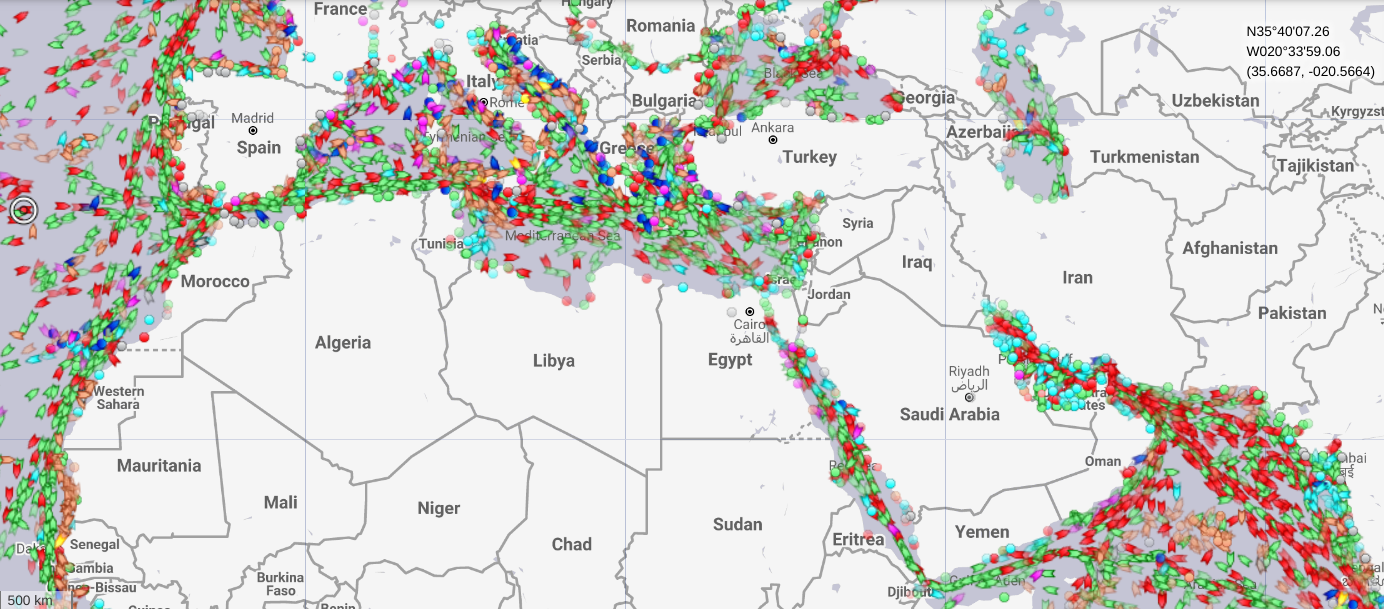 Image source: MaritimeTraffic.com
Engineers said Monday that they've made a glimmer of progress in "partially refloating" a giant container ship, though it remains stuck sideways in Egypt's Suez Canal for a seventh day.
The Associated Press cited satellite data from MarineTraffic.com showing that the bow of the Ever Given had been partly moved from shore, though it remained stuck on the eastern bank of the canal.
It's the most that the Ever Given has moved since getting stuck, but Peter Berdowski, head of salvage firm Boskalis, which has been working to extract the ship, warned Dutch NPO Radio 1, "Don't cheer too soon."
The 1,300-foot Panama-flagged ship was en route from China to the Netherlands through the canal when it ran aground Tuesday amid high winds and a dust storm and became wedged diagonally.
The Suez Canal accounts for 12% of global trade by volume and 30% of the world's daily shipping container freight, according to The Associated Press, making it "the most important conduit for trade between Europe and Asia."
The incident remains under investigation and authorities have not yet ruled out human or technical error, Osama Rabie, chairman and managing director of the Suez Canal Authority, told The Associated Press.
Berdowski said his company hopes to pull the container ship free within a few days through a combination of heavy tugboats, dredging and high tides.
"If we don't succeed in getting it loose next week, we will have to remove some 600 containers from the bow to reduce the weight," he said. "That will set us back days at least, because where to leave all those containers will be quite a puzzle."
The Ever Green's owners, Japanese firm Shoei Kisen KK, said it was considering removing some of the vessel's roughly 20,000 containers to reduce its weight should the ongoing refloating efforts fail but noted it is a difficult operation.
During a news conference late Friday, Shoei Kisen's president, Yukito Higaki, said, "We apologize for blocking the traffic and causing the tremendous trouble and worry to many people, including the involved parties."
Maritime traffic is quickly backing up at both ends of the canal, which typically sees about 50 cargo ships pass through each day.
On Monday, the jam grew to at least 367 vessels, including dozens of container ships, bulk carriers and liquefied natural gas (LNG) or liquefied petroleum gas (LPG) vessels, The Associated Press reported.
If the canal closure drags on, shippers may opt to reroute around the Cape of Good Hope, which would add about two weeks to trips, along with extra fuel costs. NBC News reported that some vessels began changing course to go south but that dozens of ships are still heading to the canal.
The stranded Ever Given is holding up an estimated $400 million per hour in trade, based on the value of goods moved through the canal every day, according to shipping data and news company Lloyd's List.
The blockage is already causing further stress to an already strained global supply chain, Jon Gold, vice president of supply chain and customs policy for the National Retail Federation, told CNBC.
"Every day that the vessel remains wedged across the canal adds delays to normal cargo flows," he said. "Many companies continue to struggle with supply chain congestion and delays stemming from the pandemic. There is no doubt the delays will ripple through the supply chain and cause additional challenges."
_____
Source: Equities News