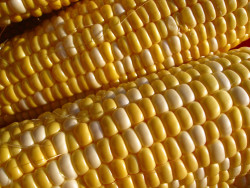 The 2014 corn market has progressed without a hitch. Perfect weather and recently high corn prices have led to record acreage and yields combining to bring in the most bountiful harvest in history. This morning's look into the market reveals just how good the commercial traders as a group are at forecasting prices. Commercial corn producers sold about 12% of this year's USDA estimated production from February through April between $4.60 and $5.25 per bushel. That selling totaled more than 350,000 contracts and has allowed this to be the last hurrah for marginal corn farmers who will most likely switch to beans next year as prices are not expected to reach this spring's levels anytime soon.
The summer's 40% decline in corn futures prices has made the heroes out of the forward production hedgers. Now that the October 10th USDA report is out, we can start focusing on the demand side of the corn market. We sat on our hands as commercial consumers came in to make their standard summer purchases. This year's totaled less than 150,000 contracts and most of these were around the $4.40 area. This leaves plenty of buying capacity for end line commercial corn users to put corn in the bins. You can see this graphically in this Commitment of Traders chart we've created plotting their actions over the price of the futures market.
The current net commercial trader position is slightly long, holding around 33,000 contracts. It's been the tendency over the last few years to see strong end line buying once the October USDA report has been released. Last year's commercial net position grew to more than 200,000 contracts by the end of November. The year prior (2012) saw net purchases of 60,000 contracts between the report and November's end and net purchases during this timeframe in 2011 were more than 120,000 contracts. Everyone was waiting on this year's crop to find out just how big it was going to be. Now that the numbers are becoming closer to final, I expect the commercial consumers to come in and shore up their future supplies.
Typically, the way the commercial trader net position and futures prices play out against each other looks something like a zero sum game. The Commitment of Traders report allows us to break this down into who is doing the buying and the selling. This reveals a much deeper truth; no one knows their market like those basing their livelihood upon the successful prediction of that market. Commercial producers were sellers at the top and commercial users are now buyers at the bottom. We expect their buying to continue and show some support to the corn market through the next month as they have in the past.
DISCLOSURE: The views and opinions expressed in this article are those of the authors, and do not represent the views of equities.com. Readers should not consider statements made by the author as formal recommendations and should consult their financial advisor before making any investment decisions. To read our full disclosure, please go to: http://www.equities.com/disclaimer