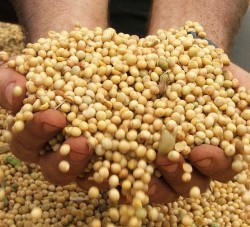 Soybean farmers who hadn't hedged their crops early this year have taken a pounding all summer long. Their last bastions of hope rested on two things; a harvest rally and the November WASDE report. The harvest rally did provide a bit of a respite from the seemingly endless downdraft in all grain prices this year. The November soybean futures rallied from a low of $9.04 in the beginning of October to their current levels around $10.25. As expected, the market has seen consistent commercial selling all along this rally to the tune of around 60,000 contracts over the last six weeks. Meanwhile, traders who had been hoping for some tight news out of the report may well be left holding the bag. The WASDE report placed this year's soybean crop above their previous estimate by approximately 8%. The trade's general expectation was actually a bit more bearish than the WASDE report turned out to be. This is the last, tenuous grasp on which bean owners have to cling.
The report always generates late season hype. However, soybean owners should focus on the technical picture at this juncture in the markets as their primary concern. The report turned into a, "Buy the rumor, sell the fact" type of report. The sell off from the yesterday's highs, while not violent was at least enough to push this market to the brink. Moving to the January futures contract, the chart appears to be a classic case of technical divergence, which suggests this rally, is running out of gas. This Commitment of Traders chart shows the commercial traders' dedicated selling along with the double top on lower short-term market momentum readings.
The negatives simply outweigh the positives at this point in the soybean futures market. The odds favor the short side under these conditions. Therefore, we will be selling January soybean futures against yesterday's high of $10.58 per bushel and using this level as our protective stop point. The market should penetrate last week's low of $9.95 and easily test the $9.60 level. Support is currently in the hands of the long hedgers. Will they step in to purchase their future inputs at these prices or, will they sit on their hands as the market falls of its weight?
DISCLOSURE: The views and opinions expressed in this article are those of the authors, and do not represent the views of equities.com. Readers should not consider statements made by the author as formal recommendations and should consult their financial advisor before making any investment decisions. To read our full disclosure, please go to: http://www.equities.com/disclaimer