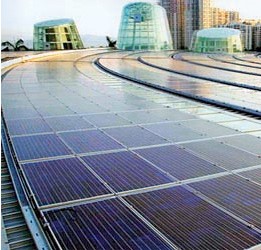 The market for solar panels in the United States has been in a free fall since 2011 when a glut of cheaply priced panels from China hit the market and caused the bottom to drop out on prices. The results were dramatic, with First Solar (FSLR) losing over 80 percent of its share value and many smaller firms getting pushed to the edge (or past the edge) of bankruptcy. American manufacturers were holding their breaths for the outcome of an investigation by the Commerce Department into unfair trade practices in China that might help to correct things. The Commerce Department ultimately opted to apply duties, acknowledging that it believed the Chinese government subsidies were creating an unfair trade environment.
"Today's announcement affirms what U.S. manufacturers have long known: Chinese manufacturers have received unfair and WTO-illegal subsidies," Steve Ostrenga, chief executive of Helios Solar Works in Milwaukee, said in a statement.
Unfortunately for American panel makers, while the Commerce Department did opt to apply tariffs to Chinese imports to counterbalance government subsidies there, they were smaller than hoped. Solar stocks fell across the board as the market stumbled on news that Chinese growth may be slowing. First Solar was off another 4.22 percent, while other American companies fell as well with SunPower Corporation (SPWR) losing 7.47 percent.
Some American manufacturers, though, lauded the limited duties. Some members of the solar industry believed that excessive duties could mean higher prices for solar panels and might hurt installers and the solar industry as a whole. As such, some celebrated the limited duties.
"The rates were very low, which is a huge victory for the U.S. solar industry and its 100,000 employees," said Jigar Shah, president of the Coalition for Affordable Solar Energy, a group that opposes the imposition of import tariffs. "On the topic of whether the Chinese government is systematically oversubsidizing its solar industry, they were found not guilty. ... Given all our expectations, this is really good news."
Smaller Duties Than Hoped
The duties imposed on Chinese firms fell short of what was hoped by American solar companies. Trina Solar Limited (TSL) will receive a 4.73 percent tariff, SunTech Power Holding (STP) will be at 2.9 percent, and all other firms, including JA Solar Holding (JASO), will received a duty of 3.59 percent. The news was well received by these companies as shares shot up on Tuesday. Trina gained 7.85 percent, SunTech was up a whopping 14.06 percent, and JA Solar gained 4.40 percent.
Ongoing Fight for Market Share
The decision by the Commerce Department represented the most recent salvo fired in the war over the solar market between the United States and China. In early December, the US International Trade Commission voted unanimously that Chinese imports were hurting the America makers due to government subsidies. However, with Germany opting to cut its subsidies sooner and more than expected, continued instability in the market has hurt panel makers everywhere.
Solar makers, though, have been making changes. First Solar began efforts to shift away from subsidized markets last year, and the industry has been raising more cash by offering solid returns to capital backers. Solar developers have been offering returns in excess of 15 percent on investments, according to a Bloomberg article, and attracting capital investments from the like of Berkshire Hathaway's (BRK.A) Warren Buffett, Google (GOOG), and MetLife (MET).
DISCLOSURE: The views and opinions expressed in this article are those of the authors, and do not represent the views of equities.com. Readers should not consider statements made by the author as formal recommendations and should consult their financial advisor before making any investment decisions. To read our full disclosure, please go to: http://www.equities.com/disclaimer