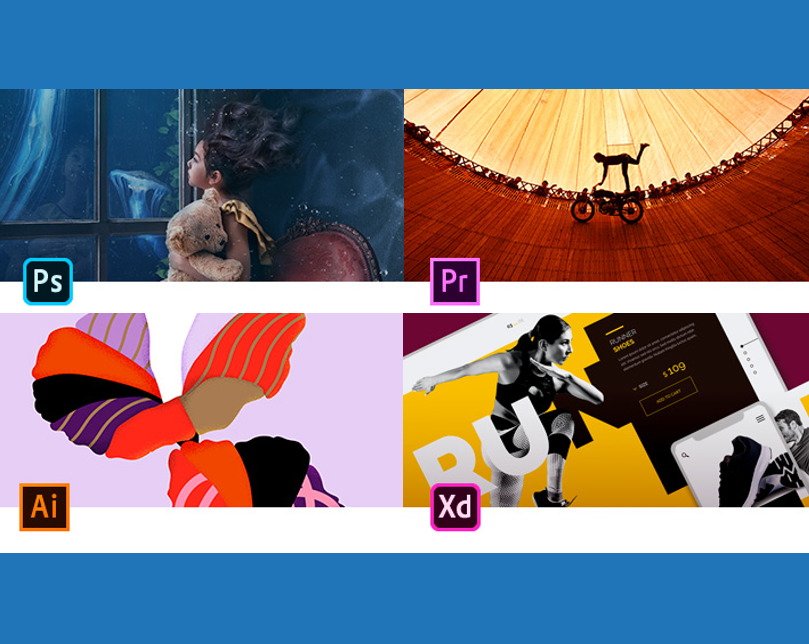 Images: Adobe Inc.
Adobe recently announced an exceptional quarter generating almost $3 billion in revenue (21% year-over-year growth), which brings the company to almost $11.2 billion for FY 2019. These numbers beat consensus estimates for most Wall Street analysts and really secured this OG tech company's place in the modern digital era.
"Adobe's phenomenal performance in Q4 capped a record fiscal 2019 with revenue exceeding $11 billion," said Shantanu Narayen, president and CEO, Adobe. "Adobe's vision, category leadership, continuous product innovation and large and loyal customer base position us well for 2020 and beyond."
How did Adobe do this? The company successfully transitioned from a packaged software company to an agile cloud provider.
Clouds and Acquisitions
Adobe's record year is impressive, and the company did not stray from its bread and butter, the Adobe Creative Cloud (Photoshop, InDesign, Illustrator, Muse, Dreamweaver, Flash Professional, etc.), but rather made it much easier to use. As a cloud subscription service, the company has democratized the creative tools that were once hard to attain except at the enterprise-level.
The company's cloud-based subscription services made up more than 80% of Q4 revenues, and with the recent acquisitions coming into the fold in 2020, Adobe could grow even bigger.
This past year Adobe acquired Marketo and Magento, and besides boosting the company's Experience Cloud, those two additions might make Adobe a one-stop shop for digital marketers of all shapes and sizes.
Already, design teams rely on Adobe to make advertisements and graphics of all kinds. Plus, the Adobe Marketing Cloud has tools like Audience Management, which scrapes data directly from customers. Adobe Social, meanwhile, helps marketing teams moderate workflow and display optimal posting times. Adobe Campaign helps companies orchestrate entire marketing campaigns, and Adobe Target helps deliver relevant content to the right people. Now, with Marketo, Adobe adds a marketing automation platform and a lead engagement technology stack that can deliver e-commerce marketing at scale. Marketo also comes with its own B2B user base that includes names like Verizon and Microsoft as customers.
"The imperative for marketers across all industries is a laser focus on providing relevant, personalized and engaging experiences," said Brad Rencher, executive vice president and general manager, Digital Experience, Adobe. "The acquisition of Marketo widens Adobe's lead in customer experience across B2C and B2B and puts Adobe Experience Cloud at the heart of all marketing."
Magento is also key to the growth of the company's Commerce Cloud. Magento secures the last mile of the customer experience, where a company can see how customers are reacting to content and interacting with the brand. Similar to Marketo, Magento has big-name clients already in its portfolio like Canon, Coca-Cola and Nestle.
This digital experience space adds a larger audience for Adobe, which is why the company sees its addressable market size to reach $100 billion by 2022.
"The success of our Digital Experience business is bolstered by several industry tailwinds: The mandate for enterprises and organizations to digitally transform their businesses and the need to deliver the world-class, end-to-end customer experiences consumers have come to expect," he said, adding: "More and more businesses are choosing Adobe Experience Cloud – the industry's only end-to-end solution for marketing, advertising, analytics and commerce – serving both B2C and B2B customers," CEO Narayen told MESA Alliance.
A Company Great at Incorporating Acquisitions
Another industry for whose growth Adobe is prepared is 3D design. In January, the company acquired Allegorithmic, a leader in 3D editing software for materials and textures that supports video post-production. Motion graphics and video game creators are fond of Allegorithmic's Substance design suite, and now this 3D design platform will complement Adobe's other Creative Cloud platforms. The company's Substance design platform was used on Call of Duty, Assassin's Creed and movies like Blade Runner 2049.
Obviously, Adobe is no secret. The company is the third most valuable U.S. business software company behind Microsoft and Oracle, but what is impressive is that it expects 18% growth next year to $13.15 billion in revenues—remarkable growth for a company of this size. Adobe could even be under-promising with that estimate as the company did record numbers this year under the cloud of a data breach that exposed the user records of 7.5 million Creative Cloud customers.
Editor's note: This article has been updated to correct the description of Allegorithmic, which was previously described inaccurately. We apologize for the error.
_____
Equities Contributor: Stephen L. Kanaval
Source: Equities News