CollPlant Announces Positive Clinical Data Published for Tennis Elbow Treatment
Edward Kim Follow |

Soft tissue injuries refer to damage of muscles, ligaments and tendons, and can range from modest strains to tendinitis, bursitis, severe bruises and sprains. According to an August 2018 report from Allied Market Research, the global soft tissue repair market was worth $16.6 billion in 2017 and is projected to grow to $25.6 billion by 2015, driven by an increase in sports-related injuries and a rise in obesity. While traditional treatment methods for soft tissue injuries involve the standard "RICE" recommendations of rest, ice, compression and elevation, we've been following a growing number of companies that are developing next generation solutions to treat these injuries in a more effective manner.

CollPlant CLGN is an Israel-based developer of tissue repair products for orthobiologic applications and advanced wound care markets. The company's products and pipeline are based on recombinant human collagen (rhCollagen) produced with its proprietary plant based genetic engineering technology. CollPlant's lead product lines include rhCollagen BioInk, used for 3D bioprinting of tissues and organ material, and VergenixSTR (soft tissue repair), an injectable gel formulation of rhCollagen and plasma that forms a soft tissue repair matrix for treating tendon injuries. CollPlant also markets VergenixFG, which is added to bandages to help wound healing. The company's BioInk is sold in the US, while the Vergenix line is marketed in Europe.

The company announced today that the results of a clinical trial of VergenixSTR in the treatment of tennis elbow were published in The Journal of Shoulder and Elbow Surgery, the only peer-reviewed journal that focuses exclusively on medical, surgical and physical techniques for treating injury and disease of the upper extremities. The study, entitled, "First clinical experience with a new injectable recombinant human collagen scaffold combined with autologous platelet-rich plasma for the treatment of lateral epicondylar tendinopathy (tennis elbow)" concluded that VergenixSTR is "a safe treatment that effectively induces clinically significant improvements in elbow symptoms and general well-being as well as objective measures of strength and imaging of the common extensor tendon within 6 months of treatment of elbow tendinopathy recalcitrant to standard treatments."




Source: CollPlant


The clinical trial for VergenixSTR, which was concluded in August 2016, enrolled 40 patients and evaluated three key measures of tennis elbow at six months after treatment.

In November 2018, CollPlant announced it had signed a license, development and commercialization agreement with United Therapeutics UTHR for the use of CollPlant's BioInk in 3D bioprinted lung transplants. CollPlant received $5 million upfront from United Therapeutics, and United Therapeutics holds a two-year option to expand the field of its license to up to three additional organs.

The stock is changing hands at $4.50 in mid afternoon trading, giving the company a market capitalization of just under $18 million. CollPlant reported revenue of $619,000 for the nine months ended September 30, 2018, with cash of $2.6 million—which does not include the $5 million it received from United Therapeutics. Deducting the current cash balance, the company's technology and pipeline is barely valued at $11 million, which seems attractively placed on the risk-reward spectrum given the potential of its products. We're encouraged by the validation provided by the peer-reviewed article for VergenixSTR, and we'll be watching for progress with the FDA as well as continued continued developments with the company's BioInk product as well as additional dermal filler products in development for the aesthetics market.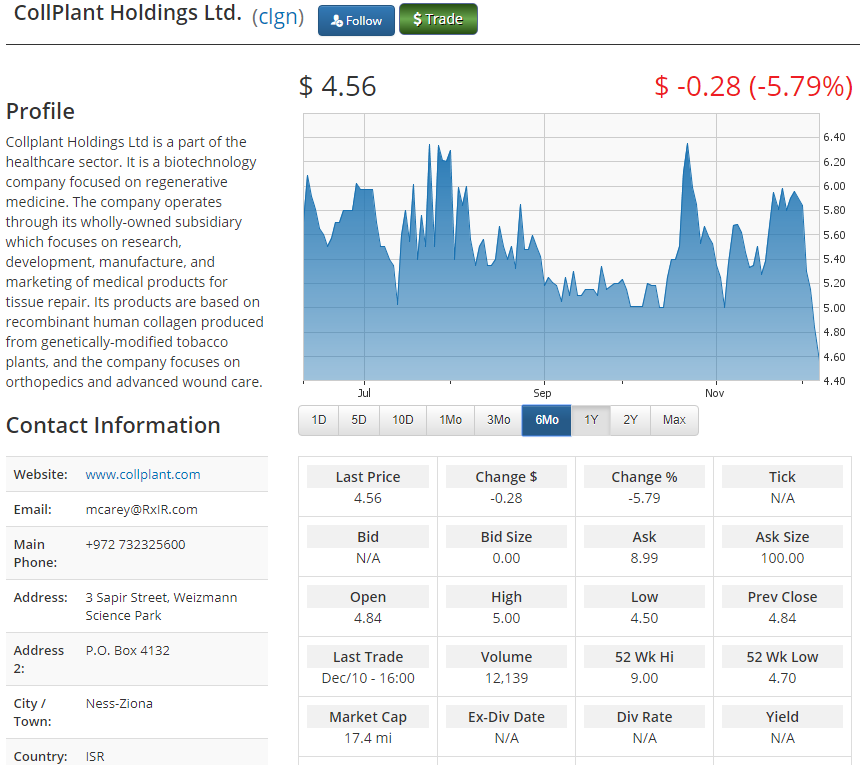 Please email us at content@equities.com to see our Case Studies and Testimonials.
Please click here for information on our equity trading platform.
Please click here to receive our free daily newsletter.
DISCLOSURE: The author has no positions or any beneficial interest in, and has received no compensation from, the companies mentioned in this article.

---
The views and opinions expressed in this article are those of the authors, and do not necessarily represent the views of equities.com. Readers should not consider statements made by the author as formal recommendations and should consult their financial advisor before making any investment decisions. To read our full disclosure, please go to: http://www.equities.com/disclaimer.
Sponsored Financial Content
You May Also Like