Cogentix to be Acquired by Laborie Medical Technologies for $239 Million
Edward Kim Follow |

Cogentix Medical (Nasdaq: CGNT) announced today that it has agreed to be acquired by Laborie Medical Technologies for approximately $239 million in cash. Laborie will commence a tender offer for all outstanding shares of Cogentix at $3.85 per share in cash -- a premium of 28% over the average closing price of CGNT over the last 30 days. Cogentix anticipates the deal will close early in Q2, 2018, at which time Cogentix will become a wholly owned subsidiary of Laborie.

This transaction helps us achieve our vision of creating value for our investors, patients and physicians in the urology and gynecology markets. Laborie has a track record of success in these markets and we believe that the addition of our urology and gynecology assets to their existing product lines will ensure that our products are available to the many patients and physicians who may benefit from them. We believe that this transaction is also a compelling financial opportunity that delivers significant value to our investors who have supported our evolution to becoming a valued player in the urology market.

- Darin Hammers, President and CEO of Cogentix Medical.

Key Cogentix products include:


Urgent PC Neuromodulation System - non-drug, non-surgical treatment for overactive bladder (OAB) and associated symptoms of urinary urgency, urinary frequency and urge incontinence. Delivers percutaneous tibial nerve stimulation, a recommended therapy in the American Urological Association and Society of Urodynamics, Female Pelvic Medicine and Urogenital Reconstruction OAB diagnosis and treatment guidelines.




PrimeSight Cystoscopy System & EndoSheath - Cystoscopy system combined with a single-use, protective barrier with an integrated working channel. Using PrimeSight with the EndoSheath protective barrier eliminates the need for high-level disinfection between every procedure and provides a significant workflow benefit to urologists performing cystoscopies.

Macroplastique - Injectable, soft-tissue bulking agent used to treat female stress urinary incontinence primarily due to intrinsic sphincter deficiency. Macroplastique stabilizes and bulks the submucosa tissue of the urethra in a minimally invasive procedure, providing the surrounding muscles with increased capability to control the flow of urine.

The acquisition price is a fraction of Cogentix's once mighty stock price, but the deal does provide a respectable return for recent investors.

Laborie is a leading global developer, manufacturer and marketer of innovative medical technology and consumables used in gastrointestinal procedures and for the diagnosis and treatment of pelvic health in the urology, gynecology, and colorectal fields. Laborie is owned by Patricia Industries, a part of Investor AB, the Swedish firm run by the Wallenbergs and Foundation Asset Management.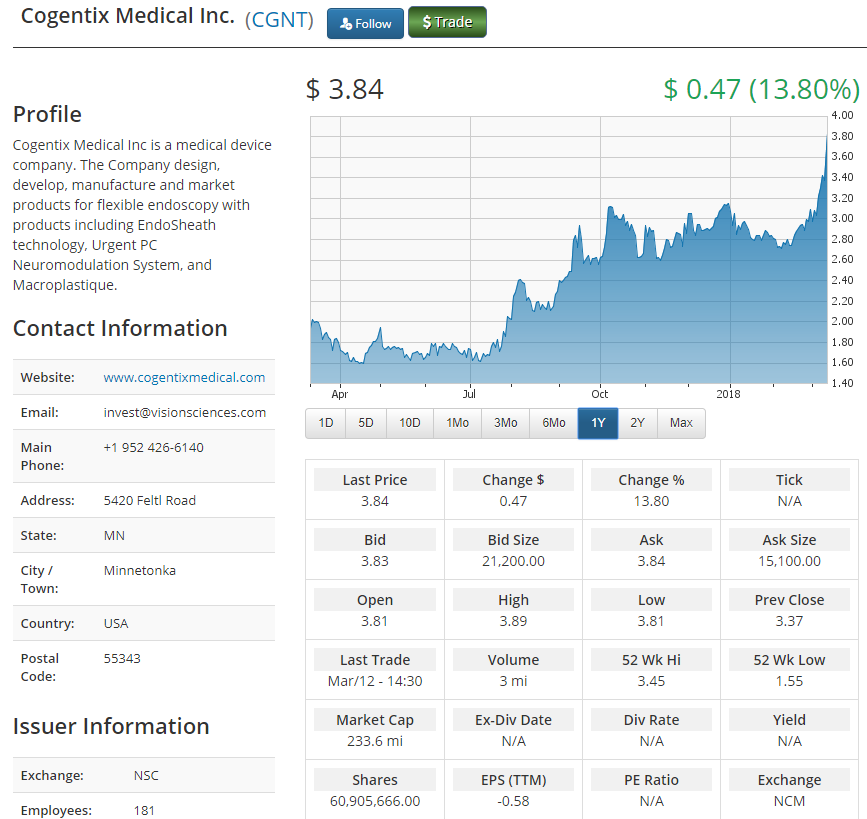 Please email us at content@equities.com to see our Case Studies and Testimonials.

Please click here for information on our new trading platform.
Please click here to see our weekly newsletter.
DISCLOSURE: The views and opinions expressed in this article are those of the authors, and do not represent the views of equities.com. Readers should not consider statements made by the author as formal recommendations and should consult their financial advisor before making any investment decisions. To read our full disclosure, please go to: http://www.equities.com/disclaimer.