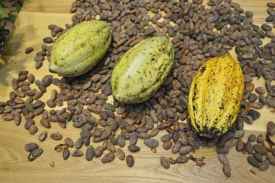 The viral news that chocolate prices are going through the roof due to a shortage of cocoa is simply hogwash. The recent consumption increases have been proportional to the increases in the rest of cheap, luxury goods. Chocolate, while a high end item in much of the world, is still accessible, by the piece to more and more people every year. The economic transformation of the entire continent of Asia is bringing a taste of the good life to more and more people every year. While that may manifest itself as an increase in global cocoa demand, the fundamental nature of the crop and its pricing structure are due to fall over the coming years as modern farming practices, a revamped infrastructure and economic transparency all collaborate to push prices lower.
The election of Alassane Outtara as President in 2011 was a landmark event for the Ivory Coast. The transition from more than a decade's worth of dictatorship to a Western educated former economist at the International Monetary Foundation was truly a watershed if, bloody moment in their history. President Outtara has quickly enlisted major cocoa processors in forming an economic partnership between the country's primary crop and its end users. These reforms have been well received and its continued support will modernize the entire system - labor, horticulture, banking, infrastructure and shipping.
The December cocoa futures made an all-time high of $3,775 per ton in March of 2011. This makes, current prices, nearly $1,000 lower seem like a pretty good bargain. In fact, commercial traders like those who buy, grind and sell cocoa have been shoring up their future supply lines as the market has fallen since the September highs of $3,399 per ton. They've added about 45,000 contracts over the last six weeks. This sounds incredibly bullish but the truth is it's only mildly bullish. Yes, the market has pulled back and yes, our next trade will be initiated from the long side but the recent buying interest by commercial traders in the cocoa futures has been short covering by cocoa producers, rather than long hedging by the cocoa grinders. This is primarily because cocoa traders nearly set an all-time record short position in early October. Clearly, they felt prices were overvalued on the Ebola contagion fears in West Africa. You can see their actions over time and price on this cocoa chart.
Commercial traders don't set record positions in a market that they believe is tightening. Even with the current buy setup forming on this commercial trader chart in the cocoa futures, we understand that we are buying a blip in one of the last markets to receive a complete overhaul in science and technology. The impact of these practices will increase yields and harvest efficiencies thus driving prices structurally lower over time.
DISCLOSURE: The views and opinions expressed in this article are those of the authors, and do not represent the views of equities.com. Readers should not consider statements made by the author as formal recommendations and should consult their financial advisor before making any investment decisions. To read our full disclosure, please go to: http://www.equities.com/disclaimer