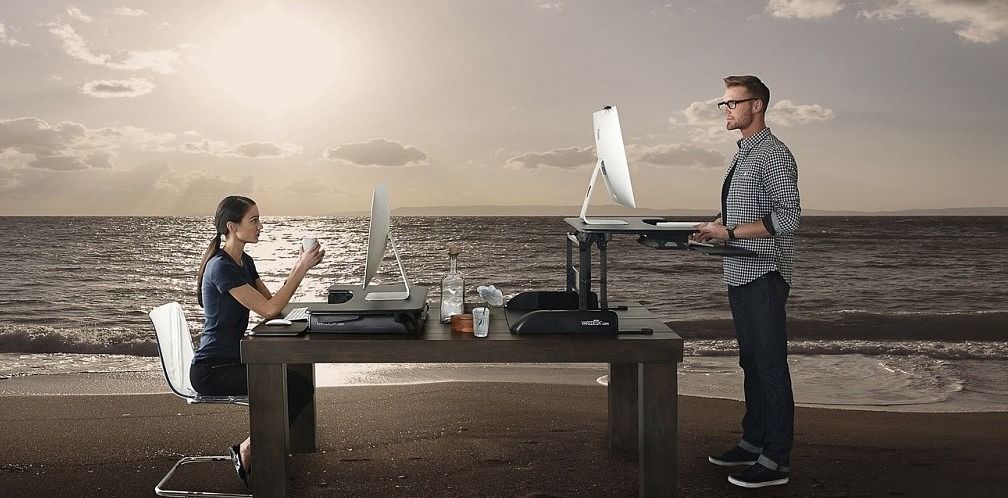 I had an ad agency many years ago in beautiful downtown Vancouver. My 5000 square foot office was incredible. A heritage office that once was a bank with two working bank vaults, a spiral staircase to my boardroom and the bank 'President's office paneled in oak made my office unique. With 28 foot ceilings it also made a great backdrop for a movie called Mr. Magoo. People suffered shock and awe when they entered my lobby; it took your breath away. It was expensive but an agency without a fancy office went nowhere.
Fast-forward 20 years where entrepreneurs wear a badge of honor to be able to work from their home. It's a challenge sometimes to get out of your housecoat but why bother. I have meetings at a local Vancity Credit Union that offers it's members free boardroom space at its' branches or my local Starbucks where the manager greets me with "I see you're meeting clients in your office today". When you consider Starbucks has 23,000 global stores that's a lot of places to work. Working from home has been a boon to entrepreneurs and generally it is workable but there are competing alternatives.
Equifaira, where I am one of several partners, uses a downtown office rental company called Regus for monthly board meetings, a mailing address and some client meetings. It's a global cost-effective office space company with the flexibility to use as little or often as needed and it has about 20 such office complexes in Greater Vancouver. It's pleasant enough but there is no sense of community just busy people doing their own thing.
So while I agree there is a valid reason these facilities are successful – I want more and co-working space fits the bill!
There's a definite move to co-work spaces that provide more than just a desk and four walls. Small Business Labs forecasts 26,000 spaces with 3.8 million people sharing co-work spaces by 2020. It's skyrocketing!
The co-work spaces I know of in Vancouver try their best to create a sense of community where support is readily available. They try to be a business incubator without claiming to be that hybrid co-work space model.
Why would an entrepreneur or a startup solopreneuer want to get out of their comfy apartment and work in an office all day? My wife would love it because in her mind if I work from home I'll work till midnight then start all over again at 6am. I think entrepreneurs are just built that way to constantly be thinking and 'on the job'. The reality is proving that the lone wolf scenario is not the best for anyone. My buddy used to work from home and between his stay-at-home wife and two small kids he needed to get out of the house for his mental health. He needed like-minded people in a business structure.
Here's some of the benefits of using a co-work space:
At it's essence it is a community of like-minded entrepreneurs and as such, provides some sort of mutual support to each other as well as a cool vibe. I'm not saying other's in the space will be a support mechanism for you but there is a camaraderie that is unique to a good co-work environment. In one co-work space I ran as an open concept, we had desks around the space and a huge 'communal' table in the center with benches. When a newbie joined they usually took a space on the fringes of the room but within a couple days had migrated to the big table shared by several others. Shared lunches, new contacts and mutual support soon followed.
It provides a work-life balance. Call it a structured environment, or whatever, but it allows you to keep your work away from home no matter how you define your hours. It keeps your mind focused on work rather than trying to escape a task by mowing that pesky lawn you see from your home-office window.
Co-working is cost effective and has no contract.I spoke to one space that told me a typical entrepreneur will try it for 3 months to see if it's for them. It often comes down to an expenditure they just can't manage even if it is only $300-400/month. It still beats renting an office on a lease with all the expenses associated with that and being tied to it for 5 years.
You'll be more productive. Hmm, a conundrum, working in an office environment versus a loud coffee shop. I like to work in a loud bar (go figure) but people and noise in a place like Starbucks easily distract others.
Another option is the Business Incubator. Entrepreneur.com defines an incubator as; an organization designed to accelerate the growth and success of entrepreneurial companies through an array of business support resources and services that could include physical space, capital, coaching, common services, and networking connections.
Incubators are typically of a fixed duration, often require a business plan and go through a screening process because at some point the incubator will want a piece of the company so they select participants carefully.
This leads me to a hybrid co-work/incubator – the best of both worlds! I attended an open house a couple months ago at i-onCONNECT, a co-working space, in Greater Vancouver (Burnaby actually). I missed the tour but got one when I went back there this week to plan a Meetup in their offices.
Wow! This place blew my socks off. They have taken the co-work model and added resources and a 'feel' that is surely to empower those who work there. Like others, their purpose is to support entrepreneurs but when the designers put this together the founders gave them carte blanche.
It screams differentiation! The staff are people who believe that strong purpose driven core values will make a business take pride in working out of and while their "we are a place to help you develop your business with the right tools" may sound a bit trite these guys are sincere.It's more like co-working with a heart.
At my first visit I saw the 140 person 'meeting place' great for launch parties or large speaker events.What I missed was the rest of the 40,000 square foot facility. Imagine a boardroom that will seat 65, the usual open desk layouts with many private offices, 25 cubicles and break out rooms everywhere.When you visit the tech lab complex (they almost forgot to tell me about that) it blows your mind. With equipment dedicated to the hi-tech entrepreneur from 3D printing to a 'clean room' for research it is a fabulous space.
So, I have found that anyone can build a world-class facility with tons of cash. So what makes it different? Trish Hughes, i-onCONNECT's Event & Programs Coordinator, said, " we're a team who empowers entrepreneurs. We just want to see entrepreneurs be successful." They tied up every conceivable resource an entrepreneur could need and put it in one place.
I-OnConnect doesn't take percentages, tie people up in contracts or force services on them. They don't have gimmicks like desk massages or beer Fridays. They have so many ancillary services it makes your head spin. One could say this is a one-stop shop for a businessperson from marketing/accounting support to Entrepreneurs-in- Residence to Project Managers, Coaches and Event Planners.
For the hi-techer they do feasibility studies, R&D, product development and engineering qualification. And yes, with services like these they also help their renters with investor readiness support.
All their services are as needed so if all you want is a desk to get away from the kids it's yours, if you want everything you can blow your first seed round there.Having said that, this space is in line with other co-work spaces in Vancouver. While short-term office/desk rental companies like Regus open more utilitarian offices this hybrid is showing that there are better options out there while making a difference in the way entrepreneurs conduct business.
I wish I didn't love my housecoat so much I might get a space there.
Gary is a Global Influencer reached and Adjunct Professor, MBA School of Management at New York Institute of Technology (Vancouver Campus)