Clovis Oncology Shows Positive Initial Phase 2 Data in Prostate Cancer
Edward Kim Follow |

~ 44% confirmed objective response rate in metastatic castration resistant prostate cancer. Rubraca (rucaparib) is FDA-approved for the maintenance treatment of adults with recurrent ovarian cancer who are in complete or partial response to platinum-based chemotherapy. ~


Prostate cancer is the second most commonly occurring cancer in men in the US, after only skin cancer. About 164,690 new cases of prostate cancer will be diagnosed in 2018, according to the American Cancer Society, and about 29,430 deaths this year will be attributable to prostate cancer. About 1 out of 9 men will be diagnosed with prostate cancer during his lifetime.

According to the American Urological Association, deaths from prostate cancer are typically the result of the subtype known as metastatic castration-resistant prostate cancer (mCRPC), in which the cancer grows despite very low levels of testosterone in the body. The median survival for men with mCRPC historically has been less than two years, and the five-year survival rate is approximately 29%.


Boulder, Colorado, based Clovis Oncology CLVS announced initial results from its ongoing Phase 2 trial of Rubraca (rucaparib) in male adults with mCRPC at the European Society for Medical Oncology (ESMO) 2018 Congress in Berlin. The data showed a confirmed objective response rate (ORR) of 44% and a prostate specific antigen (PSA) response rate of 51% in patients with a BRCA1 or BRCA2 alteration. Reductions in target lesion diameters and PSA measurements have also been observed in patients with an ATM alteration.

Rubraca is an oral, small molecule inhibitor of PARP1, PARP2 and PARP3 (poly ADP ribose polymerase) that is being developed in multiple tumor types, including ovarian, metastatic castration-resistant prostate, and bladder cancers, as monotherapy, and in combination with other anti-cancer agents. Inhibiting PARP may prevent cancer cells from repairing their damaged DNA. The drug is FDA approved for (i) the maintenance treatment of adults with ovarian cancer, fallopian tube cancer, or primary peritoneal cancer whose cancer has come back and who are in complete or partial response to a platinum-based chemotherapy, and (ii) the treatment of adults with those cancers who have certain BRCA mutations and who have been treated with at least two chemotherapies. BRCA1 and BRCA2 are genes that produce tumor suppressor proteins. The ATM gene produces a protein found primarily in cell nuclei, helping control the rate at which cells grow and divide. Mutations or alterations in these genes cause disruption to those functional proteins that can lead to cancer.

These study results were the basis for the FDA's Breakthrough Therapy designation, granted on October 2, 2018, for Rubraca as a monotherapy treatment of adult patients with BRCA1/2 mutated mCRPC who have received at least one prior androgen receptor-directed therapy and taxane-based chemotherapy which was granted on October 2, 2018 by the U.S. Food and Drug Administration (FDA).

Shares in Clovis are down 60% on the year, against the grain of most stocks in the sector, as investors appear to be disappointed with sales of Rubraca to date. The latest data presented at ESMO may turn investor sentiment, however, as the FDA's Breakthrough Therapy designation positions Rubraca as possibly the first PARP inhibitor that may be approved to treat prostate cancer.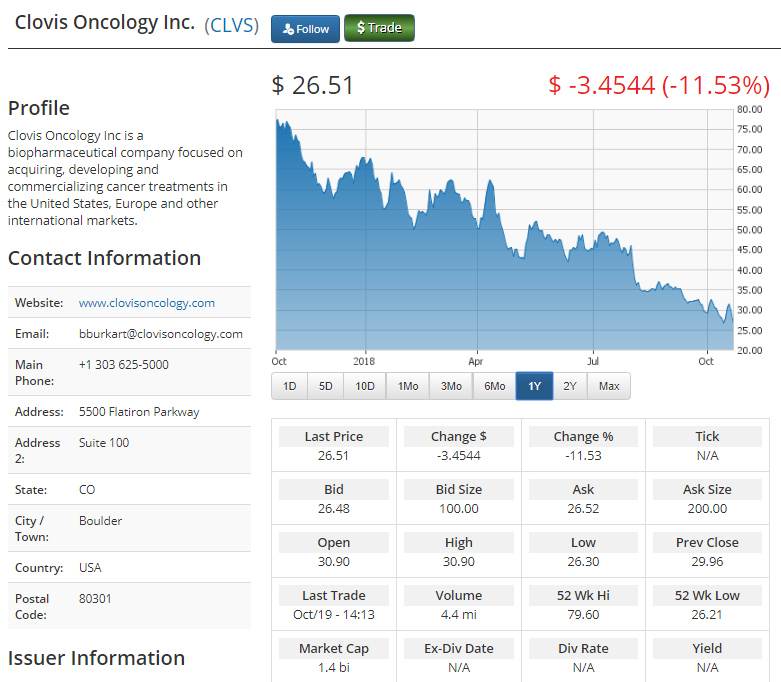 Please email us at content@equities.com to see our Case Studies and Testimonials.

Please click here for information on our new trading platform.
Please click here to receive our free daily newsletter.
DISCLOSURE: The author has no positions or any beneficial interest in, and has received no compensation from, the companies mentioned in this article.

---
The views and opinions expressed in this article are those of the authors, and do not necessarily represent the views of equities.com. Readers should not consider statements made by the author as formal recommendations and should consult their financial advisor before making any investment decisions. To read our full disclosure, please go to: http://www.equities.com/disclaimer.
Market Movers
Sponsored Financial Content