Cleveland Cliffs CLF is an American mining company that specializes in Iron Ore. With the demand for construction steel soaring around the world and specially in China, the price of Iron Ore continues to rise which makes big miners such as CLF, BHP, Rio Tinto and Vale a major beneficiaries thanks to the high-grades of the ore in their mines.
Since 2016, CLF made few attempts to close the year above $10 handle and it failed every time despite reaching $12 – $13 area. Will 2019 be any different from the previous 3 years ?
Looking at the weekly chart, we can count 5 swings to the upside which ended around the 61.8 fib ext area $12.44 – $14.07 and produced the 6th swing correction during last year. We consider it as an incomplete bullish sequence as long as the pivot at $5.56 low remains intact. We use our proprietary pivot system to tell us when a cycle has ended and when we need to switch to a different degree. Therefore, as both price and pivot are holding $5.56 then the sequence is suggesting a bullish path toward 100% fib ext area $16.70 – $19.34.
Cleveland Cliffs Weekly Chart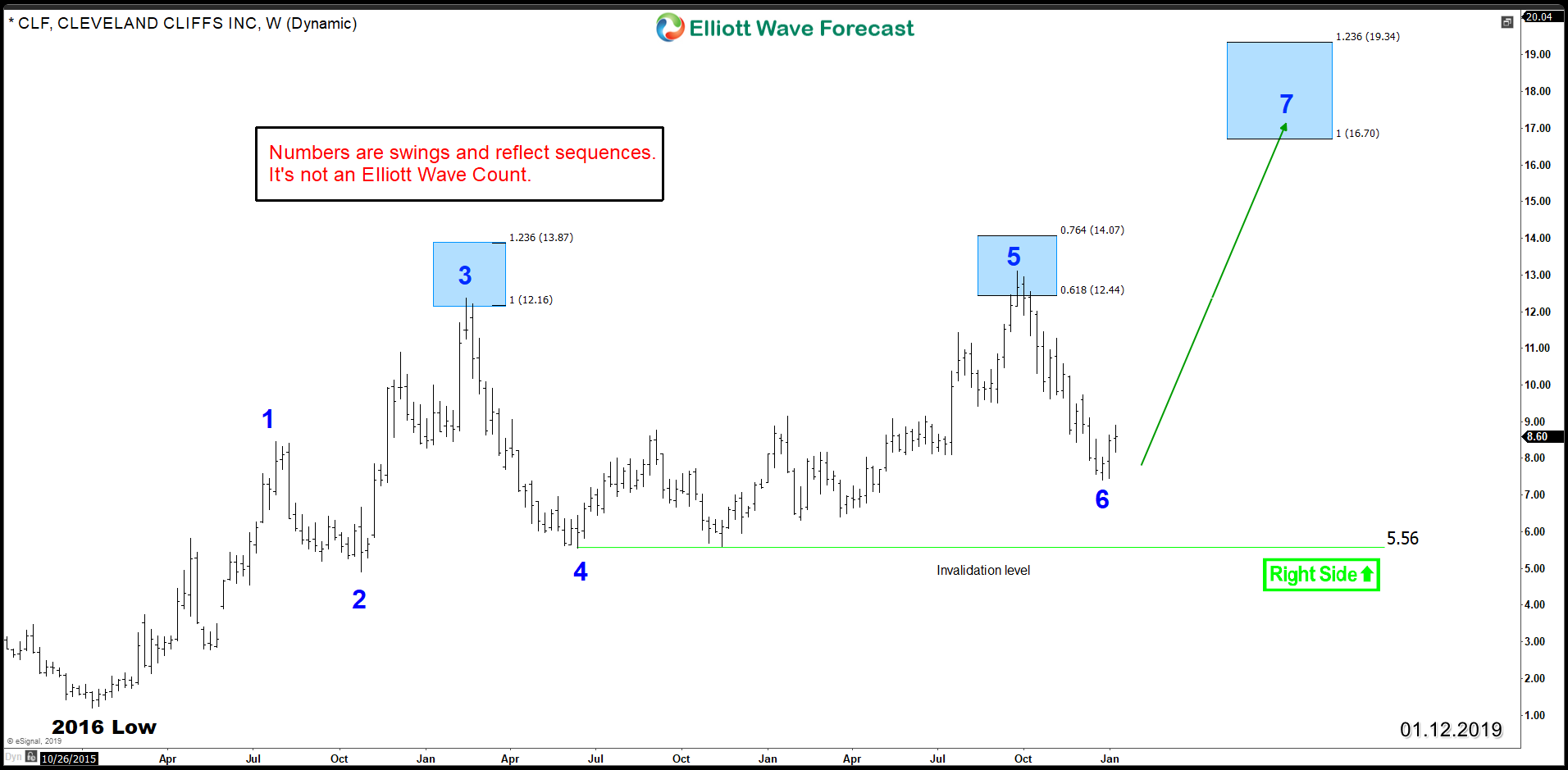 CLF is already up 10% this month after ending the 6th swing pullback which started from September 2018 peak. The decline happened as a corrective Elliott wave double three structure which found buyers at the blue box 100% fib ext area $76.4 – $6.78. The blue boxes in our charts are the High-frequency areas where the Markets are likely to end cycles and make a turn. Consequently, Cleveland Cliffs is looking to either resume the rally higher to break 2018 peak or at least bounce in 3 waves toward 50% area $10 – $11.
Cleveland Cliffs 4H Chart