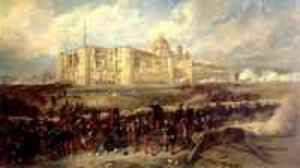 I would say that Cinco De Mayo is the most misunderstood holiday on the calendar, go into any bar and ask people what they are celebrating and unless they Google (GOOG) it – they will give you the wrong answer, mainly because Cinco De Mayo is an American creation.
May 5th is important date for Mexico, but it is a more date because it helped end the Civil War. On May 5th ,1862 the French came to collect a debt supposedly owed by Mexico to Europe, and this date is observed to commemorate the Mexican army's unlikely victory over French forces at the Battle of Puebla on May 5, 1862, under the leadership of General Ignacio Seguínthe Mexican Army fought a critical battle for a key port which would have changed the outcome of the civil war had the French Army had a foothold and back the Confederacy.
Cinco de Mayo is sometimes mistaken to be Mexico's Independence Day—the most important national holiday in Mexico—which is celebrated on September 16th.
So I thought since we were celebrating an incorrect holiday we could learn about a small-cap stock that has a loose association with Cinco De Mayo and I'm not sure if it was stroke of marketing genius to release earnings on May 5th but Chuy's Holdings (CHUY) on Monday reported first-quarter earnings of $3.2 million. The Austin, Texas-based company said it had net income of 19 cents per share and shares were 15% higher for a nice Cinco De Mayo pop! Break out the 11 am Margarita over at the headquarters.
Many short term traders bought shares yesterday looking for better numbers from Chuy's and were rewarded today, and understand that at $25 the short sellers have had their way with the company over the last 12 months with shares falling from $45, so you had the confluence of speculative longs seeing that the short ratio was a bit higher than normal and normal covering of short sales in front of the number causing today's move. So, like the short term effects of that Margarita, the Pop in Chuy's may only be in your head.
The part to pay attention to would be the guidance the company gave, because that will be what market watchers will use as a metric for upcoming June results. The Company has revised its fiscal year 2015 guidance and now expects its diluted net income per share to range from $0.76 to $0.79 versus a previous range of $0.74 to $0.77. We must all understand that every company has a 90-day clock until the next set of numbers come out, and I stole that quote directly from Michael Dell.
Thank You for letting me tie these two together so I could learn about the facts behind the "unlikely" victory by our Mexican neighbors which weakened the confederacy on that day May 5th 1862 and assisted in the eventually ending of the Civil War on April 9th 1865, and I also plan to keep an eye on the Consumer Restaurant Sector for small-cap companies under $500 million in market cap – and at the same time have a Margarita…another perfect Cinco De Mayo in the books.
DISCLOSURE: The views and opinions expressed in this article are those of the authors, and do not represent the views of equities.com. Readers should not consider statements made by the author as formal recommendations and should consult their financial advisor before making any investment decisions. To read our full disclosure, please go to: http://www.equities.com/disclaimer