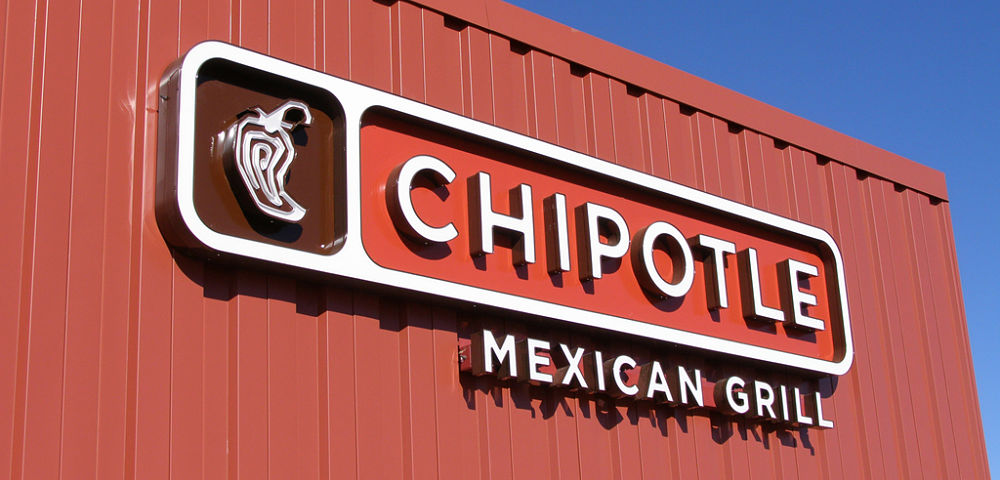 Image via Chris Potter/Flickr CC
We are upgrading Chipotle Mexican Grill (CMG)CMG from a Hold to a Buy, asserts analyst John Staszakwith Argus Research, a leading independent Wall Street research firm.
Chipotle operates more than 2,000 restaurants. CMG restaurants offer quick service but maintain traditional cooking methods and utilize high-quality ingredients. The firm has been hurt by a spate of food safety issues over the last several years, and faces substantial risks related to outbreaks of food-borne illness.
Meanwhile, Chipotle reported first-quarter results on April 26. Revenues rose 7.4% year-over-year to $1.15 billion and matched the consensus estimate. The company opened 35 new restaurants, raising the store count to 2,441. Same-store sales rose 2.2% in Q1 2018, above the consensus forecast of 1.3%, but down sharply from 17.8% growth a year earlier.
Earnings totaled $2.13 per share, up from $1.60 in the prior-year period and above the consensus estimate of $1.57. For all of 2017, revenue rose 15% to $4.5 billion, reflecting a 6.4% rise in same-store sales and the opening of 183 new restaurants. Full-year earnings jumped to $6.59 per share from $0.81 in 2016.
Management now believes that its 2018 restaurant margin forecast of 17.5%-18.5% was conservative, and that the company is likely to reach the high end of this range. We are raising our 2018 EPS estimate to $8.80 from $8.20, reflecting prospects for accelerating comps and rising margins, as well as the first-quarter earnings beat. For 2019, we are raising our estimate to $10.40 from $10.00. Our long-term EPS growth rate forecast is 20%.
On March 5, Brian Niccol became Chipotle's new CEO, succeeding company founder Steve Ells. Niccol previously served as CEO of Taco Bell, where he introduced a new breakfast menu, increased sales promotions and invested in digital ordering technology. We expect Niccol to help the company attract more low-income and middle-income consumers and increase its overall market share.
As CMG pares back its expansion plans from 183 new restaurants in 2017 to 130-150 in 2018 (before a modest increase in 2019), we expect it to reestablish its formerly strong brand. We also like the company's efforts to improve the customer experience through online ordering and mobile payments and to create a separate line for catering and deliveries.
We remain confident that Chipotle can achieve its long-term goals of mid-single-digit comps, high single-digit revenue growth, and mid-teens operating margins. We are setting a price target of $540.
John Staszak is an analyst at Argus Research specializing in Consumer Discretionary and Staples.
Subscribe to Argus Research here…
About MoneyShow.com: Founded in 1981, MoneyShow is a privately held financial media company headquartered in Sarasota, Florida. As a global network of investing and trading education, MoneyShow presents an extensive agenda of live and online events that attract over 75,000 investors, traders and financial advisors around the world.