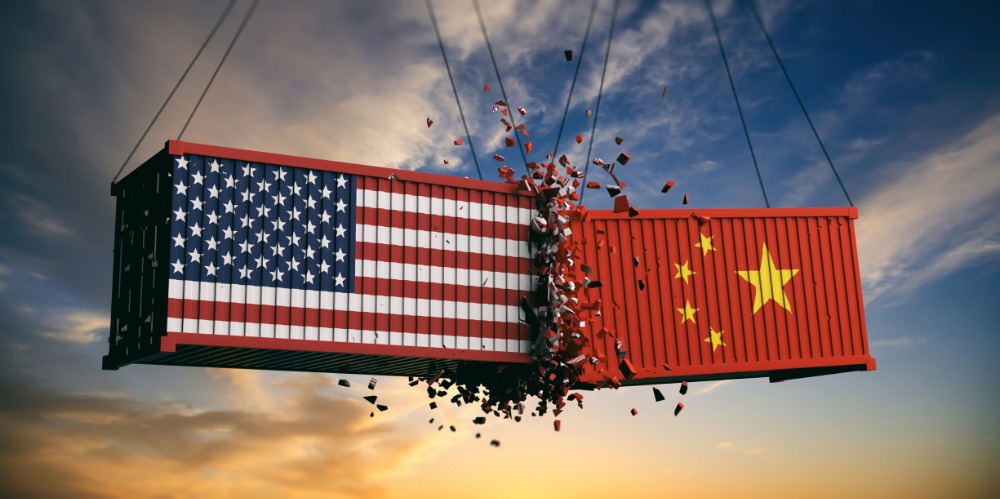 Image: iStock.com/Rawf8
The escalating trade war between the United States and China may be interesting to witness as an outsider, but for businesses with a vested interest in either or both of these markets, it is a tense and concerning time, with real implications for many businesses reliant on foreign trade. US President Donald Trump spent a lot of time complaining about China and its trade even before he took office, and in 2017, the United States launched an investigation into their trade policies before imposing huge tariffs on billions of dollars' worth of produce last year.
The United States issued three rounds of tariffs on Chinese goods entering into the country worth more than $250 billion, with duties set at between 10% and 25%, although Donald Trump and Xi Jinping have since suspended new tariffs to allow for discussions, with a final outcome expected this month. If the two sides cannot resolve their differences and create a new trade dialogue, the battle may continue and cause significant damage to businesses.
A long-running trade dispute has rattled financial markets around the world, and despite a temporary truce, many analysts are skeptical about a deal being reached and expect further conflicts in the coming months. According to CNBC, companies as enormous as Apple AAPL, for example, will "bear the brunt of any further fallout," with the majority of iPhones, iPads and other products being manufactured in Chinese factories by Taiwanese companies.
Latin America: China's new poster child for trade?
As the US-China relationship continues to shock the stock market and businesses, many are turning their attention towards new territories to balance the risk and reduce their reliance on one single economy. Accordingly, both Asian and American firms have been increasing their focus and interest in Latin American trade, a booming region offering growth, innovation, and market stability.
Of course, Latin America isn't a total outsider to Asian or American interests – the territory is already China's second-largest hub for foreign investment, with the country investing more than US$25 billion alone in 2017, a 12.5-times increase on 2004, when China spent only $2 billion in Latin America. China has also added 14 of Latin America's 20 countries to its Belt and Road Initiative, involving infrastructure development and investments in Europe, Asia, and Africa.
Indeed, China has been investing in Latin American business, with Ecuadorian firms sending 90% of its crude oil to China until 2024, and many digital and fintech startups in the region receiving capital funding from China. Latin America is home to more than 200 million smartphone users and boasts the second-fastest growing mobile market in the world, with mobile technologies and services accounting for 5 percent of Latin America's GDP as of 2018, amounting to more than US$280 billion in economic value –a figure set to grow in 2019.
China is at the forefront of the 5G digital revolution with companies such as Huawei fueling the growth, and is the world's largest smartphone population, with more than a billion users on Chinese-owned WeChat alone. Both Chinese and Latin American firms can benefit from increased ties in the technological sphere, especially as the United States looks set to ban Chinese tech giant Huawei from next-generation internet networks due to security risks.
Latin America's political landscape may not be perfect, but on the whole, it represents fewer challenges for Chinese firms than expanding into the United States, which will no doubt be a consideration when Chinese businesses look to diversify their portfolio in new markets.
Increased trade with the United States
Latin America has a long and drawn out relationship with the United States, but in recent years there has been growth in investment between the two nations. Indeed, despite the US-Mexico border row (and despite Trump imposing a 25% tariff on steel and a 10% tariff on aluminum imports from Mexico for "national security"), US Vice President Mike Pence has expressed the United States' commitment to increase trade with Latin America, telling officials at the Summit of the Americas in Peru that he helped to forge new relations with the countries. In 2017, LATAM countries exported more than US$406 million in goods to the US, and 80% of those goods were manufactured products, giving LATAM a $117 billion surplus.
Latin America could, effectively, cushion the blow of a permanent tariff increase in China, as many LATAM economies are fueled by manufacturing and agriculture. Companies looking to incorporate in Latin America will be able to take advantage of free trade agreements and a growing interest from the United States, adding value to their raw materials and exporting to the United States' growing economy. On top of that, Latin America offers businesses in the United States access to a new audience on the same continent, and cheaper logistics, exports, and imports through countries such as Mexico and Brazil, by rail, road, and air.
As more companies expand in Latin America through acquisitions, companies in the United States could effectively restructure their supply chain and cut costs, protecting their firms from the mounting pressures of the US-China trading relationship and streamlining their manufacturing operations. Even when Donald Trump is eventually replaced in the Oval Office, there is no guarantee that the Chinese government will backpedal on its trading stance – US-China relations have suffered permanent damage, so businesses may want to cut their losses and invest in Latin America, where political and business landscapes are less volatile.
LATAM governments turn attentions to China and the US
With the US-China trade battle far from over, Latin American governments have worked hard to position their countries as alternatives in trade. Indeed, Argentine President Mauricio Macri said he wants to 'deepen' ties with China, Andrés Manuel López Obrador plans for his country to join the Belt and Road Initiative, and Colombian President Iván Duque welcomed the Chinese Transport Minister Li Xiaopeng during his inauguration ceremony in 2018. The leaders of Latin America are sending a clear message: trade with us, and you'll be rewarded.
Businesses in Latin America should do the same, capitalizing on opportunities with firms on both sides of the Pacific, before other nations get there first. Only time will tell whether the US-China trade war will have a lasting impact on the global economy, but in the meantime, it makes sense to take advantage of the fractured business landscape to increase profits.