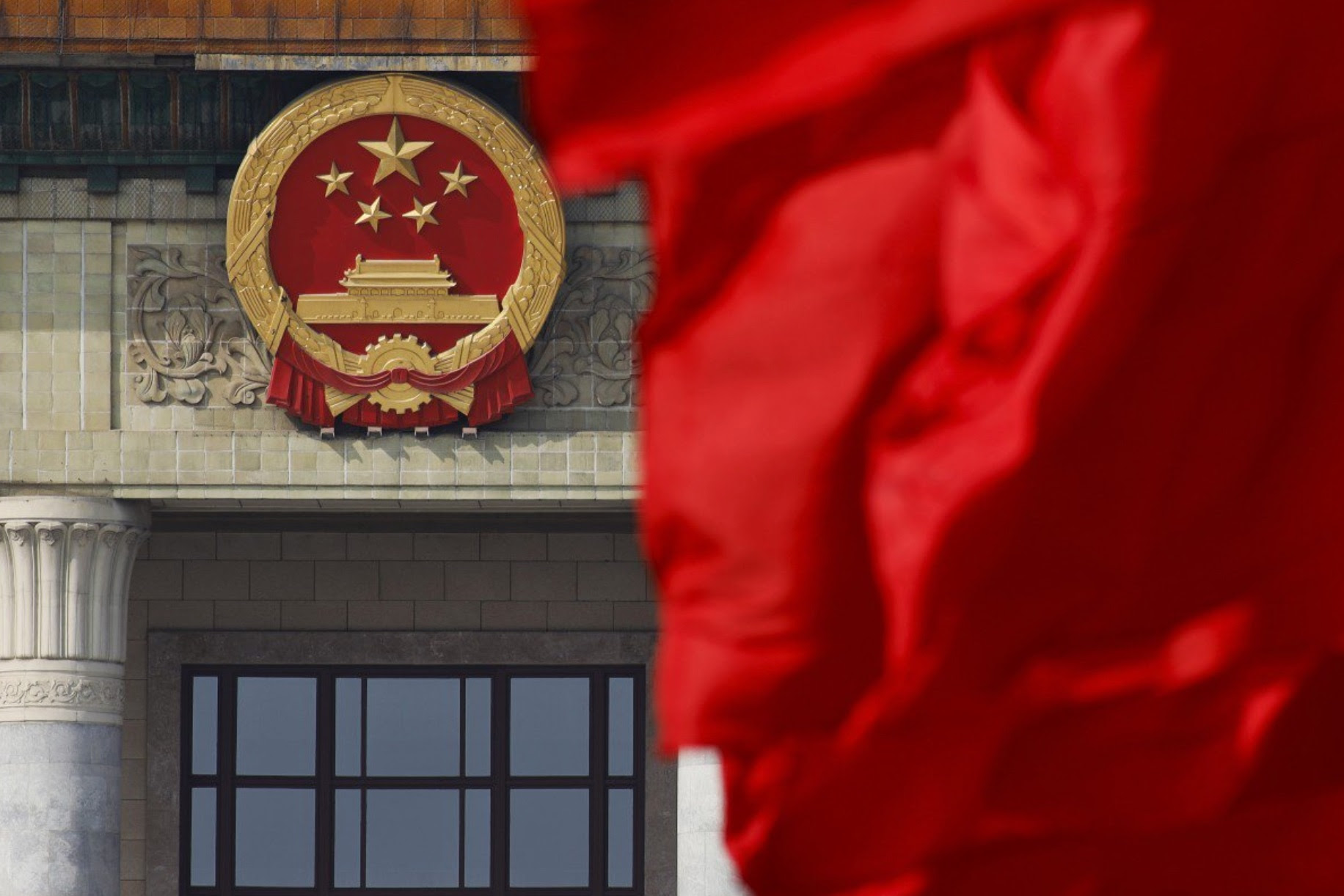 One look at a chart will tell you we've broken out above important resistance which now becomes support. Of course, it begs the question what's really changed? Economic data is mixed at best. Early last week we had a negative ISM report coming in at 49.1 showing contraction in the manufacturing sector. I think the trade dynamic is well understood and, with 40% of S&P 500 Revenue coming from offshore, it's not surprising it's starting to hit the homeland. (More on China shortly).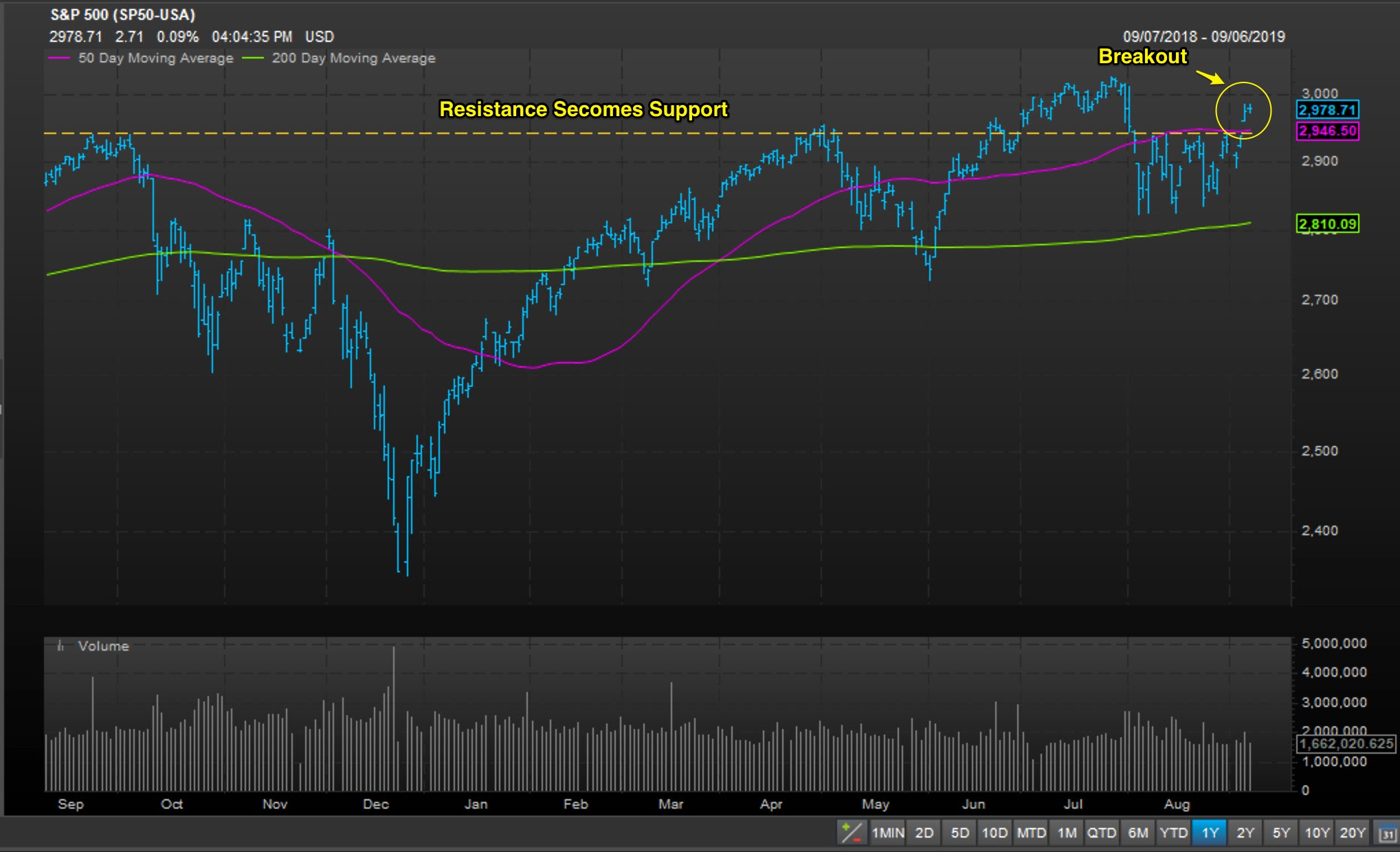 Thursday's ISM services number was strong but clearly the best thing going for our markets is the U.S. consumer. With back two back to back monster retail sales numbers along with good reports from two of the largest Target [TGT] and Walmart [WMT] bulls can still point to the most important leg of the stool standing firm. Nevertheless, to keep your wallet open and confidence high you need a job.
Jobs Friday
Friday's report showed non-farm payrolls coming in at 130,000, a bit light but maybe hitting the sweet spot. Not enough of a miss to stoke fear the train is coming off the tracks and not hot enough for the Fed to abandon dovish policy. Only 3% of economists believe the Fed won't cut rates this month with consensus expecting 25 bps. The Fed is in the middle of unwinding last year's policy mistake and, at present, I expect two more cuts this year. Another positive was wages coming in at +0.4% and +3.2% year on year.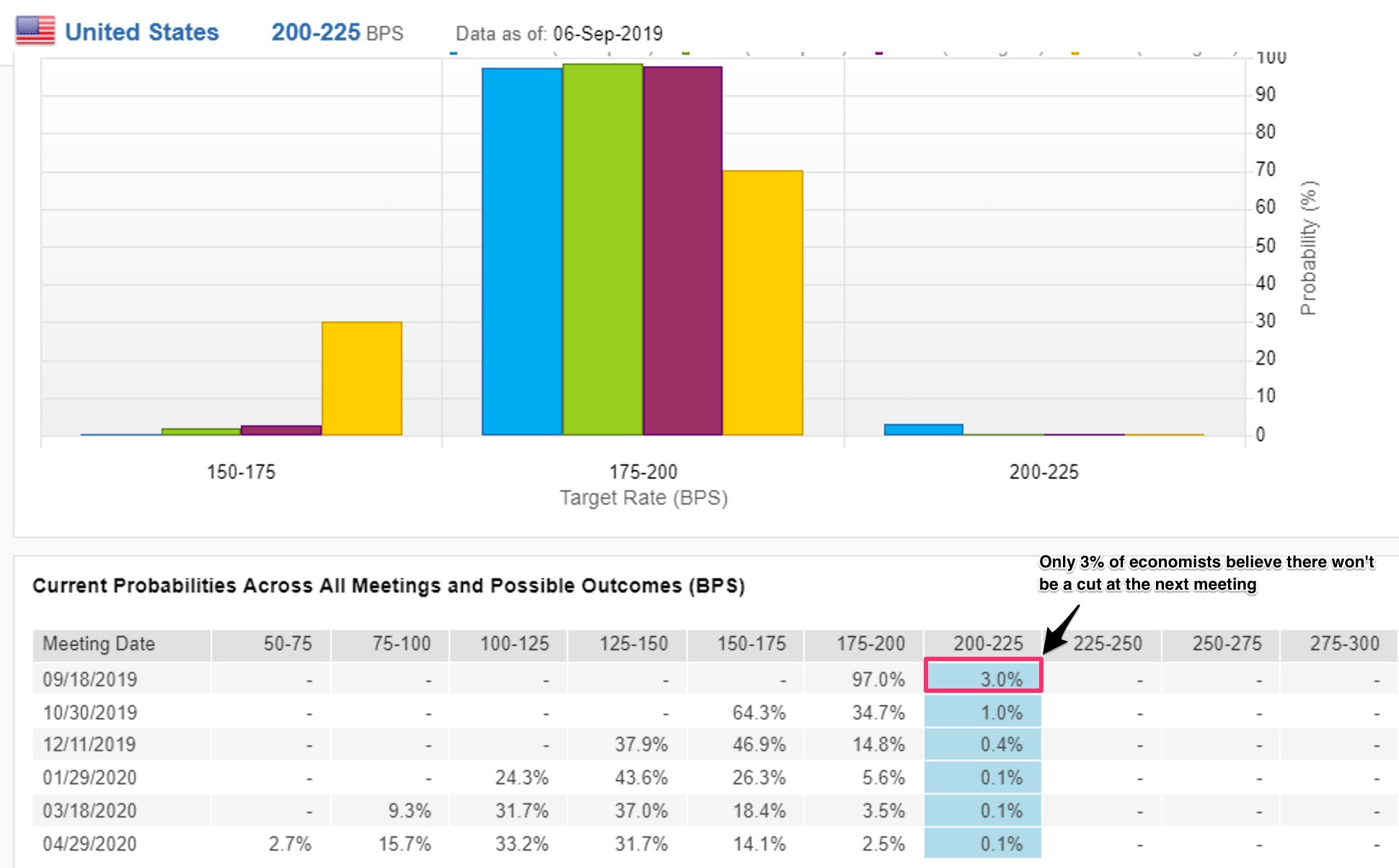 China
Last week's rally came on the heels of a nearly 4% pop in Hong Kong shortly after Carrie Lam, head of HK, completely scrapped a controversial extradition bill. The mass riots in Hong Kong with tens of thousands taking to the street has riveted the world to the growing rift between HK and the mainland. One country, two system, policy works right up until the time it doesn't.
Thinking outside the box
For some it was a sign that Beijing blinked, and now some are wondering if Xi is starting to cave on trade. Suddenly we have a meeting set for October, and Thursday we were off to the races to put risk on. On Friday, I had the pleasure of joining Nuveen's Chief Equity Strategist Bob Doll on Yahoo Finance TV who pointed out that this is the 14th time negotiations have been set up between the two superpowers.
We've been down this road so let's think outside the box for the moment. Herve van Caolen portfolio manager for the Mercator International Opportunity Fund had maybe the best observation. October marks the 70th anniversary of the Chinese Communist Party and the last thing they want is the focus to be on riots in Hong Kong and deteriorating trade conditions with the United States. Early on it was clear that the calculus for Xi was to push this closer to the 2020 election hoping for a chance to negotiate with someone from the other side of the aisle and maybe a more friendly voice. That may prove to be a fatal mistake.
Given the above my post from last week takes on added significance. Communication Breakdown points out a recent Wall Street Journal Poll showing 60% of Americans now view China as an economic and military adversary. With sentiment changing it's not surprising Senate Minority Leader Chuck Schumer (D-NY) and Senator Elizabeth Warren (D-MA) are also vocal critics of China. Candidates can read polls, and if there's truly been a shift in public sentiment others will come on board. Next year's election may end up being a referendum on which party would be tougher, and I think Xi understands that.
*At the time of this post some funds managed by the author were long Target
___
Equities Contributor: David Nelson, CFA CMT
Source: Equities News