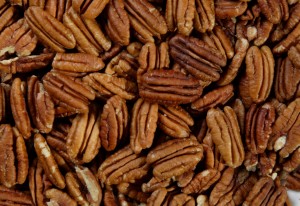 The Chinese demand on the food supply has caused prices to skyrocket over the past several years, but especially in recent months. The prices of corn, sugar and wheat have all gone through the roof, discussion of which has been widely chronicled by global financial publications. One food that has been largely left out of these articles; however, is pecans.  Pecans are primarily an American crop, with two-thirds of the world's pecans coming out of the southern United States but despite having been planted by President's pecans have never gotten a tremendous amount of monetary respect. That's all changing, and China is the reason.
Where pecans have primarily been consumed by Americans, the demand for the nut overseas, particularly in China has taken off.  Between 2007 and 2010, the price for a pound of pecans doubled. Last year the average pound of pecans in the shell went for $2.14 according to the U.S Department of Agriculture.
There's only been one major variable that has emerged in that time and it's China. In 2009, China consumed 25% of the U.S. pecan crop and their interest has not dropped off. What has, is supply. There is a finite supply of pecans in the United States and catching up with demand is not as simple as working a little harder come harvest. A pecan tree takes between 8 and 10 year to bear fruit, meaning the price will become more expensive as demand grows and supply remains the same.
Already some pecan farmers have begun selling their land which has gone up in value tremendously since 2007 when China developed a taste for pecans.
The price pecans are going in is demonstrative of a larger trend and a growing movement of the market toward agriculture, where a land and food based economy reigns. For some time, collecting wealth had to do with forwarding technology, but the economy has almost reversed itself as a growing demand from emerging nations, exhibited here, makes things which much less intellectual value than say a semi-conductor, extremely valuable.
DISCLOSURE: The views and opinions expressed in this article are those of the authors, and do not represent the views of equities.com. Readers should not consider statements made by the author as formal recommendations and should consult their financial advisor before making any investment decisions. To read our full disclosure, please go to: http://www.equities.com/disclaimer