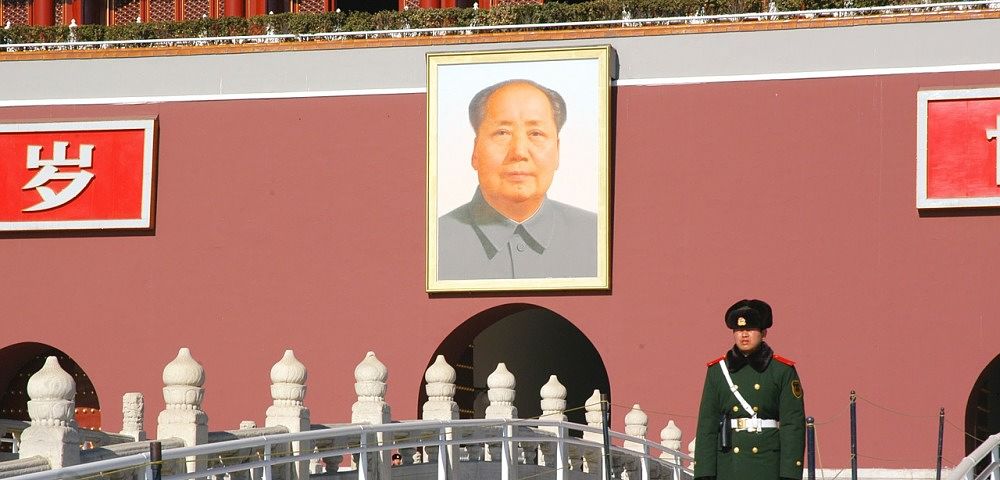 China is on its way to becoming the largest economy in the world.
In just one generation, something like 300 million+ people went from rural subsistence farming to urban industrial and technology jobs. This transition from rural poverty to export powerhouse to consumer goliath may be the most consequential economic event in centuries.
Yet this story is largely ignored in the US and in much of Europe. We hear about a few projects here and there, but we don't understand the extent.
Venture Capital Investment
On an export dollar per population, China out-exports the US at $2,263 billion dollars. Still, the US is second, Germany comes in third at $1,448 billion, and the Netherlands with a population of only 17 million people exports at $652 billion.
Beijing sees this same data and realizes its leadership is not guaranteed. China needs to develop its own technology and through a combination of government edicts and profit-seeking, it is right now in a major effort to build its own innovation economy.
Beijing is forcing money into venture capital at an astonishing pace.
My friend Peter Diamandis toted up the numbers last month.
By end of 2017, 3,418 Chinese VC funds were launched within the year, raising a combined $243 billion USD or 1.61 trillion RMB.
Of the $154 billion worth of VC invested in 2017, 40 percent came from Asian (primarily Chinese) VCs. America's share? Only 4 percentage points higher at 44 percent.
In the first three quarters of 2017, 493 state-backed funds were founded with a capital size of 114 billion USD (756.8 billion RMB).
And as of two years earlier, Chinese VC coffers had surpassed a remarkable $336.4 billion USD.
In a great push to scoop up intellectual property and drive growth in key tech sectors, China's VC scene is booming.
As of 2016, China's Venture Capital investment had roughly caught up to US levels. Now, it is probably ahead.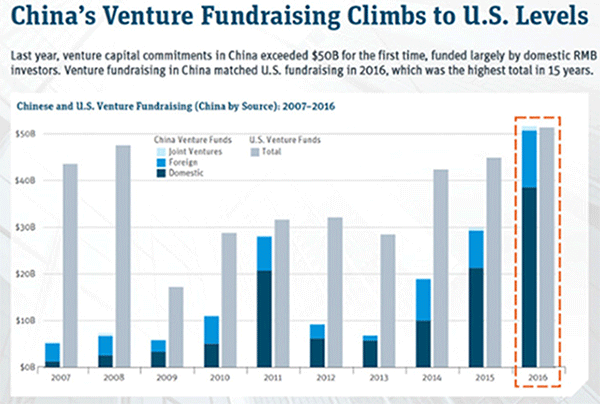 Source: VentureBeat
Peter Diamandis says Chinese VC firms are targeting three segments: robotics, driverless vehicles, and biotechnology.
Silicon Valley on Steroids
There's yet one more profound development in China underway.
Financial Times recently reported Beijing plans to integrate former Western colonies Hong Kong and Macau with other nearby urban areas including Shenzhen and Guangzhou into this "Greater Bay Area."
Already, it accounts for 12% of Chinese GDP and 37% of the country's exports. Beijing wants the GBA to lead the nation's innovation and economic growth.
To that end, the government is pouring infrastructure investment into the region, including a 22-mile bridge connecting Hong Kong and Macau (not cheap!) with the mainland and a new $11 billion rail link for Hong Kong. It also plans to eliminate some of the bureaucratic barriers that presently slow down commerce.
The size of this region is hard to comprehend. With nearly 70 million people and $1.5 trillion GDP, it is economically bigger than Australia or Mexico. Guangdong (the mainland China part) alone exported $670 billion in goods last year. Three of the world's ten busiest container ports are in the region. It will be Silicon Valley on steroids.
For that matter, it could be the US on steroids, at least geographically.
Growing Scientific Contribution
China has produced more scientists and engineers for decades than the West has combined. As a graphic illustration, here are the countries with the most STEM graduates: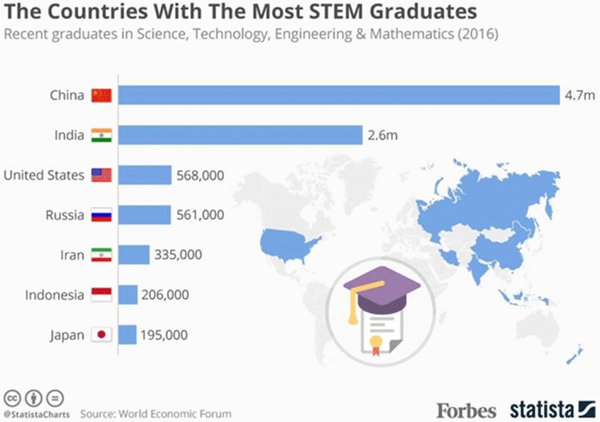 Source: Forbes
However, many of us had suspicions about the quality of the universities and their degrees. They couldn't be as good as ours, could they? It turns out they are comparable and possibly even better in some areas.
A recent study found that in 2016, roughly 24% of scientific papers had an author with a Chinese name or address. If you include Chinese-language papers, it jumps to 37%.
Looking at it another way, China has 15% of global GDP but produces more than a third of the scientific papers. It seems those university degrees are beginning to pay off in actual research.
China Has All It Needs
My friend and New York Times best-seller Matt Ridley says human progress and prosperity make the greatest leaps when "ideas have sex with each other." This creative process happens faster and more easily when the idea-holders share proximity.
In the US, Silicon Valley often serves this purpose. Along with Austin, Dallas, Boston, New York, and others.
China has abundant venture capital to fund research and large numbers of researchers cranking out ideas. It needs a central place for those ideas to have frequent sex with each other.
The Chinese government is aware of this. And with massive infrastructure projects like the Greater Bay Area, China is gradually building its own innovation cluster.
Economic growth is largely a numbers game: workers times productivity. China already has both ingredients and is working assiduously to enhance them further.
For now, the US is still ahead, but we shouldn't be complacent. Nothing requires the global economy to keep us in the lead, and we are not doing what we should to keep it.
Join hundreds of thousands of other readers of Thoughts from the Frontline
Sharp macroeconomic analysis, big market calls, and shrewd predictions are all in a week's work for visionary thinker and acclaimed financial expert John Mauldin. Since 2001, investors have turned to his Thoughts from the Frontline to be informed about what's really going on in the economy. Join hundreds of thousands of readers, and get it free in your inbox every week.