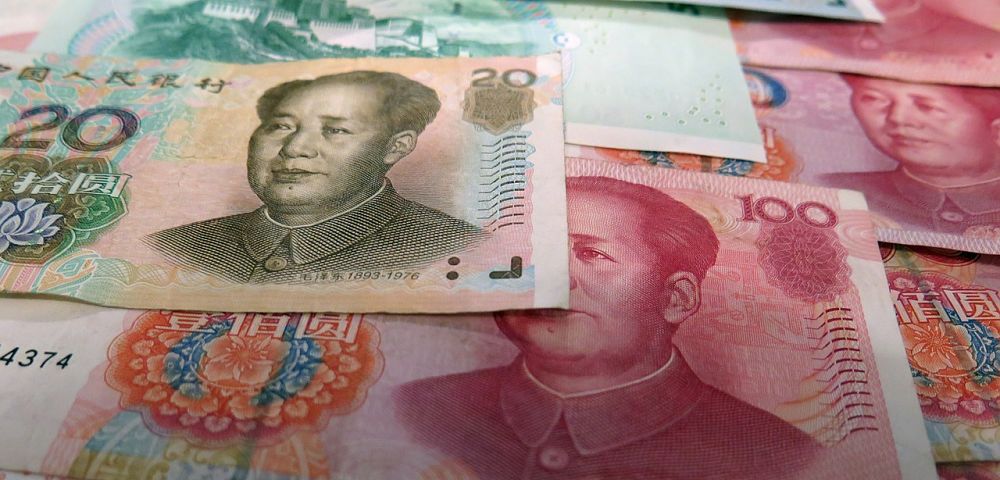 We hear a lot about the China's vast problems. They are very real and could have major consequences. But economic reality isn't black and white.
At any given time, both good things and bad things are happening. Ignoring one side because it doesn't fit your preferred outlook is an excellent way to go badly wrong.
This article is my attempt to demonstrate that China has good news, and even some fabulously great news, much of it quite compelling.
Getting a Grip on Growth
Let's begin with economic growth.
In the US, we are excited at the prospect of seeing 3% real GDP growth this year. In China, that would represent an unprecedented crash. Here are the annual changes from 2010–2017, with IMF forecasts for 2018–2022.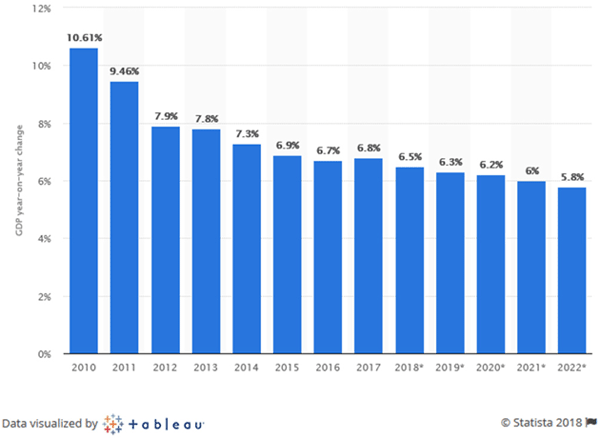 Source: Statista
Now, you can fairly ask how reliable this data is. But I have no doubt Chinese growth is far greater than any other developed country including the US in the last decade.
Yet I constantly hear predictions that China's growth days are over.
Peterson Institute economist Nicholas Lardy argued that personal consumption data—which is harder to manipulate—is more in line with economic growth. He says this is more meaningful than retail spending since China's fast-growing middle class spends much of its income on services like education and healthcare.
And as you can see in the chart below, consumption in China has been strong lately.

Source: Peterson Institute
So, if consumption is growing, the remaining threat to GDP growth would be falling exports.
Export Substitutes
Trade tensions could hurt China, but that hasn't happened yet. And China is already working to replace any lost US sales.
The question for companies like Alibaba (BABA), China's e-commerce juggernaut and Amazon.com (AMZN) is how far outside their home countries they can expand.
Alibaba took a big step in that direction.
On the sidelines of the Xi Jinping-Vladimir Putin summit in Vladivostok, Alibaba said it was buying a 10% stake in Russian internet giant Mail.Ru Group. They plan to use the latter's Russian social networks to build an e-commerce platform and develop a new conduit for Chinese exports to Russia.
It will be a while before Russian consumers buy enough online goods to replace what China will lose in US exports if the trade war continues, but Chinese businesses are not at the mercy of US trade policy.
Combine this with China's massive "One Belt, One Road" infrastructure initiative, and you can see where the game is going.
Beijing intends to dominate as much of the Asian economy as it can. North America and Western Europe aren't going anywhere, but we aren't the world's growth centers anymore.
The Uncomfortable Nature of Chinese Growth
For years, China locked out US companies and let Chinese companies rip off foreign technology, often ignoring patents and so forth. In turn, it created companies like,
Baidu BIDU (equivalent to Google, a tech holding company and second-largest search engine)
Alibaba Group (huge diversified holding company—comparable to Amazon)
Tencent TCEHY (tech, internet, gaming, etc.)
Xiaomi (phones and electronics)
Of course, now hundreds of American companies operate in China, but the Chinese government has a ring fence around certain segments. That's one reason China has 9 of the world's top 20 tech companies.
In fact, Chinese venture capital is now over $50 billion and roughly at the US level.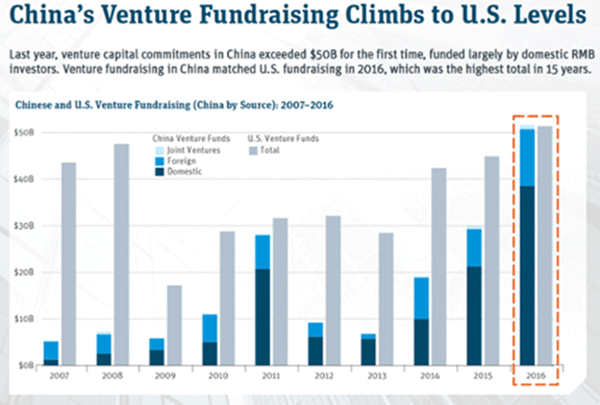 Source: VentureBeat
This from my friend Peter Diamandis:
This astounding growth is part of China's explosion in private equity. Currently, almost 16,000 limited partners have disclosed investments in private equity and VC funds totaling 6.1 trillion RMB.
But while many of these funds used to be poured into thousands of Chinese copycat companies and local tech startups, we're seeing a dramatic outward shift in China's biggest investments.
Let's look at BAT-backed startups, for instance.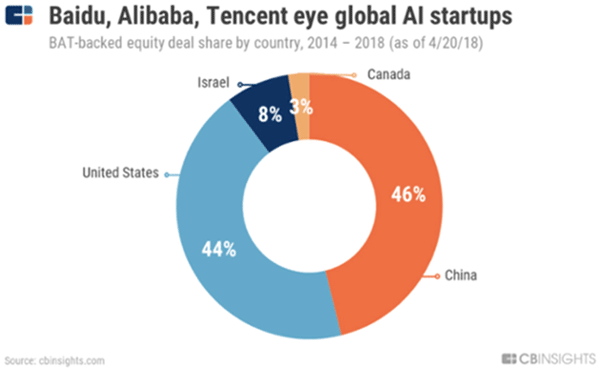 Source: CB Insights
As Baidu, Alibaba, and Tencent take on global leadership in AI, autonomous vehicles, and personalized medicine, China's corporate VC targets are getting an even split between China and the rest of the world.
And this is just the VC expenditures of three companies, albeit big ones. Other Chinese corporations or state-owned enterprises (SOEs) are also pouring money into acquisitions and venture capital. They are all creating new technologies and buying whatever they need to compete, and they are all going to follow the One Belt, One Road as they expand. Count on it.
Growing Force
China is a growing competitive force, and the rest of the world needs to step up its game. This is good from a strictly human perspective. Competition makes everybody improve their services and products. We believe that for US companies, but it's true on a world scale as well.
Do we have to like it? No. Nobody really likes having to compete aggressively in what they believe is "their" space, but that is reality now. And by the way, don't dismiss South American or other Asian countries. I think over time we will see African companies competing at a high level as well. The world is going to look very different in 20 years.
Join hundreds of thousands of other readers of Thoughts from the Frontline
Sharp macroeconomic analysis, big market calls, and shrewd predictions are all in a week's work for visionary thinker and acclaimed financial expert John Mauldin. Since 2001, investors have turned to his Thoughts from the Frontline to be informed about what's really going on in the economy. Join hundreds of thousands of readers, and get it free in your inbox every week.