​Check in with Hilton Worldwide Holdings
MoneyShow Follow |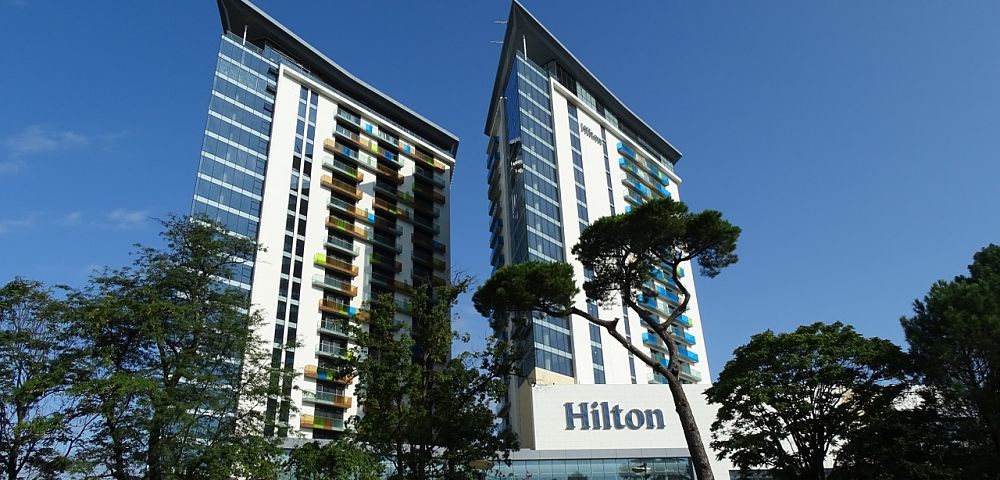 With more than 812,000 rooms in 103 countries and territories, Hilton Worldwide Holdings (HLT) is among the world's largest hotel companies, explains John Staszak, analyst with Argus Research.
Its principal brands range from budget to luxury and include Hilton, Conrad, Waldorf Astoria, Doubletree, Embassy Suites, Hampton Inn, Hilton Garden Inn, Homewood Suites, Home2 Suites, Curio, Canopy and Tru.
We raising our target price from $80 to $94. Our long-term rating is also Buy. We expect Hilton's room growth to be among the strongest in the lodging industry, driven by a solid development pipeline, new brands, and a well-regarded loyalty program — with 60 million members at the end of 2016.
We also expect earnings to benefit from Hilton's spinoff of its timeshare businesses and the sale of company-owned hotels, and note that franchised hotels now account for approximately 90% of EBITDA.
We have a positive view of the shift to franchising, which generates a steady stream of royalties and management fees with relatively low capital investment.
In addition, franchisees typically sign long-term contracts and face high costs, as well as termination fees, if they choose to rebrand their hotels. We also expect Hilton to benefit from strong lodging industry fundamentals, as room demand continues to outpace supply.
After taking Hilton public in 2007, Blackstone Group L.P. (BX) — which had maintained majority control, named Christopher Nassetta as the company's CEO. The company has strengthened its balance sheet and ramped up its development pipeline under Mr. Nassetta's leadership.
Blackstone subsequently reduced its ownership stake to 46% in May 2015, and sold a 25% interest in Hilton to HNA Tourism Group in March 2017. The still significant Blackstone and HNA ownership interest may make it difficult for activist investors to push for changes at the company.
Like its peers, Hilton is subject to strikes and other labor actions by unionized employees. The threat of terrorism is also a risk. In addition, Hilton's debt could be a burden in the event of an industry slowdown. The stock also trades at relatively high valuation multiples, and could fall sharply if the company reports disappointing results.
HLT shares are trading at 33.3-times our 2018 EPS estimate, near the top of the four-year annual average range of 20-35. We believe that they merit a higher valuation based on strong lodging industry fundamentals and prospects for rising profitability from the company's franchised, fee-based business model.
We also like management's plans to return $3.0-$4.5 billion to shareholders over the next three years through stock buybacks and dividends. Our revised target price of $94 implies a multiple of 39.2-times our revised 2018 earnings estimate, below that of other rapidly growing hotel chains, and a potential return, including the dividend, of 19% from current levels.
John Staszak is an analyst with Argus Research.
Subscribe to Argus Research here…
About MoneyShow.com: Founded in 1981, MoneyShow is a privately held financial media company headquartered in Sarasota, Florida. As a global network of investing and trading education, MoneyShow presents an extensive agenda of live and online events that attract over 75,000 investors, traders and financial advisors around the world.
DISCLOSURE: The views and opinions expressed in this article are those of the authors, and do not represent the views of equities.com. Readers should not consider statements made by the author as formal recommendations and should consult their financial advisor before making any investment decisions. To read our full disclosure, please go to: http://www.equities.com/disclaimer.
Companies