Chase Hit with Lawsuit Over Treating Crypto Purchases as Cash Advances
Alex Hamilton Follow |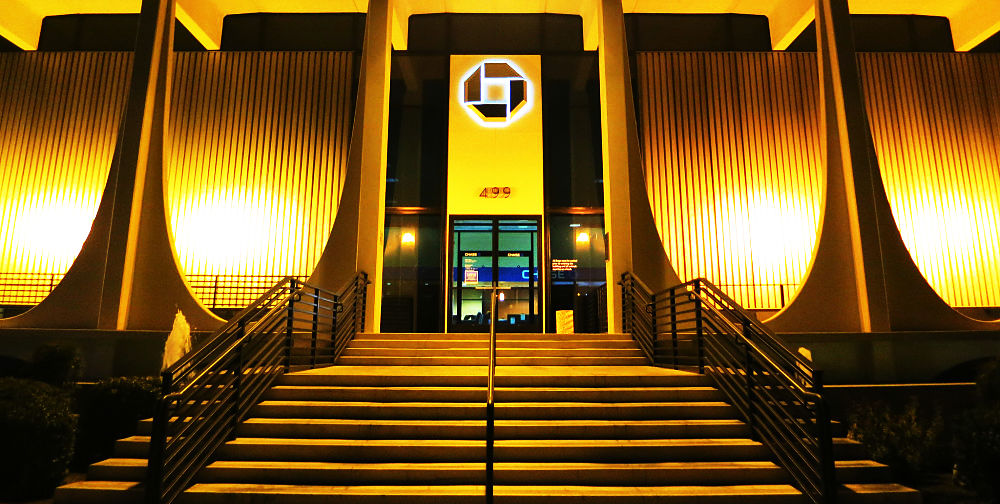 Image via Paul Sableman/Flickr CC

JP Morgan Chase (JPM) is named in a class action lawsuit filed in the U.S. District Court, Southern District of New York. The lawsuit, Brady Tucker et al v Chase Bank USA, alleges that the bank may be in violation of the Truth in Lending Act.

The lawsuit alleges that Chase charges cryptocurrency investments as high-interest cash advances and not as normal purchases.

Coinbase brought the matter to the attention of their users in February with an announcement that some "major credit card networks," not naming Chase specifically, were reclassifying customers' virtual currency purchases.

The fees that are mentioned in the lawsuit are unlike merchant cash advance loans. The lawsuit claims that the fees are sudden and in violation of the terms and conditions originally presented by Chase. Tucker claims that he made five cryptocurrency transactions between late January and early February that amounted to $143.40 in fees and $20.61 in interest.

Chase has often spoken out against Bitcoin, with the company's CEO, Jamie Dimon, claiming that Bitcoin and cryptocurrency as a whole is a fraud. He has also been quoted as calling enthusiasts stupid and said he would fire employees if they invested in cryptocurrencies.

Tucker tried to dispute the charges with Chase, but the bank refused to budge. Chase stopped allowing customers to purchase cryptocurrencies using their credit cards in late January. The risks for lenders is too high due to the volatility in the cryptocurrency market.

Chase does allow the use of debit cards to make purchases without additional fees.

The lawsuit alleges that Chase is also in violation of the Truth in Lending Act. The Act requires lenders to give customers notice when substantial changes are made to their account terms. Chase failed to notify Tucker and other cryptocurrency investors that the transactions would be treated with instant-cash-advance fees as well as higher-than-normal interest rates.

The lawsuit claims that crypto investors suffered millions of dollars in charges and high interest rates on all crypto purchases made.

Tucker claims interest rates on the purchases were as high as 30% annually, plus additional fees. Tucker's lawsuit, which he is seeking to be a class-action suit, is asking Chase to refund all of the additional fees to customers and seeks $1 million in damages.

Citigroup Inc. and Bank of America Corp. (BAC) have also started to decline crypto purchases in 2018 out of fear that cardholders may not have the funds to repay the purchases. The lenders also feared that cardholders may begin to dispute charges if the tokens turned out to be fraudulent.

Tucker claims that he is a routine investor that has been using Coinbase and other exchanges to make purchases on his credit card. He claims that he pays off the charges at the end of the billing cycle without finance charges being incurred. He says that he has been "duped" by Chase.

Crypto investors choose to use credit cards to make purchases because of the short processing time. Tucker claims that if he was notified of the changes, he would have stopped using his credit card for purchases and would have avoided fees and sky-high interest rates.

DISCLOSURE: The views and opinions expressed in this article are those of the authors, and do not necessarily represent the views of equities.com. Readers should not consider statements made by the author as formal recommendations and should consult their financial advisor before making any investment decisions. To read our full disclosure, please go to: http://www.equities.com/disclaimer.
You May Also Like
| Symbol | Last Price | Change | % Change |
| --- | --- | --- | --- |
| AAPL | | | |
| AMZN | | | |
| HD | | | |
| JPM | | | |
| IBM | | | |
| BA | | | |
| WMT | | | |
| DIS | | | |
| GOOG | | | |
| XOM | | | |
| BRK.A | | | |
| FB | | | |
| JNJ | | | |
| WFC | | | |
| T | | | |
| NFLX | | | |
| TSLA | | | |
| V | | | |
| UNH | | | |
| PG | | | |