Charles River Laboratories (NYSE: CRL), a contract research company that supports the development of a significant percentage of drugs that the FDA approves (70% in 2016, according to the company's website), announced the acquisition of MPI Research today for approximately $800 million in cash. The acquisition, to be financed through an expansion of Charles River's existing credit facility and cash, is expected to be accretive to non-GAAP EPS by about $0.25 this year and $0.60 in 2019.
In addition to meeting our disciplined acquisition criteria, MPI is an exceptional strategic fit for Charles River because it incorporates the key attributes we require in an acquisition: access to growing end markets, high-quality services, scientific expertise, and complementary capabilities. MPI'S one-million-square-foot, single-site facility in Michigan will provide needed capacity to meet current and future demand.
– James C. Foster, Chairman and Chief Executive Officer of Charles River Laboratories.
Source: Charles River Laboratories
The purchase price implies multiples of 11.7x non-GAAP EBITDA for 2017 and 10.5x non-GAAP EBITDA for 2018 based on estimated results for MPI including operational synergies. The deal, expected to close early in Q2, is expected to add $170 to $190 million to Charles River's 2018 consolidated revenue and $260 to $280 million to 2019 consolidated revenue.
The company said that the acquisition will:
Expand its biotechnology client base
Expand service portfolio by adding ototoxicity and abuse liability capabilities, and expand Charles River's existing capabilities in general toxicology and specialty toxicology, including ophthalmology, juvenile toxicity, molecular biology, and surgery, as well as medical device testing
Build scale on top of Charles River's legacy safety assessment infrastructure
Enhance growth profile through profitable revenue growth and meaningful accretion to non-GAAP EPS.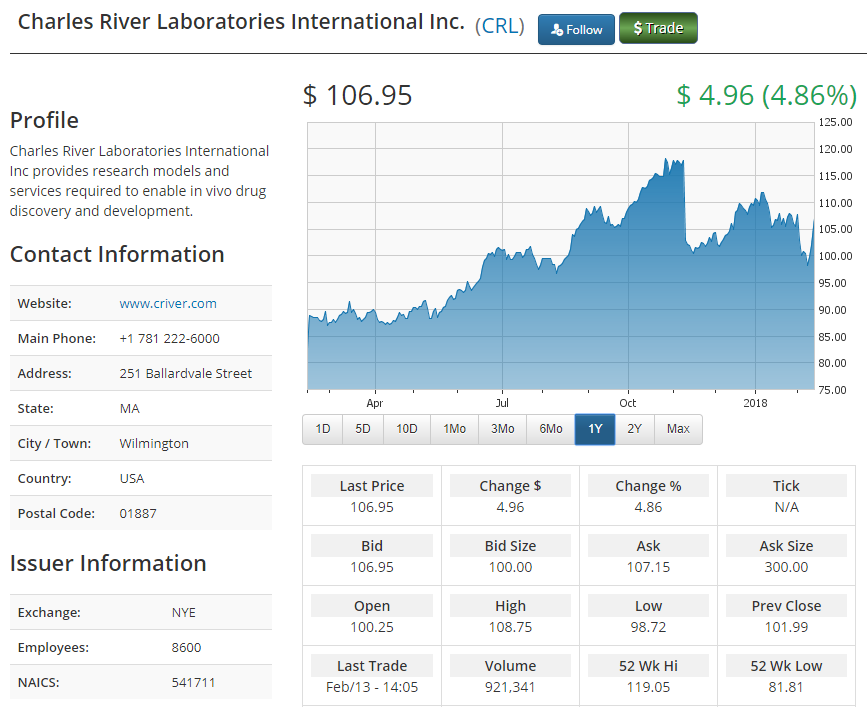 Please email us at [email protected] to see our Case Studies and Testimonials.
Please click here if you would like information on our new trading platform.
Please click here if you would like to see our weekly newsletter.