In an announcement that marks a "potentially paradigm-changing type of benefit" (NY Times) for cancer patients, the FDA's Oncologic Drugs Advisory Committee unanimously recommended this week that the FDA should approve the first ever treatment that genetically alters a patient's own cells to fight cancer. It's a novel treatment method that could forge "a new path in the immunotherapy frontier" (Washington Post).
The key advisory committee voted 10-0 to recommend approval of Novartis' (NYSE: NVS) investigational chimeric antigen receptor T cell (CAR-T) therapy for the treatment of relapsed or refractory pediatric and young adult patients with B-cell acute lymphoblastic leukemia (ALL). The Washington Post story indicated that, if the FDA accepts the committee's recommendation, Novartis could see approval by the end of September. Dr. Timothy Cripe, a committee member and oncologist with Nationwide Children's Hospital, called the CAR-T treatment the "most exciting thing I've seen in my lifetime."
Various press coverage this week noted that there are several large pharmaceutical companies with CAR-T development programs that may benefit from the advisory committee's recommendation of Novartis' drug, including Kite Pharma (Nasdaq: KITE), Juno Therapeutics (Nasdaq: JUNO) and bluebird bio (Nasdaq: BLUE). One company that is notable by its absence from mention, however, is Cellular Biomedicine Group (Nasdaq: CBMG), which is developing CAR-T cancer therapies in China, the most populous nation in the world (4x that of the US) with 5 million new cancer patients each each year.
CAR-T Immuno-Oncology Pipeline for Cancer

CBMG is in Phase 1 clinical trials for two indications - refractory Diffuse or Large B-Cell lymphoma (DLBCL) and relapsed and refractory adult ALL - with those trials expected to be completed in the fourth quarter of this year. These trials are the leads in the company's immuno-oncology program.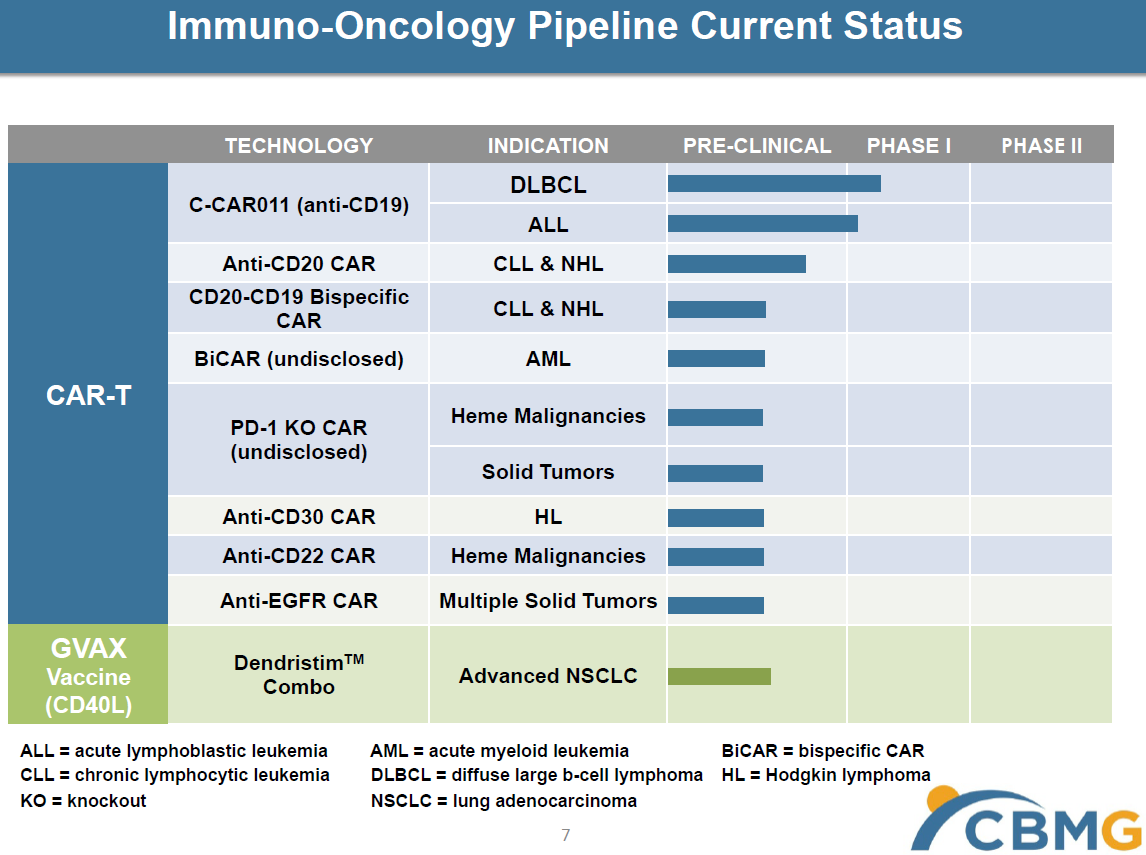 Source: Cellular Biomedicine Group Corporate Presentation, Feb 2017

Stem Cell Pipeline for Osteoarthritis and other Degenerative Diseases

In addition to the broad cancer program, CBMG has a significant developmental program in stem cell therapy to treat degenerative diseases. The company's most advanced stem cell candidate is targeting the treatment of knee osteoarthritis (KOA), which accounts for the majority of all osteoarthritis conditions and affects 57 million patients in China.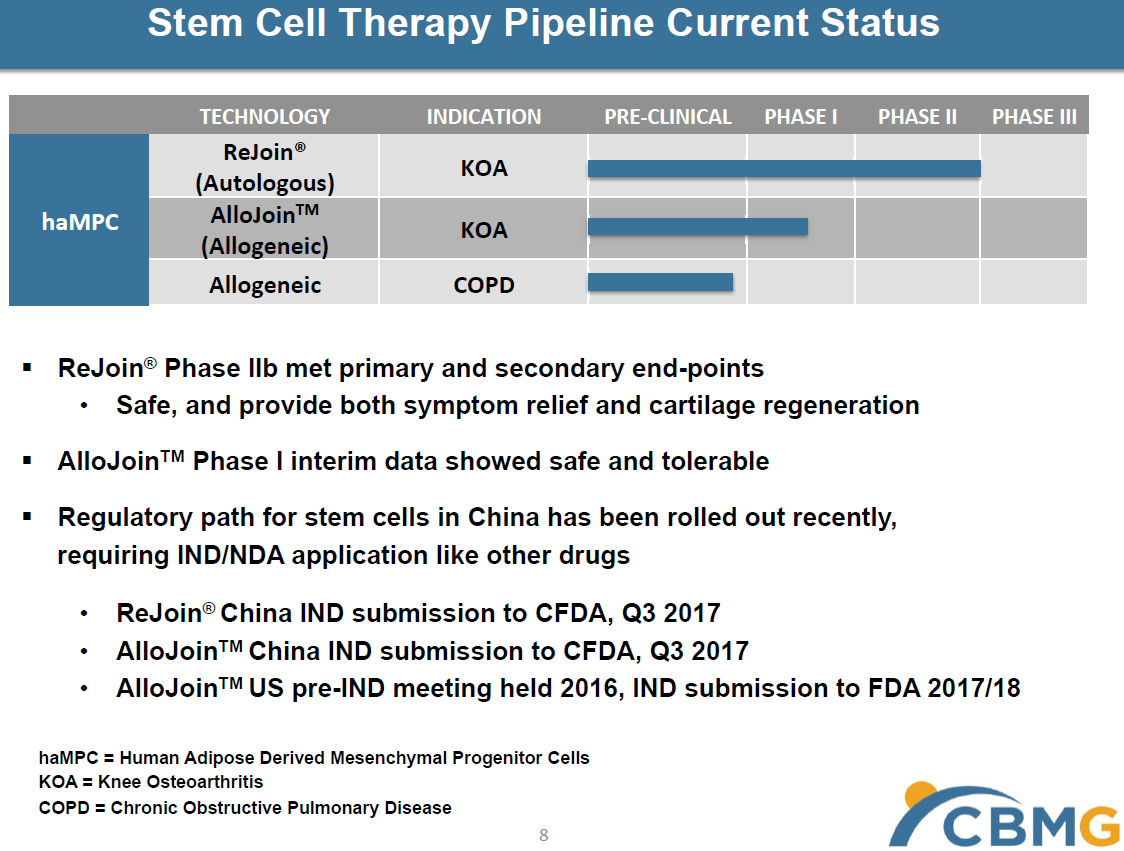 Source: Cellular Biomedicine Group Corporate Presentation, Feb 2017

China and its 1.4 Billion People
---
---
We find it notable that the press and the market seem to be discounting CBMG and its CAR-T programs. China has a rapidly aging population, with over 20% of the 1.4 billion residents aged over 55 years old. Further, China has added more than 500 million people to its cities in just the past 35 years. This urbanization of the population has been postulated to have led to increased stress among the city dwellers.
While researchers have yet to determine whether there's a direct causative link between stress and cancer, there's little doubt that stress promotes the growth and spread of some forms of the disease. "Stress makes your body more hospitable to cancer," says Dr. Lorenzo Cohen, the Richard E. Haynes Distinguished Professor in Clinical Cancer Prevention and Director of the Integrative Medicine Program at The University of Texas MD Anderson Cancer Center and the Distinguished Clinical Professor, Fudan University Cancer Hospital in Shanghai.
GMP Facilities

Cellular Biomedicine is one of the few cell therapy companies in China with facilities certified by SGS (Switzerland: SGSN), the world's leading inspection, verification, testing and certification company. CBMG currently operates three GMP (Good Manufacturing Practice) facilities in Shanghai, Beijing and Wuxi that meet international standards and have been certified by China FDA authorized accreditation agencies. The Shanghai cleanroom facility has received calibration and validation from ENV Services, an ISO-accredited, US-based testing and certification company, and has received and maintained an ISO-14644 cleanroom certification. The company aims to add additional capacity so that it can support product commercialization to treat 10,000 cancer patients and 10,000 KOA patients per year.

CEO Bizuo (Tony) Liu
Mr. Liu has been CEO since February 2016, after serving as CFO for two years and as an Independent Director and Chairman of the Audit Committee for a year before that. He formerly was the Corporate Vice President at Alibaba Group (NYSE: BABA) responsible for Alibaba's overseas investments. Other positions at Alibaba held by Mr. Liu included Corporate Vice President for B2B corporate investment and General Manager for the B2C global e-commerce platform. He was also CFO of HiChina, a leading internet infrastructure service provider and Alibaba subsidiary. Prior to Alibaba in 2009, Mr. Liu spent 19 years at Microsoft (Nasdaq: MSFT) in a variety of finance leadership roles, including General Manager of Corporate Strategy responsible for Microsoft's China investment strategy.
Lastly, we note with interest that CBMG's board approved up to a $10 million stock repurchase program on June 1, 2017, a rare action for a clinical stage company and one that frequently implies management's confidence in the company and present valuation. The stock is up 34% since the announcement.

Novartis is a $220 billion market capitalization household name and market leader, and the other companies that the press has latched onto as CAR-T therapy developers are themselves valued at $3 billion to $6 billion in market cap each. Investors looking for a small cap play in CAR-T in a market 4 times the size of the US may wish to watch Cellular Biomedicine Group along with us.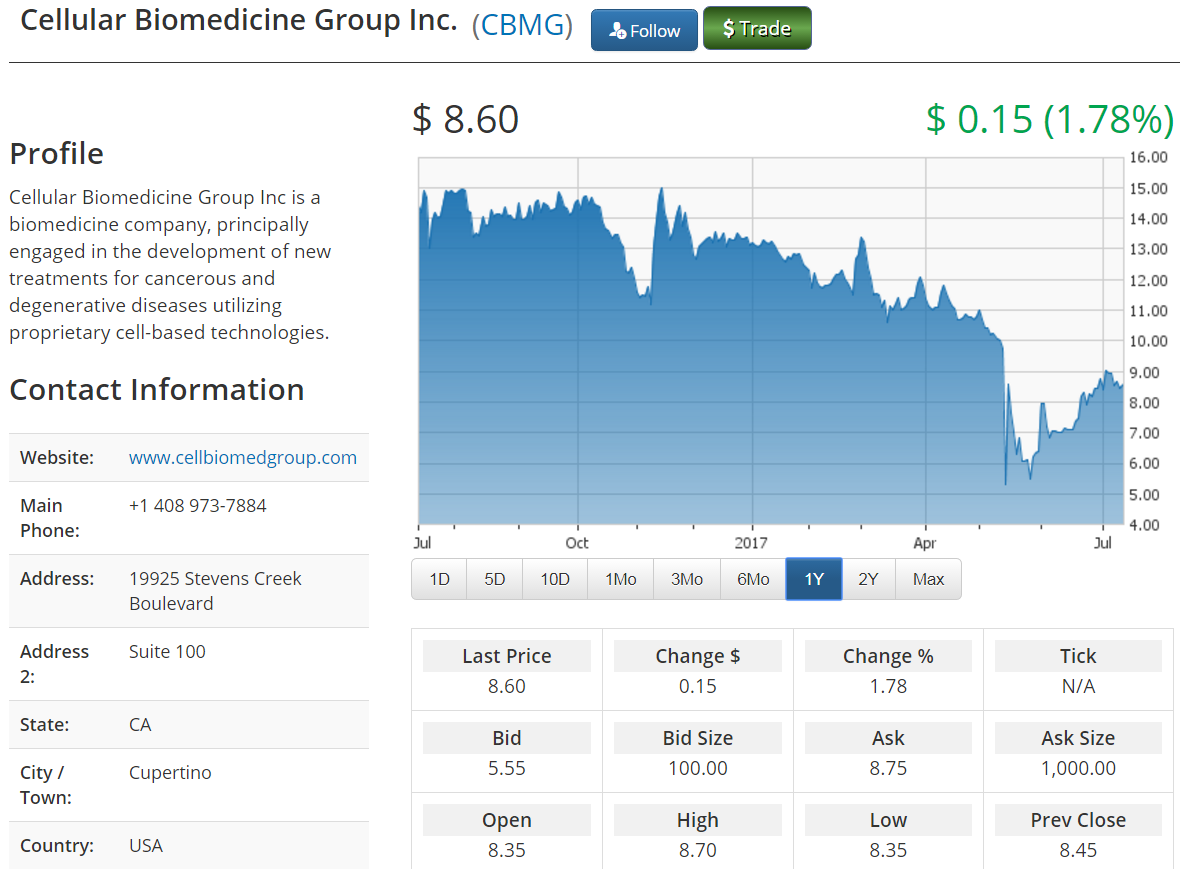 Please email us at content@equities.com if you would like to see our Case Studies and Testimonials.

Please click here if you would like information on our new trading platform.
Please click here if you're an investor and would like to see our weekly newsletter.
DISCLOSURE: The views and opinions expressed in this article are those of the authors, and do not represent the views of equities.com. Readers should not consider statements made by the author as formal recommendations and should consult their financial advisor before making any investment decisions. To read our full disclosure, please go to: http://www.equities.com/disclaimer